1 prospect from each org. who could be dealt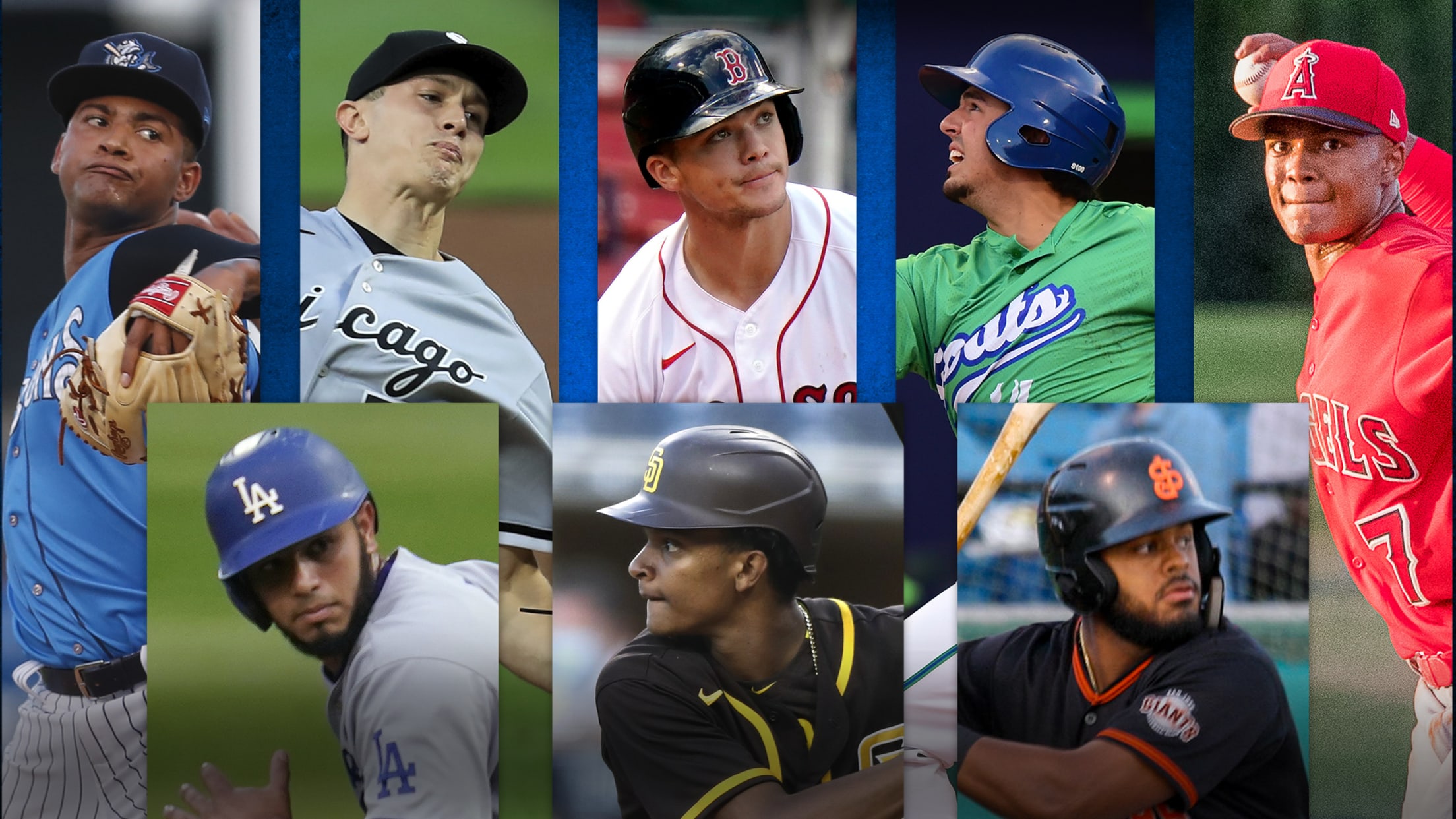 In a normal year, the baseball world would be preparing to head to the Winter Meetings next week. This, as has been said ad nauseam, has been anything but a normal year. While we won't all be working the lobby in Dallas as rumors swirl, that doesn't mean teams won't
In a normal year, the baseball world would be preparing to head to the Winter Meetings next week. This, as has been said ad nauseam, has been anything but a normal year.
While we won't all be working the lobby in Dallas as rumors swirl, that doesn't mean teams won't be in deep discussions about trades. There are teams who have the kind of prospects to potentially participate in a blockbuster and there are teams who could just use prospects in smaller deals to improve the big league roster or add depth. Many possibilities will undoubtedly be discussed and it remains to be seen just how many general managers pull the trigger on a trade. Here's one prospect from each organization who could change teams if the terms are right as those trade talks heat up.
AMERICAN LEAGUE EAST
Blue Jays: Gabriel Moreno, C (No. 8)
The youngest of the five catchers on Toronto's 40-man roster after the club added him in November, Moreno, 20, is a rising star in the system and earns rave reviews from club officials for his rapid development and overall potential on both sides of the ball. He was a standout at the Blue Jays' alternate training site this past summer, after a full-season debut in which he batted .280/.337/.485 with 12 homers in 82 games.
Orioles: Alexander Wells, LHP (No. 19)
Wells pitched well in Double-A as a starter and was really effective as a reliever in the Arizona Fall League in 2019, and the O's value the Australian lefty enough to have added him to the 40-man roster this offseason. While Baltimore is still in rebuilding mode and is more likely to add prospects than send them away, there is some pitching depth at the upper levels now, leaving someone like Wells perhaps a bit more expendable.
Rays: Vidal Bruján, 2B/SS (No. 3/MLB No. 41)
Bruján, 22, and 21-year-old Xavier Edwards (No. 4/MLB No. 67) have very similar profiles as they are both advanced switch-hitters with plus speed who can also play either middle-infield position -- albeit while profiling better long term at the keystone. Bruján's 40-man roster status and upper-level experience arguably make him the more attractive trade candidate, especially for a team looking for a speedy long-term solution up the middle.
Red Sox: Bobby Dalbec, 3B/1B (No. 3/MLB No. 100)
Dalbec's power, arm and third-base defense are assets, and he homered eight times in 80 at-bats during his big league debut this summer. He could be part of the Red Sox's future, but he's also blocked by Rafael Devers at third base and could be used to acquire some much-needed pitching.
Yankees: Luis Gil, RHP (No. 5)
The Yankees have won just one World Series in the last 20 seasons, leaving them a year shy of matching their biggest dry spell ever, so maybe they're itching to make a deal for the present. They have a deep supply of live young arms, including Gil, who can reach triple digits with riding action on his fastball and he has a power breaking ball with slider velocity and curveball shape.
AMERICAN LEAGUE CENTRAL
Indians: Brayan Rocchio, SS (No. 8)
With a seemingly endless supply of young middle infielders with advanced hitting skills, the Indians could afford to part with one of them. Known for his high baseball IQ that earned him the nickname "The Professor," Rocchio should be at least a solid hitter, runner and defender, but he's also just 19 and has yet to reach full-season ball.
Royals: Seuly Matias, OF (No. 14)
Matias, 22, will be nearly three years removed from his 31-homer full-season debut when the 2021 season kicks off, but all reports suggest that his raw power was as good as ever this past summer, with the slugger also making improvements in his approach. While the Royals' decision to not add Matias to their 40-man roster for a second straight year is a telling one, other teams might see him as a buy-low candidate with an elite power ceiling if it all clicks.
Tigers: Beau Burrows, RHP (No. 15)
The Tigers began to reap the rewards of their years-long rebuilding effort in 2020 with the arrivals of Casey Mize and Tarik Skubal and have no reason to even consider parting with any of their blue-chip or big league-ready prospects. Burrows, a 2015 first-round pick who saw his first bit of Major League time this year as a reliever, is an interesting change-of-scenery candidate for any team who still believes he can start.
Twins: Brent Rooker, OF (No. 12)
Yes, Rooker swung the bat well during his brief big league debut in 2020, leading many to believe he's ready to contribute offensively at that level full-time. He's a bit defensively challenged, however, and the Twins have better prospects in Alex Kirilloff and Trevor Larnach knocking on the door.
White Sox: Jonathan Stiever, RHP (No. 7)
Stiever throws strikes with a quality four-pitch mix, but he has barely pitched above Class A Advanced, surrendering four homers in 6 1/3 big league innings this summer. The White Sox are ready to win now and if they seek more immediate pitching help, he might be the best prospect they're willing to part with.
AMERICAN LEAGUE WEST
A's: Sheldon Neuse, 3B/SS (No. 5)
Neuse made his big league debut in 2019 after a huge season in Triple-A and was competing for a spot on the Opening Day roster this year, but got squeezed out. He never got called up at any point, but he's capable of playing three infield positions and even a corner outfield spot. That, along with a run-producing bat, could be of value to other teams.
Angels: Kyren Paris, SS (No. 5)
If the Angels wanted to make a big splash to help them right now, could they move someone like Brandon Marsh? Sure, but that seems unlikely. They love the strides Paris, their second-round pick in 2019, has made, but he's very far away and if the new regime wants to try to win sooner, they could use the depth in up-the-middle athletes they have at the lower levels.
Astros: Hunter Brown, RHP (No. 6)
The Astros have cleaned out their system with promotions and trades in recent years, and it's hard to imagine them selling low on the enigmatic Forrest Whitley, their best prospect. If they want to extend their window of contention as long as possible, Brown could be an intriguing piece of trade bait. He can reach 98 mph, maintain mid-90s velocity deep into games and he unveiled a wipeout curveball during instructional league.
Mariners: Brandon Williamson, LHP (No. 10)
Seattle has done an outstanding job in bringing in high-end pitching talent, with three college arms as first-rounders in the last three years. With Logan Gilbert ready, George Kirby not far behind and 2020 draftee Emerson Hancock likely to move quickly, a big lefty like Williamson, a second-round pick in 2019 out of Texas Christian, could be dealt without it thinning the pitching depth all that much.
Rangers: Davis Wendzel, 3B (No. 11)
The Rangers system is deep in third basemen, starting with top prospect Josh Jung and slugger Sherten Apostel, who will get a look at first base this spring. Wendzel can play second base and shortstop, but there are other prospects ahead of him on the depth chart at those spots, which could make his quality bat and deceptive athleticism available in the right deal.
NATIONAL LEAGUE EAST
Braves: Tucker Davidson, LHP (No. 8)
If Atlanta wants to make a huge splash, it could include someone like Drew Waters in a deal. More likely, however, is seeing the Braves use their remaining pitching depth to improve the big league roster. With young arms, they could look at southpaws like Kyle Muller or Davidson, who did touch the big leagues in 2020, as trade pieces.
Marlins: Jesús Sánchez, OF (No. 5/MLB No. 76)
After the Marlins accelerated their return to contention in 2020, they find themselves with both a need for big league-ready outfielders and an abundance of outfield prospects. Sánchez went 1-for-25 with Miami this summer, but his potential for close to solid tools across the board could entice a club not in need of immediate help.
Mets: Matthew Allan, RHP (No. 4)
Scouts revered Allan as one of the top prep pitchers in the 2019 Draft, and many teams would've pounced on him in the first round if not for signability concerns. Don't expect those teams to miss out on the 19-year-old righty again should the Mets make him available in trade talks, especially after he flashed three plus pitches and dominated older hitters at the Mets' alternate training site over the summer.
Nationals: Cade Cavalli, RHP (No. 2)
The No. 22 overall pick in this year's Draft, Cavalli brings physical athleticism and an advanced four-pitch mix that made him the talk of the Nationals' alternate training site this past summer -- so much so that the team has already stated publicly that it doesn't intend on trading him. But that won't stop teams from inquiring about the 22-year-old righty's availability in an organization that traded three top-tier pitching prospects (Lucas Giolito, Reynaldo López and Dane Dunning) for Adam Eaton in December 2016.
Phillies: Adonis Medina, RHP (No. 5)
Medina was on this list a year ago, and not much has changed, other than him making his big league debut, a one-start showing, in 2020. His pure stuff is still good, even if he doesn't miss as many bats as you think he should, and will be just 24 for all of 2021, with time for him to figure things out with a change of scenery.
NATIONAL LEAGUE CENTRAL
Brewers: Corey Ray, OF (No. 10)
The Brewers still hold out hope for their 2016 first-round pick (No. 5 overall), but so far, the organization has struggled to maximize the potential he's shown at various points in his career. Now 26, Ray is still an elite athlete, with several big league-caliber tools in his speed, defense, and raw power, but also well-below-average hitting ability that could make him a change-of-scenery candidate for another team.
Cardinals: Elehuris Montero, 3B (No. 8)
Montero had a big up arrow next to his name after his 2018 Class A Midwest League MVP campaign at age 19, but struggled the following year during an injury-plagued season in Double-A. While the Cardinals still believe in the 22-year-old third baseman, who's a member of the 40-man roster, he's also potential trade fodder for an organization that already boasts a pair of impact third-base prospects in Nolan Gorman and Jordan Walker.
Cubs: Chase Strumpf, 2B (No. 9)
Middle infielder might be the strength of the organization and the Cubs are in seemingly perpetual need of pitching, so perhaps Strumpf could be part of a package for a starter. He's an offensive-minded second baseman with the upside of hitting .275 with 20 homers per season.
Pirates: Ji-Hwan Bae, 2B/SS (No. 12)
He can hit, he can really run and he can play both middle infield positions, though he might best be suited for second base full-time. But he's yet to play above Class-A ball and there's depth at the big league level and in the Minors, with both 2020 first-round pick Nick Gonzales and trade acquisition Liover Peguero ahead of Bae on the depth chart.
Reds: José García, SS (No. 6)
There's no question García is ready to defend at the big league level, and that's why the Reds had him up in 2020. His .400 OPS in 67 at-bats doesn't fill anyone with confidence he's ready to hit enough to be there full-time in 2021, and there's lots of noise about the Reds making a big league shortstop a priority this offseason
NATIONAL LEAGUE WEST
D-backs: Seth Beer, 1B/OF (No. 14)
A lack of defensive ability may limit Beer's overall value, but the former Dick Howser Trophy winner and first-round pick has always been able to hit for power and drive in runs (38 HR, 38 2B, 145 RBIs in 189 Minor League games). That track record of production, combined with Beer's upper-level experience, could interest teams looking for a cost-effective designated hitter.
Dodgers: Keibert Ruiz, C (No. 2/MLB No. 68)
The Dodgers have so much talent on their big league club and in their system that there simply isn't going to be enough room for all of it in Los Angeles. Will Smith's emergence as one of the best catchers in the Majors could make Ruiz expendable, though it likely would have to be a blockbuster because the latter is one of the best catching prospects in the Minors. He's a switch-hitter who projects as a solid bat and defender.
Giants: Heliot Ramos, OF (No. 3/MLB No. 60)
Ramos is the Giants' best outfield prospect, but they have several more coming up behind him, such as Hunter Bishop, Alexander Canario and Luis Matos. If San Francisco wanted to make a significant move, it could offer Ramos, who fits the classic right-field profile and reached Double-A at age 19.
Padres: CJ Abrams, SS (No. 2/MLB No. 21)
The Padres' system may not be what it was a year ago after the club's many graduations and trades, but it's still teeming with high-end prospects, including four players who rank in the top half of MLB Pipeline's Top 100 Prospects list. As one of the more athletically gifted and toolsy prospects in the Minors, Abrams, the No. 6 pick in the 2019 Draft, would surely net the Padres a significant return in a trade.
Rockies: Colton Welker, 3B (No. 7)
Another repeat from a year ago, the Rockies are bullish enough on Welker's offensive upside that they added him to the 40-man roster this offseason. But he's still very much blocked by Nolan Arenado at third. He could see time at first, but so could Josh Fuentes and/or Ryan McMahon in Colorado. That, or if the Rockies add a first baseman this offseason, could once again make this corner infielder intriguing for other teams.