30 prospects who had big years -- 1 for each team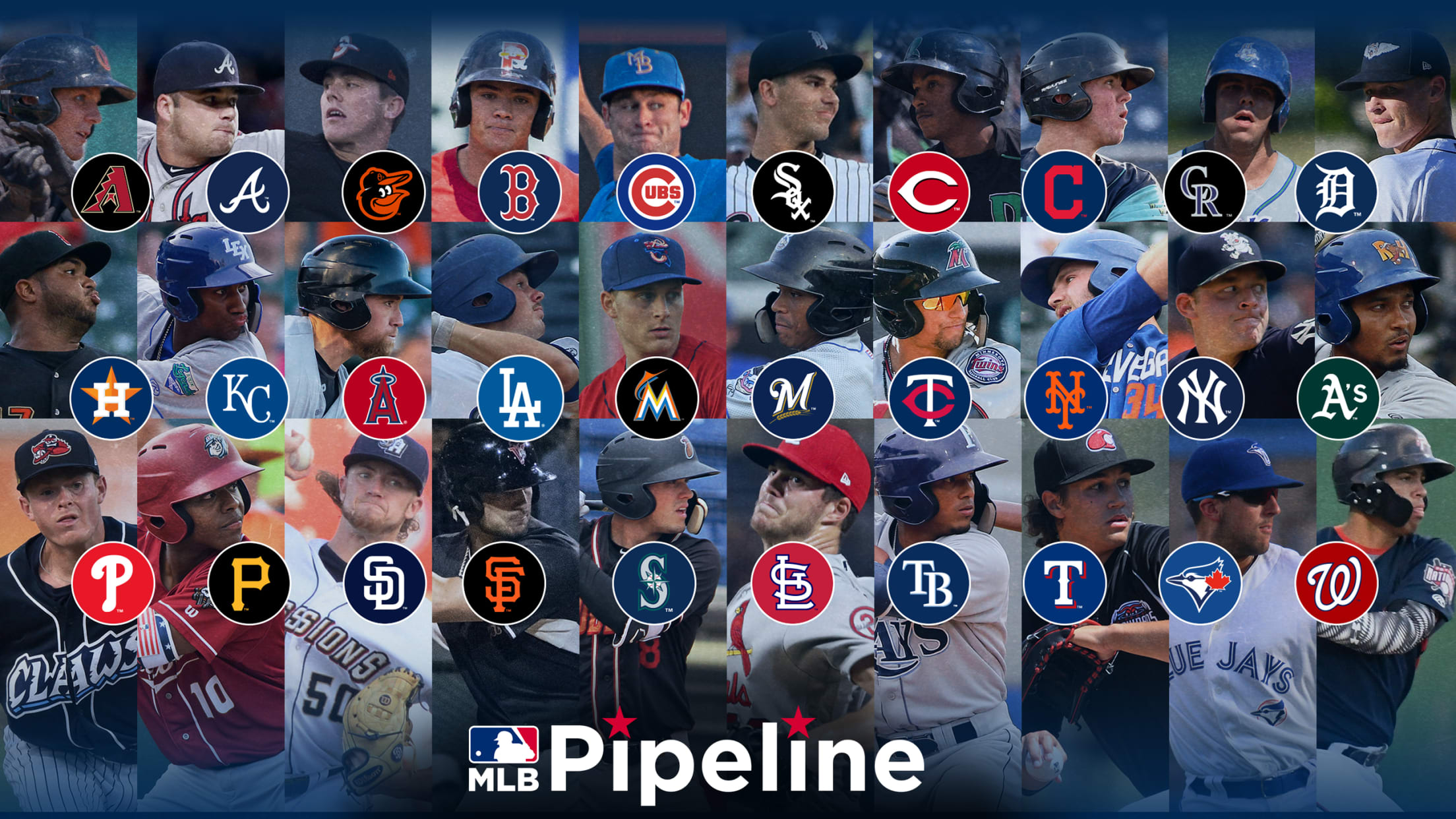 Playing in the Minor Leagues is about development, first and foremost. But that doesn't mean a prospect can't put up huge numbers along the way, right?Across all 30 organizations, scores of prospects had very successful 2018 campaigns. MLB Pipeline will be choosing a Hitter and Pitcher of the Year for
Playing in the Minor Leagues is about development, first and foremost. But that doesn't mean a prospect can't put up huge numbers along the way, right?
Across all 30 organizations, scores of prospects had very successful 2018 campaigns. MLB Pipeline will be choosing a Hitter and Pitcher of the Year for each MLB team in the coming weeks, but in the meantime, here's a quick look at one prospect from each organization's Top 30 list who had a big season:
:: Complete prospect coverage ::
American League East
Blue Jays: Kevin Smith, SS
Everyone knows what 19-year-old phenom Vladimir Guerrero Jr. did this year, but another Blue Jays infield prospect had one of the most impressive seasons in the Minors in 2018. Smith, a 2017 fourth-rounder, raked from start to finish in his first full season, hitting .302/.358/.528 in 129 games between Class A Lansing and Class A Advanced Dunedin. He joins Brewers prospect Corey Ray as the only other Minor Leaguers to total at least 20 home runs, 30 doubles and 20 steals in 2018 after finishing the year with 25 homers, 31 doubles and 29 steals.
Orioles: DL Hall, LHP
Baltimore's first-round pick in the 2017 Draft, Hall did not allow more than one earned run in any of his final 13 outings (12 starts) to wrap up his first pro season with Class A Delmarva. The 19-year-old left-hander lowered his ERA from 4.28 to 2.10 during that stretch, and, overall, Hall racked up 100 strikeouts in 94 1/3 innings while holding hitters to a .203 average.
Rays: Wander Franco, SS
While Nathaniel Lowe hit .330 with 27 homers and 102 RBIs across three levels of full-season ball, Franco asserted himself as baseball's next teenage wunderkind this season with an eye-opening pro debut in the Rookie-level Appalachian League. The 17-year-old shortstop led the circuit in hits (85), RBIs (57) and total bases (142), and he also ranked among the leaders in slugging (.587, third) and batting (.351, fourth). On top of that, Franco produced such robust numbers while recording more walks (28) than strikeouts (19).
Red Sox: Bobby Dalbec, 3B
After a hamate injury ruined his first full pro season in 2017, Dalbec bounced back this year to bat .257/.361/.558 between Class A Advanced and Double-A, ranking second in the Minors with 70 extra-base hits and 109 RBIs and fourth with 32 homers. Despite getting promoted with a month to go, he still led the Class A Advanced Carolina League in homers (26), RBIs (85), extra-base hits (55) and slugging (.573).
MILB Video - Title: Watch: Dalbec's three-run homer - Url: http://www.milb.com/r/video?content_id=2431712383
Yankees: Michael King, RHP
Acquired from the Marlins in a deal for Garrett Cooper and Caleb Smith last November, King ranked second in the Minors in ERA (1.79) and third in WHIP (0.91) while climbing from Class A Advanced to Triple-A. He pounded the strike zone with a 152/29 K/BB ratio in 161 1/3 innings and limited opponents to a .202 average.
MILB Video - Title: Watch: King fans final batter - Url: http://www.milb.com/r/video?content_id=2466830183
AL Central
Indians: Nolan Jones, 3B
After hitting four home runs over his first 94 pro games, Jones answered questions about his power potential in 2018 by erupting to hit a career-high 19 home runs across two levels including the Carolina League. The 20-year-old third baseman also made strides with his defense at the hot corner, and did so while finishing first in the Indians' system in slugging (.466) and OPS (.871), ranked second in on-base percentage (.405) and third in average (.283).
Royals: Seuly Matias, OF
Matias' season ended early when he severely cut his right thumb on the cargo door of the team bus while loading his luggage in mid-August. But what a season it was. World team manager David Ortiz compared him to a young Sammy Sosa after Matias homered during the SiriusXM All-Star Futures Game, and that seemed apt as he led the Minors in homers per plate appearance (one every 12.1) and ranked sixth in the Minors with 31 homers in just 94 Class A games.
MILB Video - Title: Watch: Matias knocks solo shot - Url: http://www.milb.com/r/video?content_id=2321385383
Tigers: Matt Manning, RHP
The kid gloves came off for Manning in 2018, his second full season of pro ball. The 2016 first-rounder more than doubled his season-high for innings while pitching across three levels of the Tigers' system. A 2018 Futures Gamer, Manning led the system in strikeouts and finished third in ERA.
MILB Video - Title: Watch: Manning's sixth punchout - Url: http://www.milb.com/r/video?content_id=2443065283
Twins: Royce Lewis, SS
The No. 1 pick in the 2017 Draft lived up to billing by earning a promotion from the Midwest to the Florida State League, hitting .292/.352/.451 along the way. The teenager topped the organization with 28 stolen bases, finished fourth with 74 RBIs and hit 14 homers.
White Sox: Dylan Cease, RHP
Outfielder Eloy Jimenez and Cease headlined the four-prospect package the Cubs sent to the White Sox for Jose Quintana in July 2017, and both had huge years. Cease put up as dominant numbers as any pitcher in the Minors, going 12-2 with a 2.40 ERA, 160 strikeouts and a .189 opponent average (fifth in the Minors) in 124 innings between high Class A and Double-A.
MILB Video - Title: Watch: Cease collects 11th K - Url: http://www.milb.com/r/video?content_id=2420329983
AL West
Angels: Taylor Ward, 3B
The move to third definitely helped Ward's bat, as did overall health and an increased ability to drive the ball. Ward hit his way from Double-A up to the big leagues in 2018 and led the system with his .349 average while also posting a robust .446 on-base percentage and hitting 14 homers.
Astros: Josh James, RHP
A 34th-round pick out of Western Oklahoma State Junior College in 2014, James did little in his first four pro seasons before exploding in his fifth. He easily topped the Minors in strikeout rate (13.5 per nine innings) and finished fourth in whiffs (171) and sixth in opponent average (.191) while going 6-4, with a 3.23 ERA between Double-A and Triple-A. In his big league debut on Saturday, he fanned nine over five innings.
Athletics: Richie Martin, SS
While A's top pitching prospect Jesus Luzardo had one of best seasons in the Minors on the mound, Martin had a big breakout at the plate. After hitting just .235 during his first three seasons after being selected by the A's in the first round of the 2015 Draft, the 23-year-old shortstop slashed .300/.368/.439 at Double-A Midland, where he also totaled 43 extra-base hits and 25 steals. As a result, Martin garnered MLB Pipeline Prospect Team of the Week honors on three separate occasions, including in the season's final two weeks.
MILB Video - Title: Watch: Martin's triple - Url: http://www.milb.com/r/video?content_id=2458421283
Mariners: Evan White, 1B
White went off at the plate during the second half of the season, hitting .320/.400/.512 with eight home runs, 16 doubles and 40 RBIs over his final 64 games with Class A Advanced Modesto. The 2017 first-rounder was particularly hot once the calendar flipped to August, too, as he slashed .379/.467/.689 with 19 extra-base hits and 27 RBIs over his final 27 contests to finish his first full season with a .300/.371/.453 line.
MILB Video - Title: Watch: White gets fourth hit - Url: http://www.milb.com/r/video?content_id=2394536983
Rangers: Tyler Phillips, RHP
Despite his 4.92 ERA in his first three pro seasons, the Rangers believed Phillips was a breakout candidate for 2018 -- and they were correct. He led the Class A South Atlantic League with 11 wins and added another in his lone Class A Advanced start, posting a combined 2.67 ERA with a 127/16 K/BB ratio in 133 innings. Phillips' walk rate (1.1 per nine innings) ranked fourth in the Minors.
NL East
Braves: Bryse Wilson, RHP
Many pegged Wilson to be a future reliever because of his delivery and aggressiveness on the mound, but that's stopped as he became the first high schooler from the 2016 Draft to make it to the big leagues. The 20-year-old pitched across three levels of the Minors and finished second in the organization in strikeouts.
Marlins: Nick Neidert, RHP
Acquired from Seattle during the offseason in the Dee Gordon trade, Neidert earned the win and hit his first career homer in his final start of the season for Double-A Jacksonville. With the performance, the 21-year-old right-hander tied a bow on an impressive campaign in which he posted a 3.24 ERA over a Southern League-leading 152 2/3 innings. Neidert's 12 wins led the circuit, and he also finished second in strikeouts with 154 compared to just 31 walks.
Mets: Peter Alonso, 1B
Alonso hit a walk-off homer on Monday to cap off a ridiculous season, especially on the power front. That game-ending blast gave him 36 homers, tying him for the Minor League lead. His 119 RBIs across both Double-A and Triple-A easily topped all of the Minors.
MILB Video - Title: Watch: Alonso blasts walk-off shot - Url: http://www.milb.com/r/video?content_id=2466164183
Nationals: Luis Garcia, SS
Signed for $1.3 million at the outset of the 2016-17 international period, the 18-year-old Garcia was the youngest player at this year's SiriusXM All-Star Futures Game and performed better following a midseason promotion to the Class A Advanced Carolina League. Between the two stops, the promising shortstop hit .298/.336/.406 while tallying 34 extra-base hits, 82 runs and 12 steals in 127 games.
MILB Video - Title: Watch: Garcia knocks two-run shot - Url: http://www.milb.com/r/video?content_id=2081418583
Phillies: David Parkinson, LHP
A 12th-round pick out of Mississippi in 2017, Parkinson has gone from intriguing college lefty to firmly on the prospect radar thanks to a year that saw him lead the Minor Leagues in ERA (1.45) and finish second in the Phillies' system in strikeouts across two levels of A ball.
MILB Video - Title: Watch: Parkinson's 7th K - Url: http://www.milb.com/r/video?content_id=2348532483
NL Central
Brewers: Corey Ray, OF
Perhaps no hitter showed a better combination of power and speed than Ray, who led the Southern League in both homers (27) and stolen bases (37) en route to being named the circuit's Most Outstanding Player. Ray also hit 32 doubles, putting him in elite company as one of two players to produce at least 20 homers, 30 doubles and 20 steals in 2018. The 23-year-old outfielder still stuck out at a high rate, but his .804 OPS was a significant improvement over the .679 OPS from his first full season.
MILB Video - Title: Watch: Ray's 26th homer - Url: http://www.milb.com/r/video?content_id=2412189583
Cardinals: Dakota Hudson, RHP
Hudson's 2.50 ERA in the Pacific Coast League would've been good enough to lead his league and place him second in the organization had he not been called upon to be a very effective reliever with St. Louis and thrown enough innings to qualify. Equally impressive: his 1.88 GO/AO ratio in the Minors, which actually has gone up (2.82) in the Cards' bullpen.
Cubs: Cory Abbott, RHP
The deceptive Abbott carved up hitters in two Class A leagues during his first full pro season. He went 8-6 with a 2.50 ERA, logging a 131/39 K/BB ratio and a .223 opponent average in 115 innings. He paced all Cubs farmhands in ERA, hits per nine innings (7.4) and strikeouts per nine innings (10.3).
MILB Video - Title: Watch: Abbott fans 10th batter - Url: http://www.milb.com/r/video?content_id=2318914283
Pirates: Ke'Bryan Hayes, 3B
The Pirates' first-round pick in 2015 capped off a successful jump to Double-A by going 12-for-17 over his last four games while driving in nine. He finished seventh in the Eastern League in OBP (.375) and eighth in average (.293) while stealing 12 bases and playing plus defense at third.
MILB Video - Title: Watch: Hays homers in 2nd straight - Url: http://www.milb.com/r/video?content_id=2435537883
Reds: Jeter Downs, 2B/SS
Not only did Downs lead the Reds' system with his 37 stolen bases, he also finished tied for sixth in the Midwest League in the category. He hit 13 home runs, tied for second among Reds hitters in their Top 30, while not turning 20 until the end of July.
NL West
D-backs: Daulton Varsho, C
The only thing that slowed Varsho in his first full season of pro ball was a broken hamate, though he had a respectable .284/.337/.395 slash line upon his return in August. Double-digit home runs (12) and stolen bases (19) from a catcher in just 83 games is very impressive and he threw out 37 percent of would-be basestealers to boot.
Dodgers: Gavin Lux, SS/2B
Lux scuffled in his first full pro season in 2017 but excelled in his second, batting a combined .324/.399/.514 with 15 homers and 13 steals in 116 games between Class A Advanced and Double-A at age 20. He finished second in the Class A Advanced California League in on-base percentage (.396) and OPS (.916), and third in batting (.324) and slugging (.520).
MILB Video - Title: Watch: Lux triples home three - Url: http://www.milb.com/r/video?content_id=2462494583
Giants: Joey Bart, C
The No. 2 overall pick in the 2018 Draft lived up to expectations in his pro debut, ranking third in the short-season Northwest League with 13 homers in just 45 games and batting .294/.364/.588 in 51 overall contests. He also erased 39 percent of the basestealers who tested him.
MILB Video - Title: Watch: Bart cracks three-run shot - Url: http://www.milb.com/r/video?content_id=2360719783
Padres: Chris Paddack, RHP
After losing all of 2017 to Tommy John surgery, Paddack returned to the mound in late April and picked up where he'd left off prior to the injury. Across two levels including Double-A San Antonio, Paddack compiled a 2.10 ERA and a 0.82 WHIP while making 17 starts. Equally impressive was that the 22-year-old righty posted 120 strikeouts against just eight unintentional walks in 90 innings, giving him a 15-1 strikeout-to-walk ratio on the year.
Rockies: Roberto Ramos, 1B
Third baseman Josh Fuentes (Triple-A Pacific Coast) and outfielder Casey Golden (Class A South Atlantic) won league MVP awards for the Rockies, but Ramos' .269/.368/.574 line was more impressive. He homered 32 times between Class A Advanced and Double-A this year, tying for fourth in the Minors, and also placed eighth in slugging.
MILB Video - Title: Watch: Ramos goes deep - Url: http://www.milb.com/r/video?content_id=2466829583