30 prospects who had big seasons in the Minors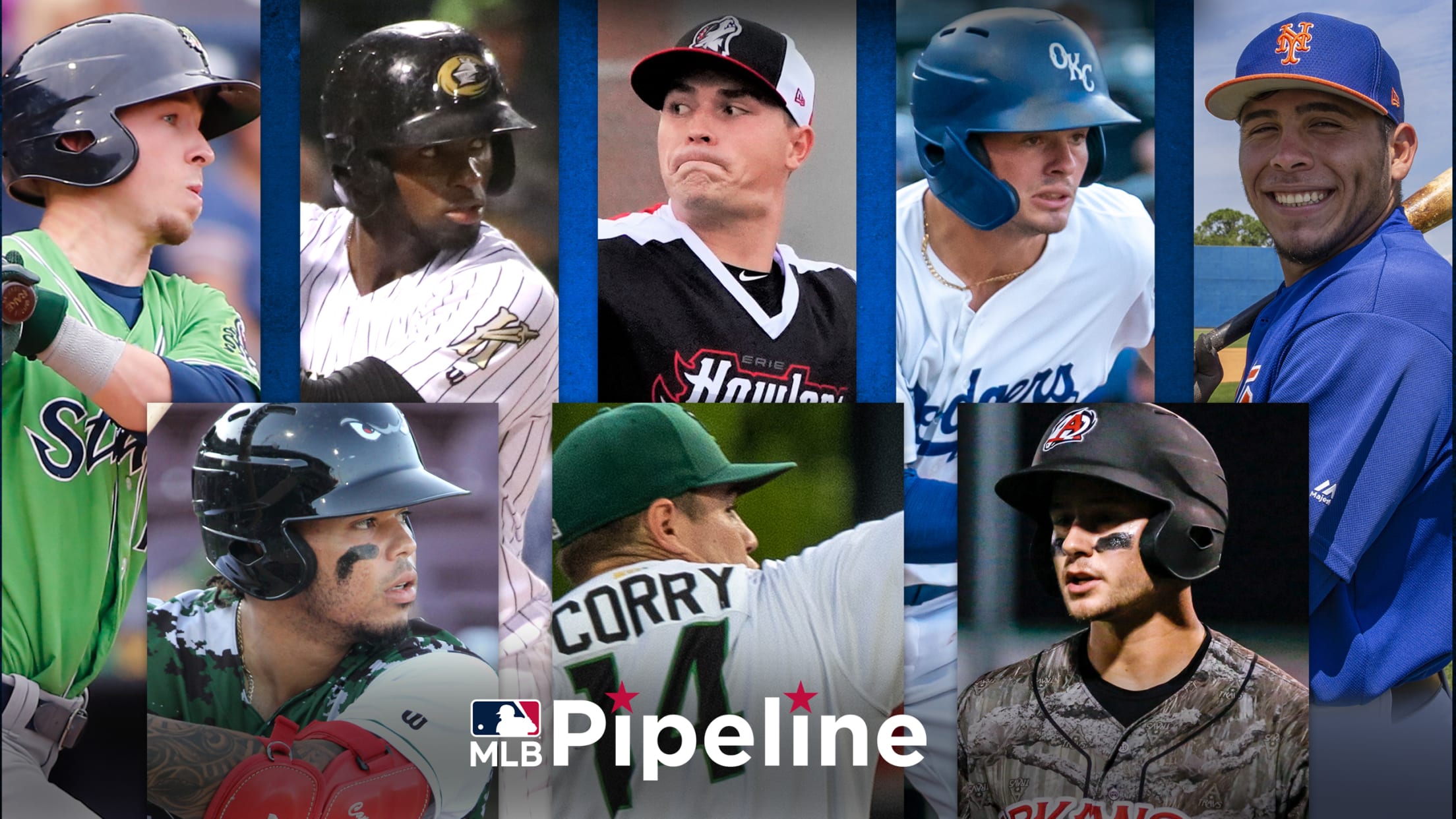 Making ongoing improvements is the primary objective in a player's development, but it certainly doesn't hurt for a prospect to put up big numbers along the way. Across all 30 organizations, scores of prospects had very successful 2019 campaigns. MLB Pipeline has already named its Hitter and Pitcher of the
Making ongoing improvements is the primary objective in a player's development, but it certainly doesn't hurt for a prospect to put up big numbers along the way.
Across all 30 organizations, scores of prospects had very successful 2019 campaigns. MLB Pipeline has already named its Hitter and Pitcher of the Year, and will be making similar selections for each MLB team in the coming weeks, but for now, here's a quick look at one prospect from each organization's Top 30 list who had a big season:
AMERICAN LEAGUE EAST
Blue Jays: Alejandro Kirk, C (No. 12)
Kirk, 20, advanced to full-season ball in 2019 and proved that his impressive 2018 Appalachian League campaign (.354/.443/.558) wasn't a fluke. He was promoted from Class A Lansing to Class A Advanced Dunedin after just 21 games and collectively batted .290/.403/.465 with seven homers, 31 doubles and more walks (56) than strikeouts (39) in 92 games between the two stops. Defensively, Kirk threw out 37.5 percent (30 of 80) of attempted basestealers.
Orioles: Grayson Rodriguez, RHP (No. 2, MLB No. 44)
The Orioles' 2018 first-round pick (No. 11 overall) followed an impressive pro debut with a dominant full-season debut at Class A Delmarva that earned him a Futures Game appearance in July. In 20 starts for the Shorebirds, the 19-year-old righty went 10-4 with a 2.68 ERA and 0.99 WHIP. He posted 129 strikeouts against 36 walks in 94 innings, all while holding hitters to a paltry .171 clip. Rodriguez didn't allow a hit in three of his final four turns and gave three hits or fewer in 13 starts.
Rays: Joe Ryan, RHP (No. 16)
The 2018 seventh-round pick from Division II Cal State Stanislaus had a remarkable breakout campaign, climbing three levels up to Double-A Montgomery. The 23-year-old righty finished among the Minor League leaders (100 IP min.) with a 1.96 ERA (fifth), 0.84 WHIP (second) and 183 strikeouts (second) in 123 2/3 innings. Ryan also ranked among the best with a 32.4 percent strike-to-walk rate (first), a 38 percent strikeout rate (second) and .172 BAA (seventh).
Red Sox: Thad Ward, RHP (No. 8)
A reliever at Central Florida drafted in 2018's fifth round, Ward has made an eye-opening transition to starting in pro ball. He had a streak of 34 2/3 innings without an earned run in May and June and went 8-5 with a 2.14 ERA (eighth in the Minors), 157 strikeouts and a .197 opponent average in 126 1/3 innings.
Yankees: Canaan Smith, OF (No. 26)
A 2017 fourth-rounder, Smith shined while making his full-season debut this year. He batted .307/.407/.465 with 11 homers and 16 steals, leading the low Class A South Atlantic League in walks (74) while ranking second in hitting and third in on-base percentage, OPS and total bases (209).
AMERICAN LEAGUE CENTRAL
Indians: Bobby Bradley, 1B (No. 7)
Bradley won the fourth home run crown of his six-year pro career, topping the Triple-A International League with 33 after previously leading the Rookie-level Arizona (eight in 2014), low Class A Midwest (27 in 2015) and high Class A Carolina (29 in 2016) leagues. The 2014 third-rounder batted .264/.344/.567 this season and made his big league debut in June.
🌮 Thursday?

Bobby Bradley went oppo 🌮 for his 32nd @milb homer of the year.

Here's Bradley on the #Indians' Top 30 Prospects list: https://t.co/KO5gFxbP8P pic.twitter.com/9RDHqoKPMq

— MLB Pipeline (@MLBPipeline) August 30, 2019
Royals: Kris Bubic, LHP (No. 6)
In his first full year of pro ball out of Stanford, all Bubic did was lead all Minor League pitchers with 185 strikeouts. The 2019 Futures Gamer and Carolina League postseason All-Star only walked 2.53 per nine innings and held hitters to a .199 batting average across two levels of A ball.
Tigers: Tarik Skubal, LHP (No. 4, MLB No. 97)
Skubal, 22, emerged as one of the 2018 Draft's biggest steals in his first full season while climbing to Double-A Erie, where he racked up 82 strikeouts in 42 1/3 innings behind double-digit strikeout performances in six of his nine starts. The ninth-rounder from Seattle University finished the year with a 2.42 ERA and 1.01 WHIP in 122 2/3 innings (24 starts) between two levels and ranked third in the Minors with 179 strikeouts.
Twins: Jordan Balazovic, RHP (No. 4, MLB No. 78)
Balazovic began the year as the Twins' No. 19 prospect and in the Midwest League. He quickly got promoted to the Florida State League and ended the year on the Double-A Pensacola playoff roster. While the 2019 Futures Gamer finished with 93 2/3 IP (He didn't start his season until early May), he still struck out 129 (12.4 K/9) while walking just 2.4 per nine. Hitters managed just a .193 batting average against the 20-year-old and he finished with a combined 0.98 WHIP.
White Sox: Luis Robert, OF (No. 1, MLB No. 5)
Robert cost the White Sox $52 million in 2017 ($26 million bonus, matching amount as tax penalty) and finally showed why this season when he stayed healthy for the first time. Age 21 for most of the season, he became the Minors' youngest 30-30 player since Chin-Feng Chen in 1999, batting .328/.376/.624 with 32 homers and 36 steals between three levels.
AMERICAN LEAGUE WEST
Athletics: Jorge Mateo, SS/2B (No. 4)
Mateo finished just one home run shy of joining the 20-20 club, with 19 homers and 24 steals, in Triple-A. His .289/.330/.504 line included 29 doubles and 14 triples, which led all Minor Leaguers.
Angels: Jared Walsh, 1B/LHP (No. 22)
Not only did Walsh hit .325/.423/.686 in Triple-A, leading all hitters at that level in SLG and OPS and finishing third in the Minors witih 36 homers, he also made 13 appearances in Triple-A (and four more in the big leagues) as a left-handed reliever.
Astros: Cristian Javier, RHP (No. 10)
Signed for just $10,000 out of the Dominican Republic in 2015, Javier thrived in his first four pro seasons with a combined 2.49 ERA and 361 strikeouts in 278 1/3 innings. He took his performance to another level in 2019, leading the Minors in ERA (1.74), strikeout rate (13.5 per nine innings) and opponent average (.130) while advancing from high Class A to Triple-A.
Mariners: Jarred Kelenic, OF (No. 1, MLB No. 22)
In his first full season of pro ball out of the Wisconsin high school ranks, Kelenic hit his way across three levels of the Mariners system, starting in the South Atlantic League and finishing in Double-A. He hit a combined .291/.364/.540 and joined the 20-20 club, with 23 homers and 20 steals.
Rangers: Sam Huff, C (No. 2, MLB No. 75)
Huff won MVP honors at the SiriusXM All-Star Futures Game with a dramatic homer and tied for second among Minor League catchers with 28 long balls. A 2016 seventh-round choice, he batted .278/.335/.509 between two Class A stops and erased 48 percent of basestealers who tested him.
NATIONAL LEAGUE EAST
Braves: Drew Waters, OF (No. 2, MLB No. 24)
Just 20 years old, Waters spent most of the year in Double-A, earning a promotion to Triple-A in early August. Combined, the outfielder hit .309/.360/.459 with 16 steals. He'll need to refine his approach at the plate a bit (164/39 K/BB ratio), but Braves fans should start envisioning an outfield with Waters, fellow super-prospect Cristian Pache and Ronald Acuna Jr. in it.
Marlins: Isan Diaz, 2B (No. 5, MLB No. 82)
A Diamondbacks supplemental second-round pick in 2014 who later was included in trades for Jean Segura and Christian Yelich, Diaz struggled at the plate for two seasons after advancing to high Class A in 2017. He broke out this season, hitting .305/.395/.578 with 26 homers in 102 Triple-A games to claim the second-base job in Miami.
Mets: Francisco Alvarez, C (No. 5)
The Mets gave Alvarez the third-highest bonus among international prospects last July, signing him for $2.7 million, and then sent him straight to the U.S. this summer for his pro debut. The 17-year-old catcher responded to the challenge by hitting .462 in seven Gulf Coast League games to earn a promotion to the Appalachian League, where he slashed .282/.377/.443 with five homers in 35 games despite being more than three years younger than the circuit's average age.
Nationals: Tim Cate, LHP (No. 6)
Cate, 21, was a model of consistency in his first full season. Making 26 starts between Class A Hagerstown and Class A Advanced Potomac, the 2018 second-round pick pitched to a 3.07 ERA with 139 strikeouts and 32 walks in 143 2/3 innings. He turned in 15 quality starts and completed at least five innings in all but five turns.
Phillies: Alec Bohm, 3B/1B (No. 1, MLB No. 34)
The Phillies started their 2018 first-round pick off slowly by sending him to the Class A South Atlantic League, but he clearly showed he was too advanced for that level and got promoted not once, but twice. The 2019 Futures Game finished with a combined .305/.378/.518 line to go along with 21 homers and 80 RBIs. He also only struck out in 13.5 percent of his plate appearances, while walking in 10.6 percent of them.
NATIONAL LEAGUE CENTRAL
Brewers: Trent Grisham, OF (No. 6)
In a make-or-break year, the Brewers' 2015 first-round pick put it all together. Major adjustments to Grisham's swing and contact point enabled him to break out offensively, and the 22-year-old produced a .300/.407/.603 line with 26 homers (54 XBH) between the Double-A and Triple-A levels en route to his big league debut on Aug. 1.
Cardinals: Randy Arozarena, OF (No. 10)
The raw talent has always been there with Arozarena, but prior to this season he had struggled to convert his tools into on-field production. A more refined approach, along with a more controlled overall game, helped the 24-year-old outfielder find some much-needed consistency in 2019, and he batted .344/.431/.571 with 15 homers and 17 steals in 92 games between Double- and Triple-A en route the Major Leagues.
Cubs: Robel Garcia, 2B/3B (No. 26)
The unlikeliest big leaguer of 2019, Garcia got released by the Indians in 2014 and spent three years playing in Italy before Chicago spotted him in Arizona this fall. He mashed at a .284/.369/.586 clip with 27 homers in 98 games between Double-A and Triple-A and also went deep four times in a month with the Cubs, who called him back up on Sunday.
Pirates: Mason Martin, 1B (No. 19)
Sometimes the reset button works. Martin struggled in his first go-round in the South Atlantic League in 2018. But he was ready this year and he finished tied for the league lead in homers with 23 even though he got promoted after 82 games. His 35 homers for the season led all hitters at the A/A Advanced levels. He topped all Minor Leaguers with 129 RBIs and finished tied for fifth in home runs.
Reds: Packy Naughton, LHP (No. 13)
After an up-and-down first full season, Naughton pitched his way to Double-A in year two and proved to be a durable workhorse (157 IP). He threw a ton of strikes, leading the organization with his 2.01 BB/9 rate and his 3.32 ERA. He finished with a nifty 131/35 K/BB ratio and looks nearly ready to fit into the back end of a starting rotation as an innings-eating southpaw.
NATIONAL LEAGUE WEST
D-backs: Kevin Cron, 1B/3B (No. 26)
The younger brother of Twins masher C.J. Cron hit at least 22 homers in each of his first four full seasons after being selected by the D-backs in the 14th round of the 2014 Draft. This year, however, the 26-year-old erupted to crush a Minor League-best 39 homers, including a franchise-record 38 in just 82 games with Triple-A Reno. He also made huge gains in his approach, walking more and striking out less en route to a .331/.449/.777 line, and hit five homers in his first 29 big league games after receiving his first callup in May.
Dodgers: Gavin Lux, SS/2B (No. 1, MLB No. 9)
By hitting .347/.421/.607 with 26 homers and 10 steals between Double-A and Triple-A at age 21, Lux became the first middle infielder that young to post a 1.000 OPS in the upper levels of the Minors since Gregg Jefferies in 1987. The 20th overall pick in the 2016 Draft destroyed Triple-A pitching, batting .392/.478/.719 with 13 homers in 49 games.
Giants: Seth Corry, LHP (No. 9)
Corry permitted a total of 11 runs (nine earned) over his final 14 starts to run away with South Atlantic League pitcher of the year honors. The 2017 third-rounder led the low Class A circuit with a 1.76 ERA (second in the Minors), 172 strikeouts (fourth), 12.6 strikeouts per nine innings (fifth), a 34 percent whiff rate (fifth) and a .171 opponent average (third).
Padres: Luis Campusano, C (No. 8)
The Padres' second-round pick from the 2017 Draft established himself as one of the game's best young catching prospects in his second full season, garnering honors as the California League's co-MVP after leading the circuit in batting (.325) and finishing among the top five in hits (137), doubles (31), RBIs (81) and total bases (215). He also hit 15 home runs in 110 games and recorded nearly as many walks (52) as strikeouts (57).
Rockies: Sam Hilliard, OF (No. 9)
Hilliard has long shown big tools, along with big swing and miss, and in some ways the 2019 season was no different. While he struck out 164 times in Triple-A, he also turned in the second 20-20 campaign of his career (35 homers, 22 steals) while slugging .558 and driving in 101 runs en route to making his big league debut.