Q&A: Eppler on his path to becoming a GM
From the NFL to MLB, Angels GM discusses his journey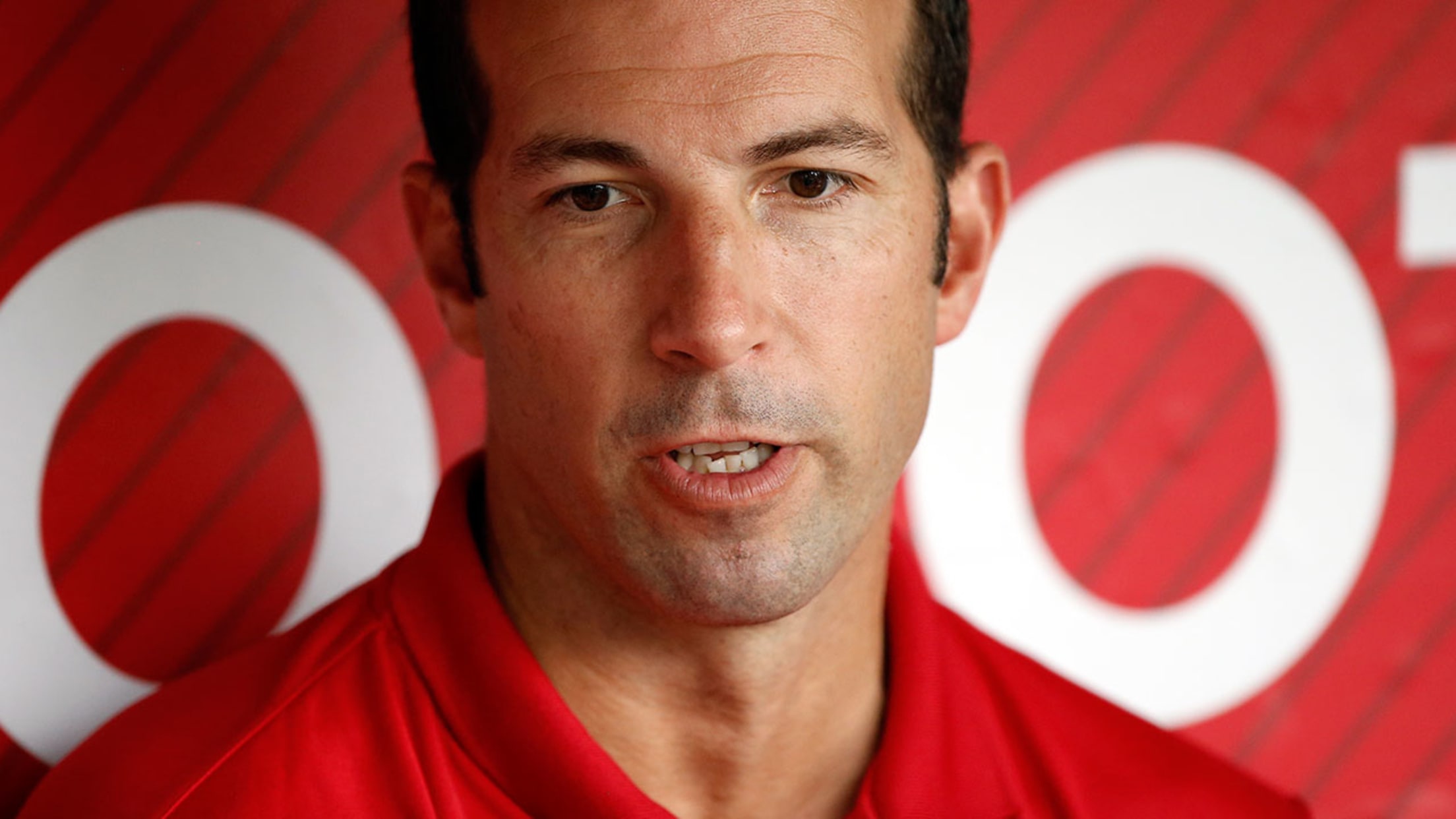 GM Billy Eppler expects Angels to contend during the 2017 season. (AP)
Billy Eppler knew he wanted a career in baseball. And once he realized his playing days were over after college, he became focused on learning about working in the front office.After getting his first exposure with the Rockies, Eppler moved on to the Yankees. Then, last offseason, he got his
Billy Eppler knew he wanted a career in baseball. And once he realized his playing days were over after college, he became focused on learning about working in the front office.
After getting his first exposure with the Rockies, Eppler moved on to the Yankees. Then, last offseason, he got his chance to be a general manager with the Angels.
Eppler is one of six current general managers -- along with Jon Daniels of the Rangers, Matt Klentak of the Phillies, Michael Hill of the Marlins, Jeff Bridich of the Rockies and Jerry Dipoto of the Mariners -- who began their front-office career under the guidance of former Rockies general manager Dan O'Dowd.
Eppler talked about his baseball education in this week's Q&A:
MLB.com: You actually got your start in the NFL?
Eppler: Ernie Zampese, who had been a longtime coach in the NFL, was a friend of the family. He introduced me to Charley Casserly, the general manager of the Redskins, after I came out of college, and he hired me for an internship. Norv Turner was the Redskins' head coach at the time, and Norv had learned under Ernie during their days with the Cowboys, when Ernie was the offensive coordinator and Norv was the quarterbacks coach. That learning experience was more about being in professional sports, moving from a game to big business.
MLB.com: From the Redskins, how did you wind up in baseball?
Eppler: I got into baseball through Damon Oppenheimer, the Yankees' scouting director, and Priscilla Oppenheimer, his mother, who was a key part of the Padres' farm system for decades. I remember telling Mr. Zampese that I wanted to do something with professional sports, and I had this internship with football. Ernie said, "I think you'll probably go a little farther with baseball, because you played it and you have a little bit more roots in there." So I contacted Damon. Our fathers knew each other because they both ran Chevron gasoline stations in San Diego. Damon knew Bill Schmidt (the Rockies' scouting director), and next thing you know, I got myself a part-time job.
MLB.com: Next came the front-office internship with the Rockies?
Eppler: Yes, I was exposed to the inner workings of the front-office and all the things I picked up from Dan O'Dowd, about leadership, how to organize systems and just the details.
MLB.com: Did O'Dowd welcome a young guy into the front office?
Eppler: No question. He would do the spitball sessions in his office where we'd come in and have a think-tank exercise where we'd say we were going to call the White Sox. He wanted to understand what players you liked in those systems and why. And he'd offer a counter opinion or an opinion to validate what you're seeing or what your thoughts were at that time, so the learning process was underway and often times we didn't notice it. Then he'd challenge you with things. He'd give you projects here and there. I remember one particular project, "Can you forecast an aging curve for players? Let me see what you do, and let me see your methodology behind it." So there was always a method to the madness, so to speak, of what you might be doing, and that learning experience was very valuable for me.
MLB.com: From the Rockies, a team with a smaller payroll, you go to the Yankees, a team with one of the bigger payrolls in the game. A big change in how business was done?
Eppler: It was different for me when I got exposed to looking at the entire free-agent board. Often times in Colorado, if there were budgetary constraints or some considerations we had to make, you look at the free-agent board just in thirds and say, "OK we're going to fish in this middle third or this bottom third to round out the roster." Then when I got to New York, you're looking at the whole free-agent board, top to bottom. So it was a little different from that aspect. I think my roots with Colorado and my roots around a mid-market-to-a-small-market club, being from there helped me gravitate toward the low-hanging fruit, so to speak. "Where can we improve this roster and not spend a lot of money?" That background I picked up during my time with Colorado.
MLB.com: It seems you always had a plan, even when you came out of high school.
Eppler: Yeah, I went to junior college first, because I had this goal that I wanted to play Division I baseball. I finished high school at age 17, really underdeveloped. I was probably six feet tall at the time, and 165 pounds, and I wasn't physically capable of playing Division I baseball at the time. I wanted to achieve that goal all my life and figured the next best, way to achieve it was to go to junior college. Let me see if I'll grow. My dad's big, my uncle's big. I wanted to see if I'd get a little taller, a little stronger, and sure enough, Mother Nature took over. I added three inches and about 30 pounds.
MLB.com: And then you transferred to Connecticut?
Eppler: I wouldn't have had the courage to go back east right out of high school. But as I spent two years at a junior college, I grew a little bit, matured a little bit, I got myself a little bit more comfortable with being uncomfortable. I took the leap of faith and headed out to UConn, and it was a really good experience.
It was probably my best opportunity from an opportunity-to-play standpoint, and the size of the scholarship that I could muster there as opposed to some other schools. I had pretty much made up my mind that I wanted to go east, go see a different part of the country and use baseball to grant that opportunity, and it worked out.
MLB.com: You seemed at ease with the realization that after college the playing career was over.
Eppler: Yeah. I was a pretty good self-evaluator. Unfortunately, it ended through injury. I hoped that didn't happen. I thought I was going to at least finish out college and maybe even go out and play a year or two in professional baseball. I knew I wasn't Major League talent at that point, but I just wanted to do it as long as I could. Then I decided to do the next best thing and work in the game.
Tracy Ringolsby is a columnist for MLB.com.