Q&A: John Lynch on choosing football over baseball
Pro Bowl safety was second draft choice in Marlins history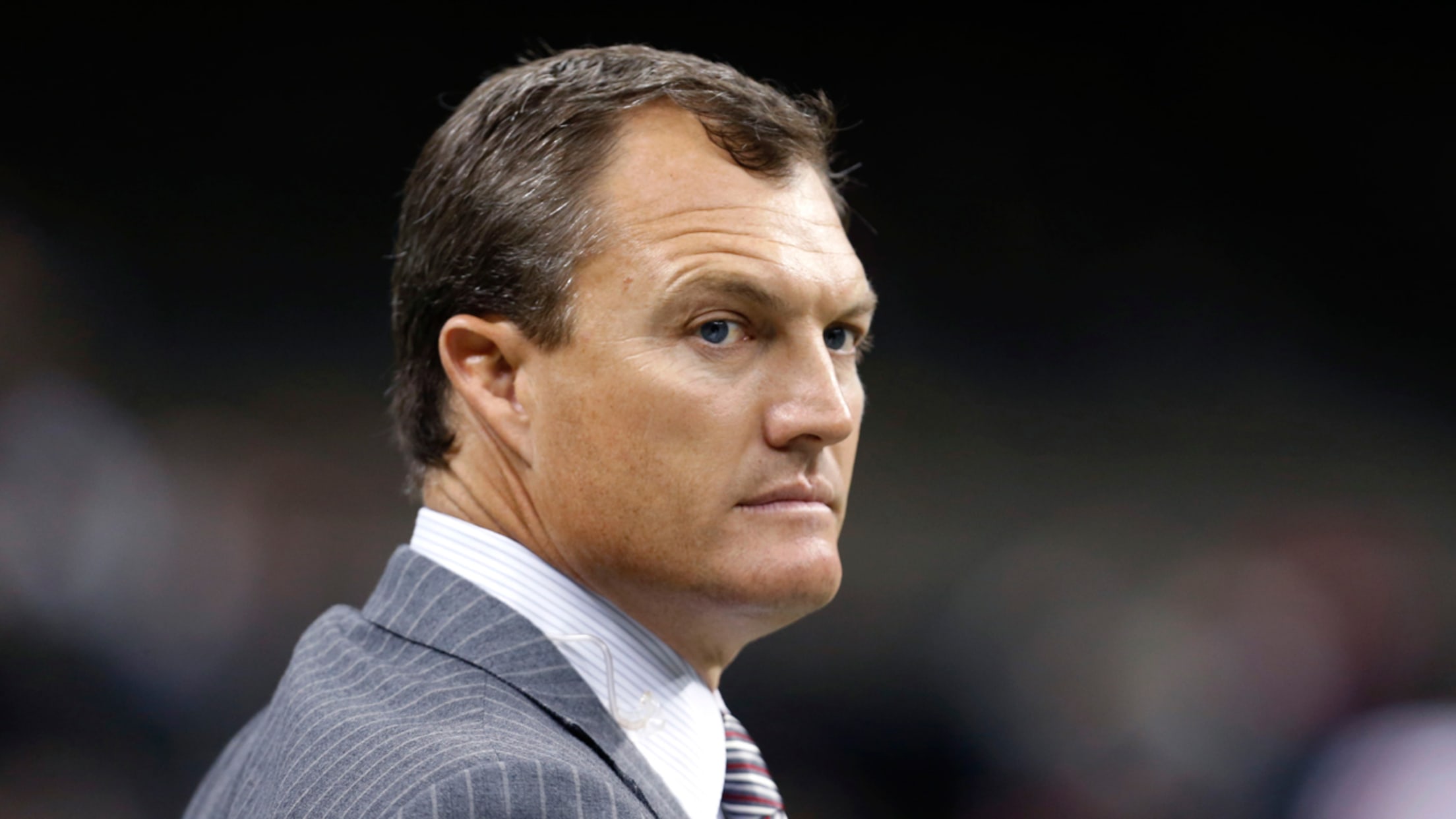 John Lynch spent 15 years in the NFL, and he is a potential Hall of Famer as a strong safety. A third-round draft choice of the Tampa Bay Buccaneers in 1993, he played for them for 11 seasons, and then played four years with the Denver Broncos.Lynch was a nine-time
John Lynch spent 15 years in the NFL, and he is a potential Hall of Famer as a strong safety. A third-round draft choice of the Tampa Bay Buccaneers in 1993, he played for them for 11 seasons, and then played four years with the Denver Broncos.
Lynch was a nine-time Pro Bowl selection, and was ranked No. 10 in the NFL Films Top 10 Most Feared Tacklers special.
Lynch, however, was a professional baseball player first. He was the 66th player selected in baseball's 1992 draft -- the second draft choice of the expansion Florida Marlins, the first draft in franchise history. Armed with a 95 MPH fastball, he started the first game in the history of the organization, only to have his career plans changed that summer, when the legendary Bill Walsh became the Stanford coach and lured Lynch back for one more season.
Lynch discussed his sports decision in this week's MLB.com Q&A.
MLB.com: When you came out after your junior year at Stanford, you felt your future was in baseball?
Lynch: I really was committed to baseball. It was partly because of my love for baseball, but also because football didn't take off for me. Football was always my first love. I went to Stanford as a quarterback. I was the No. 2 quarterback the day I stepped on campus, and I just got frustrated from not getting on the field. Meanwhile, I was getting playing time from the time I was a freshman at Stanford on the baseball field and really was having fun. Then, all of a sudden, I was drafted by the Florida Marlins. I decided it may not be my first love, but it is something I do love, so you have to take your best option. So, I was really committed when I signed with the Marlins -- that's the direction in which I was going to go. At that point, my mind was focused on being the best baseball player I could be.
MLB.com: And then Dennis Green left Stanford, and Bill Walsh became the head coach. Was that the turning point?
Lynch: I moved to safety my junior year, and I played about 30 percent of the snaps in football. Then, Bill Walsh comes in after I'm drafted by the Marlins and says, "I understand you have this great opportunity, and I don't want to take that from you. But I watched all the film this year and you can be a Pro Bowl player at the safety position in the NFL." It took a lot of courage, because I'm talking to Bill Walsh, but I said, "With all due respect coach, I played 30 percent of the plays in my first year at the position, and you're telling me I can be an All Pro?" Like the great ones do, he didn't just say it, he showed me. He had made a tape of a bunch of plays with me playing, then a tape of Ronnie Lott, who did pretty well at that position. Bill said, "Just do me a favor and make it in your contract that you can come back for your senior year at Stanford." I did that. Football really took off. I became an All American that year and really discovered how much I truly loved football. It was never not a love of baseball, it was just football being my first love, Bill Walsh inspiring me to come back and give it one more try. Then it took off for me.
MLB.com: Before Walsh, did you have anyone encourage you that you could play at a higher level?
Lynch: No one did, and I didn't myself. So, that meant a lot to me, when he had that much belief in me. And sometimes that's all you need is for one person to believe in you. It doesn't hurt when that person is Bill Walsh, who has a little bit of credibility. I always had worked, and that had even ignited my passion for it more.
MLB.com: You were a key figure in Marlins history, starting that first game ever for the organization at short-season Erie. An exiciting moment?
Lynch: I still have the video of that game at home. Sunshine Network came up there, Wayne Huizenga and all the executives of the Florida Marlins turned this elementary school into what looked like a big league field. I will never forget throwing the first pitch -- and, unfortunately, the first seven were balls. Every time I threw a pitch, the Hall of Fame grabbed something else -- a ball, my hat. I came in after the inning, and they undressed me and took my uniform. It's a fond memory that I'll have forever.
MLB.com: Do you keep in touch with any of your old baseball teammates?
Lynch: I keep in touch with Pat Leahy, who was a guy I played with at the Marlins, and his grandfather was Frank Leahy, the longtime football coach at Notre Dame. Edgar Renteria is a guy I have seen from time to time. My second year with the Marlins, we were in Cane County, in the Midwest league, and my roommate was Pat Leahy. John Boles, who was the Minor League Coordinater, said they needed someone who was responsible to look out for Edgar. Edgar was 16 years old, but he could play, and he was the top prospect in the organization. So, Edgar came and lived with us and had a lot of fun, and we became really good friends.
MLB.com: But all that turned around after the NFL Draft that year you were in Cane County?
Lynch: Tampa Bay drafted me. They had been burned by Bo Jackson early on, and he decided he didn't want to play for the Buccaneers, so he signed with the Royals. So Sam Wyche wants to draft me, but he says, "You have to convince [Bucs owner Hugh] Culverhouse you want to play football, and you have about five minutes to decide if this is something that you want. That's how much time we have left on the clock, and we aren't drafting you unless you commit to us." At that point, my heart was really going that way, so I committed to the Buccaneers' organization.
MLB.com: With the Broncos you were teammates with John Elway, who had his fling with pro baseball, too. Did you guys talk about baseball?
Lynch: Absolutely. He became a good friend. We've got a lot of parallels -- football, baseball. I played for his high school coach in football, Jack Neumeyer. We were both quarterbacks. We both played football and baseball at Stanford. I wore Mizuno shoes because John did. We were both drafted by Gary Hughes as well, which is something we both started to figure out as we started to talk.