Q&A: GM Atkins' holidays always active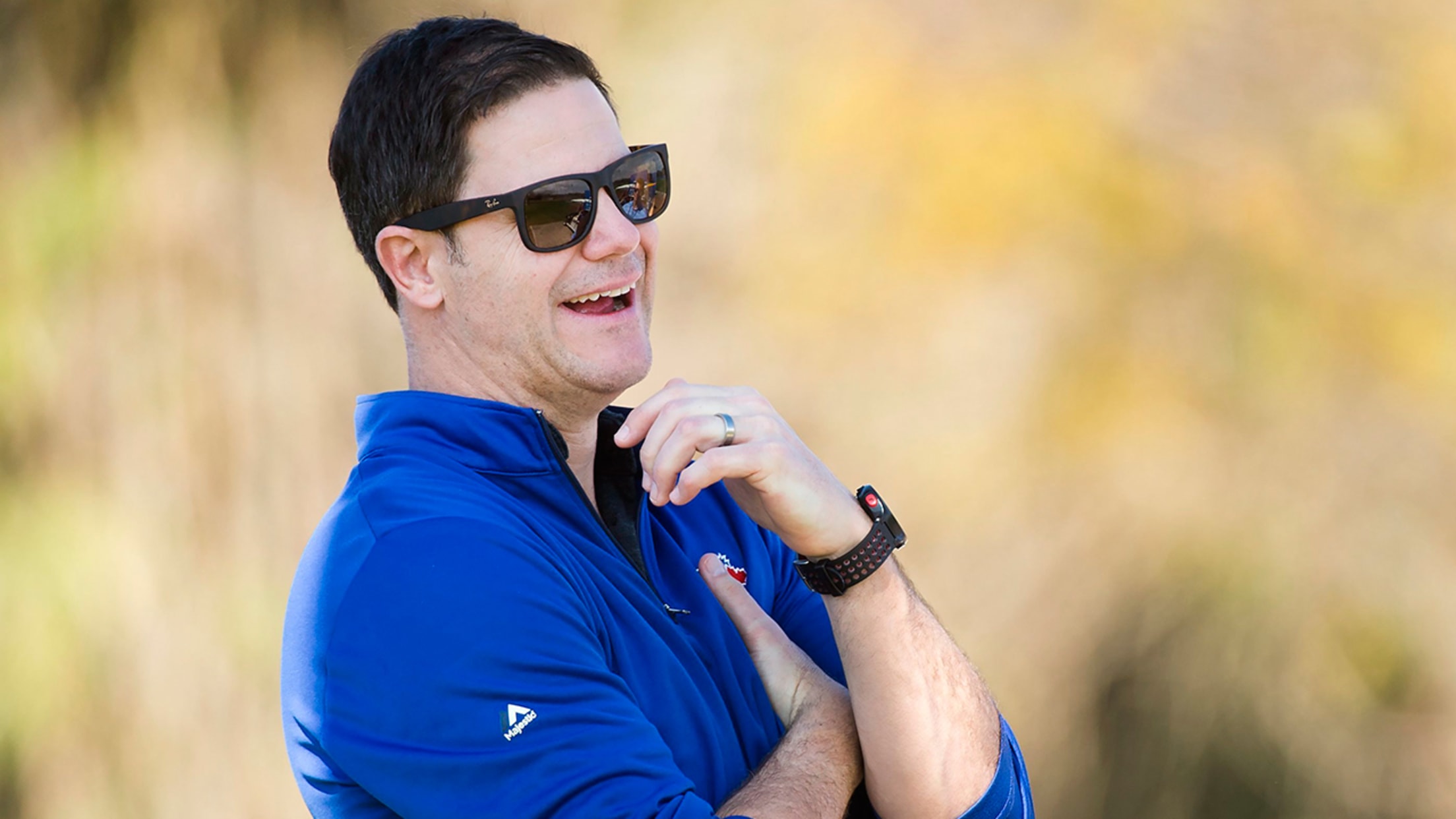 TORONTO -- Blue Jays general manager Ross Atkins might have spent his childhood growing up in Miami, but he appears to have adjusted to the Canadian winters. Want proof? All you need to do is take a look at the ice rink in his backyard. Atkins, of course, is no
TORONTO -- Blue Jays general manager Ross Atkins might have spent his childhood growing up in Miami, but he appears to have adjusted to the Canadian winters. Want proof? All you need to do is take a look at the ice rink in his backyard.
Atkins, of course, is no stranger to a cold winter after having spent almost 15 years with Cleveland, but Toronto is a different beast altogether. The third-year GM recently took time to talk about the upcoming holidays and what has changed since he moved to Toronto in 2015.
MLB.com: What were the holidays like for you growing up?
Atkins: The holidays, for me as a kid, were spent hoping I would get an Easton aluminum bat or the Rawlings five-finger. Ping-pong tables, pool tables and lots of Wiffle ball with my neighbor, Mike Lowell. I grew up in Miami, so it was outdoor, backyard activity, 365 days a year. Christmas Day included.
MLB.com: Did you have any family traditions growing up? Ones you've tried to pass along to your family?
Atkins: I think the biggest family tradition that we had, that I have tried to continue, is doing something active: Christmas Eve, Christmas Day, the day after and usually a combination of all three of those days. There was a lot of backyard, front yard street activity, whether that be two-on-two, four-on-four football, basketball or Wiffle ball. One year, we got wind surfers for Christmas and we went wind surfing on Christmas Day. That was one of my most memorable Christmas Days, and I think that carried into trying to instill the love of the outdoors to my daughters. We try to go skiing somehow around Christmas Day.
MLB.com: You're obviously familiar with the winters in Cleveland, so the Canadian climate isn't exactly a shock to you, but what are some of the winter activities you prefer up here?
Atkins: In Cleveland, our neighbors had an ice rink and we had local ski hills that we went to with the girls. Lots of sledding -- just anything to be outdoors and not let grey skies, and tons of snowfall, keep you inside. Here, we actually poured an ice rink in our backyard and have continued the local skiing efforts to keep the girls interested in being outside and not being afraid of having cold fingers.
MLB.com: A rink in your backyard -- it doesn't get much more Canadian than that. Is this the first year you've done it? Any tips?
Atkins: Make sure you have hot water on the exterior and allow all neighbors to use it at any time, because usually they're more motivated to help you clean it off. It's an open-door policy, and last year we had a ton of neighbors on it. I'd come home, and there would be four or five kids on it. I didn't start skating until 2016. I had been on ice skates maybe two or three times before that, but not for more than maybe 30 minutes. I'm just learning with the girls, and they actually took classes when they were younger, but this is the most exposure I've had.
MLB.com: Favorite Christmas movie?
Atkins: "Miracle on 34th Street." Incredible, heartwarming story, with lots of hope and just such great messages in it. Such a nice reminder of what is really spectacular about the holidays. The giving aspect of it, appreciating family, appreciating those that you love and care about. Just a great, heartwarming story.
MLB.com: As the Blue Jays' GM, what would you ideally wake up to on Christmas morning? What gift does Toronto need?
Atkins: I would say a premonition of the healthiest year in Blue Jays history.
MLB.com: The baseball offseason never seems to stop. More and more work is being done in January than ever before, so how does that impact your schedule over the holidays, and do you have an opportunity for some downtime with family?
Atkins: It always depends. Something could definitely brew up, but with the offices shut down, I'll definitely be with my family more. In these jobs, and this is not a complaint, it's just the nature of loving what you do so much, you don't think about much else. Even if you're not at work, you're thinking about ways you can impact the organization in a positive way. It might not be player-specific, or trade-specific, it might be philosophical, or staff development, or staff opportunities. Team building happens in a lot of ways, not just on your 25-man roster. I'll be thinking about those things, as I do all of the time, but I will most likely be with my wife and two daughters a little more than I normally would be.