Mattingly talks development, Jeter, NY in Q&A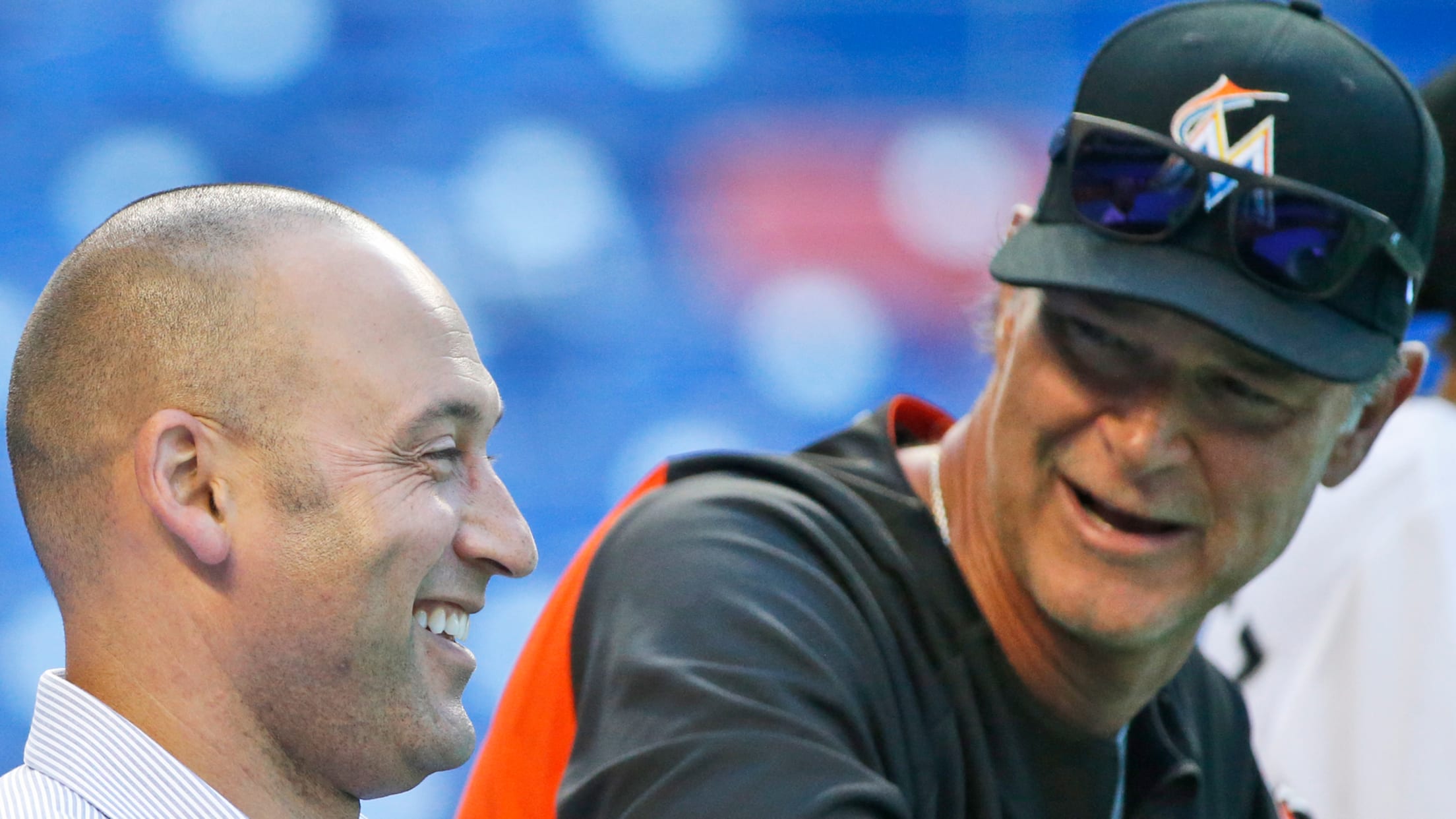 In a recent sitdown, Marlins manager Don Mattingly answered questions on subjects ranging from player development to his new boss, Derek Jeter, the club's chief executive officer.MLB.com: After losing Giancarlo Stanton, Dee Gordon and others after the 2017 season, a lot of experts expected the team to have one of
In a recent sitdown, Marlins manager Don Mattingly answered questions on subjects ranging from player development to his new boss, Derek Jeter, the club's chief executive officer.
MLB.com: After losing Giancarlo Stanton, Dee Gordon and others after the 2017 season, a lot of experts expected the team to have one of the worst records in baseball. But looking at this team, it has been competitive. What do you think?
Don Mattingly: We lost some good players. I think we had an understanding from our meetings in the winter of what direction we were going and what the objective was. That is to build a championship club. The clear message from Derek was, 'This is not working,' and we had to build the (farm) system. So there were some things that had to be done.
The way you play is how you win games. From that mindset, the guys have played hard. We have won our share. We should have won more. That's part of our growth. We were not listening to the outside noise. In a sense, our players have taken that personally. They see the changes that are going on. It's different here now than what it was. They see it and there is going to be an expectation and accountability for the way you play, the way you prepare, the way you treat people. That's going to be consistent.
MLB.com: How different is it compared to when you first came to Miami?
Mattingly: It's a little different. I don't want to get into the past, but I think it's about being consistent and a lot more thought of developing and knowing who we have to be successful, and that starts with development in the Minor Leagues and making sure we are focused on that as an organization. And then, as a Major League club, it's about competition.
MLB.com: When it comes to on the field, what have you liked so far?
Mattingly: The attitude has been great. I think the buy-in has been good with what we are trying to do. We love our young pitching. That's one of the things that stood out. That has been exciting to watch.
We lost some guys and that opened some doors for other guys. We see Brian Anderson give us quality at-bats all the way through and starting to show he is a guy we can depend on. As part of a group, we've seen Lewis Brinson. He hasn't had that success yet, but we see flashes of it. The defensive side has been tremendous. It's given Miguel Rojas a chance to play every day. He has been one of our best players on a day-in and day-out basis. Tayron Guerrero had trouble throwing strikes in the past, but now he is starting to be a force. You see the bright spots and you can see where can we build. How do we build a championship? Is this the right guy for this club? Does he compete? Is he prepared all the time? There are lots of things that are going on. We are trying to gather information on a lot of different things.
MLB.com: The Yankees and Nationals have recently relied heavily on their farm system. Does it give you hope that things will turn around in Miami?
Mattingly: Absolutely. Further than those clubs, Houston -- what they were able to do. Philadelphia is starting to do it. Atlanta is doing it. Kansas City won a championship with their system and putting things together with trades or whatever that may be. I know I look at it as this is the way to win. We are a club that is not going to be able to compete financially with New York or L.A. or Boston, who have huge TV deals and things like that. But you can compete by doing things better at the Minor League level, developing your own talent, having good Drafts, good international signings. When it's time to make trades, you can get good pieces back.
MLB.com: What do you want to see the team improve on?
Mattingly: Offensively, we have to continue to have a good approach at the plate. ... From the pitching side, I want to see it be more consistent from our starters, from our young guys. I want to see growth, that they are getting better all the time.
MLB.com: You started your managerial career with the Dodgers and there was a lot of winning there. With the Marlins, that hasn't been the case. How do you keep your sanity?
Mattingly: When I started there, I went through the same type of thing. I went through an ownership change. We were one of those clubs where we were using a lot of Minor League guys. New ownership changed the course for the Dodgers, so I look at the situation as the same. I love what the Marlins are doing. I think it's exhilarating trying to develop and build something. That's what I look forward to, not only the competition on a day-to-day basis, but walking that tightrope of us growing and getting better and having your eyes on where we are going.
MLB.com: Dating back to your playing days, you have always been a calm guy. Who taught you to stay calm?
Mattingly: I don't know about that. I've had my share of losing my temper, but I always felt you have to stay under control. I watched a guy like Julius Erving. I remember a huge fight on the basketball court. The guys were running all around and crazy and Doc is on one knee and calm. He stayed under control and knew where he was at. I don't know if it's from my parents. My dad was pretty calm and level-headed. Concentration and focus is more important than emotions.
MLB.com: As young as you were with the Yankees, you didn't get to the Billy Martin level and lose your temper.
Mattingly: I don't think you have to. I think emotions are important. You have to have that fight inside of you. Some guys show it outwardly. You can have that same fire that Billy Martin had, but it doesn't have to come out (to the forefront). As long as it's burning on the inside and that focus is there, it shows through your play and it comes out like that. For me, I try to turn that energy into concentration and focus.
MLB.com: You come from Indiana and you played in a city where there was a lot of media. How much did playing in New York help you?
Mattingly: I thought New York was a perfect place for me. I'm pretty quiet in general. On the field, I felt like I could be who I wanted to be. In New York, all I cared about was the playing on the field. I was always confident in that. I think New York was the perfect place for me because I could be myself off the field. You didn't have to seek attention. You want attention as a player because you want to be doing well. I felt I got plenty of attention just by being myself and letting my play show.
MLB.com: Everybody knows about your career with the Yankees. What's the first thing that comes to mind when you think about New York?
Mattingly: Probably the first time driving into New York after getting called up to the big leagues and just seeing the skyline and Yankee Stadium. I'm walking through that tunnel and that memory is always on my mind. It was exciting getting called up.
MLB.com: You love that city, don't you?
Mattingly: I do. I love coming back here. My wife loves it. We love the plays. We love the energy here. It's a great place. It's a great place to play. It makes you better. It forces you to be good all the time. You can't rest on your laurels here. It's an everyday city. It's a tough city. People are tough and they want guys who work hard and do their jobs. That was good for me.
MLB.com: Even though you didn't win a championship in New York, people think of you as a guy who won a championship by the way you played. How do you feel about that?
Mattingly: I'm proud of the way I played. Sometimes you don't get to choose your time. ... The only thing that you have is how you handle yourself and how you played the game. ... I hope I helped young players when they came in and that is to play the game right and uphold the Yankee tradition. I feel good about everything.
MLB.com: How badly do you want to win a championship?
Mattingly: How do you answer that? Like really bad or kind of bad? It's a goal. It's out there. As a player, I didn't get that chance to even play in a World Series. I've been in the playoffs as a manager and as a coach and we came close. But it's the ultimate goal. It's what everybody wants to do.
MLB.com: Did you learn from Joe Torre, who had to wait a long time to win a World Series title?
Mattingly: I learn from everyone, honestly. I learned from Joe, for sure -- his relationship with players, staying calm on the bench, just things about dealing with the season and the length of it. There is a lot to learn.
MLB.com: You now work for Jeter. Tell me what that experience has been like.
Mattingly: It's been great, honestly. Derek has been consistent. He is exactly who you think he would be -- that fire to compete and for us to get better. He understands where we are trying to go. And just knowing that he is there, it's give you a lot of confidence what you are doing. You know the guy that's leading the ship, you know the mindset and you know the toughness of that mindset. It gives you confidence that what we are doing is the right thing.
MLB.com: What's the biggest thing he said to you and it made you say, "Yeah, he is pretty right on this"?
Mattingly: There isn't one thing. He just has been consistent. The one thing that he said from the beginning is that we have a plan and we are going to stick to it. As soon as you hear that, you know that is going to be consistent. He is not saying it. It's what he believes and what he thinks and what he is going to try to do.
MLB.com: How important is this Draft?
Mattingly: The Draft is always big because you don't realize that the guy you pick may be the cornerstone of what you are going to try to do. He may be that No. 1 pitcher. He may be that position player that takes you over the top. It's not just that one guy you are looking for. It's probably a group of guys that create a competition within your organization that forces other guys to be better. It sets you up with depth.
MLB.com: What's ahead for Don Mattingly? How long do you have in this game?
Mattingly: I don't know. I like working. I feel great. I feel young, for the most part. I don't see any reason to not work. I don't know what I would do if I went home and watched TV and played golf. I enjoy things away from the field, but I have the energy for developing things, not only managing the game, but developing players, helping the players get better. That's always been my mindset as a coach. As a manager, you are trying to get the best out of your players. You want them to be the best players they can be. You always look at that first. If they can become the best players they can be, then we end up having a group that is really good.
Bill Ladson has been a reporter for MLB.com since 2002. He covered the Nationals/Expos from 2002-16. Follow him on Twitter and Facebook.