Price talks World Series, J.D., 'Fortnite' in Q&A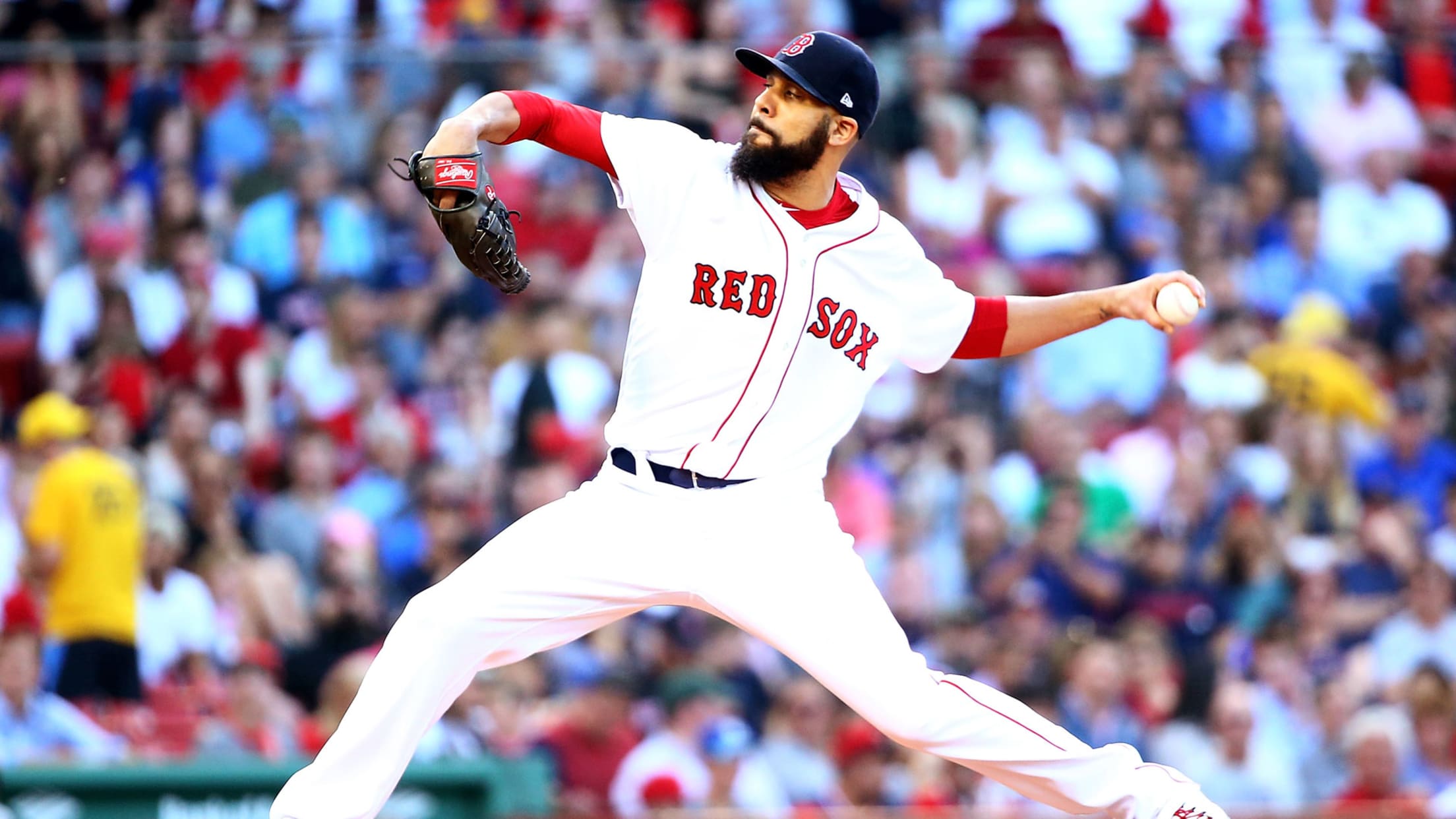 In a recent sit-down with MLB.com, Red Sox left-hander David Price answered questions on a wide range of topics, from his current club to the video game "Fortnite." MLB.com: It seems like you are having fun this year. Why?David Price: I'm healthy. It goes a long way.MLB.com: Talk about what happened
In a recent sit-down with MLB.com, Red Sox left-hander David Price answered questions on a wide range of topics, from his current club to the video game "Fortnite."
MLB.com: It seems like you are having fun this year. Why?
David Price: I'm healthy. It goes a long way.
MLB.com: Talk about what happened last year. It was your elbow that caused you a lot of problems.
Price: Over time, stuff like that is going to happen. That was the first injury of that nature that I've had in 11 years of doing this. I felt like it was unfortunate. But you do this for that long, something like that is going to happen. It was unfortunate timing. With the way that I felt during Spring Training last year [compared to this year] … I feel better this year. I just look to continue to stay healthy.
MLB.com: What did you do this offseason to keep the elbow healthy this year?
Price: The same stuff. I just made sure the elbow was strong. I really wanted to work on shoulder strength. Everything is connected. If your shoulder is bothering you, it's going to put more stress on your elbow. If your elbow is hurting, you are going to put more stress on your shoulder. If one of your legs is hurting, it's going to put more stress on your arm -- stuff like that. I'm just trying to strengthen everything around there.
MLB.com: I even read you are cracking jokes with the media. Last year, it wasn't that way. What made you decide it was going to be different with the media?
Price: I didn't put any thought into it, really. This is a game, so we have to have fun with it. It's viewed differently, so be it. I can't control what's said, what's written or anything of that nature. If things are taken out of context, I have no control over that.
MLB.com: This year, you even cracked jokes about the video game "Fortnite."
Price: Yeah. I guess it came [after a start in] Minnesota and I clearly stated that I didn't think I was worthy of being an All-Star, and it turned into whatever it did. The media was the one that brought up "Fortnite," and I simply said, "Fortnite." The media is playing along with it.
MLB.com: I want to ask you about "Fortnite." That was the game that caused you to get carpal tunnel. Please explain it. I'm not going to lie. It was confusing.
Price: It wasn't from "Fortnite" or any other video game. We had "Fortnite" in the clubhouse. It's what [the media] ran with. I played video games my whole life. The best Christmas gift I ever received as a child was my first Playstation. That's my generation. My brother had the Sega Genesis. He had the Atari. He had the Nintendo. I would always beg him to go in his room and play his video games. Sometimes he would say, no. When I finally got my own, I loved it. Whenever it wasn't nice enough to be outside, I would enjoy playing video games with my neighbors and friends. I loved being outside. Video games didn't take away from anything I was doing at the time. It's just my generation.
Every team I've been on, we've played video games in the clubhouse. Whenever we get back to the hotel on the road, we'll be doing that. We didn't start doing video games when "Fortnite" came out.
MLB.com: How's life in Boston these days?
Price: Cool. I enjoy it. I have my wife and my son [Xavier] there. Having him, I knew it was going to be a blessing. But I didn't know to the extent of how much having a child would do for you. It has been very special.
MLB.com: Tell me, how much has he helped you?
Price: A ton. … I knew how much I loved my dog. My wife has her dog, as well. The amount of love and passion I have for Astro and Louie [is special]. You walk through the door, it doesn't matter if you give up zero runs, threw a perfect game or gave up 30 runs in one inning, they approach you and treat you the same. With the child, he doesn't know any better. Whenever I get home, he sees me, that's a feeling you don't get from anything else. It's very special.
MLB.com: When you look at your son, do you think about how your father treated you?
Price: Absolutely. I think about the relationship my dad and I had. My Dad would always tell me -- at the time I never really understood it, and I understand it now -- "I'm your dad, not your friend. I'm here to raise you the right way, to teach you right from wrong. And one day, you'll understand." He said it probably when I did something wrong or when I got in trouble. The older I got, the more I understood. I understand it now. Being a father, there's nothing that compares to it.
MLB.com: Talk about the role your parents played in your success?
Price: Every bit of it. … They are both retired and traveling around. They deserve it. They worked extremely hard to where they got our family. I never needed for anything. They taught me the worth of a dollar, and that was very good. They were there for me every step of the way. If I wanted to play different sports, they were fine with that. They were the ones to take me to practice, to pick me up from practice. They took me to my games. They were in the stands for all my games. Their support for me during my entire career was tremendous.
MLB.com: The Red Sox have been a fun team to watch. From a pitcher's standpoint, how fun is it to watch Mookie Betts and J.D. Martinez?
Price: Very fun. Those are two elite hitters. Seeing Mookie Betts as an opponent, I knew Boston was going to be playoff contenders and have a chance to win a World Series every single year. That's what I wanted to be a part of.
For J.D., being his teammate in Detroit, I loved watching the way he went about his business. He was always in Jose Cabrera's ear and Victor Martinez's ear, just having those guys there to show him the way they prepare, their approach. J.D. was released [by the Astros] toward the end of Spring Training. For him to put together the years he has put together starting in 2014, that's a testament to his work ethic and how much he puts into it.
MLB.com: It looks like Martinez is getting better. In fact, he is better now than he was in Detroit.
Price: Yeah. Fenway is a good place to hit. … I knew this division was going to be good for J.D. to hit in because of the ballparks we play in. The truest ballpark in our division is [Tropicana Field], and J.D. can hit the ball out of any ballpark. For him to play nine games at Yankee Stadium, nine games in Toronto, nine games in Camden, I figured that J.D. would put up some pretty special numbers.
MLB.com: How far can this team go? This is a really good team, but you have the Yankees right behind you.
Price: We feel we can do really special things this year. That's what we plan on doing. We do things really well. I don't know what our weakness is. We have good starters. We have a really good bullpen. Our defense, both outfield and infield -- is extremely strong. We are strong up the middle. It's something you got to have. You have to have those good defensive catchers. Obviously, Jackie Bradley in center, we are very strong up the middle, and that's huge.
MLB.com: I know you have been in the postseason, but is this team the best you ever played on?
Price: I think so, honestly. We have a very, very good team. My first year here we had a solid squad as well. … But this year, I do think this is the best team I've been on.
MLB.com: World Series championship?
Price: That's the plan. That's the goal.
MLB.com: What do you want people to know about you?
Price: I enjoy what I do. I put a lot of time and a lot of effort into my craft. I care about what I do, and that's every day, not just the day that I start. It's not the day after or the day before. It's every single day. I put in the time. I put in the work. I go out there and try to get the results I expect to get.
MLB.com: You have been in professional baseball for over a decade. What's the biggest thing you want to accomplish?
Price: World Series championship. I feel that is one of the few things in this game I set out to achieve in my career I haven't done yet. Being able to get there, go to the World Series my first year with Tampa in 2008, that was very special. At the time, I probably didn't understand how big of a deal it really was. It happened so fast. In 2008, I'm just getting called up. I made my debut on Sept. 17 at the old Yankee Stadium.
MLB.com: You were a closer later that year.
Price: My first decision was a save. My first win was Game 2 of the World Series. It was cool.
MLB.com: Do you see yourself as a closer in the future? You did a great job.
Price: I feel like I'll be a starter for a while longer. The bullpen is cool. It's different. Sitting out in the bullpen is a lot different. The game looks a lot different. If you have a rough outing today, you can bounce back tomorrow and right that ship. That was cool, as well. For right now, I'm a starter, and that's what I want to do.
Bill Ladson has been a reporter for MLB.com since 2002. He covered the Nationals/Expos from 2002-2016. Follow him on Twitter and Facebook.