No team is perfect: Here's a quick fix for all 30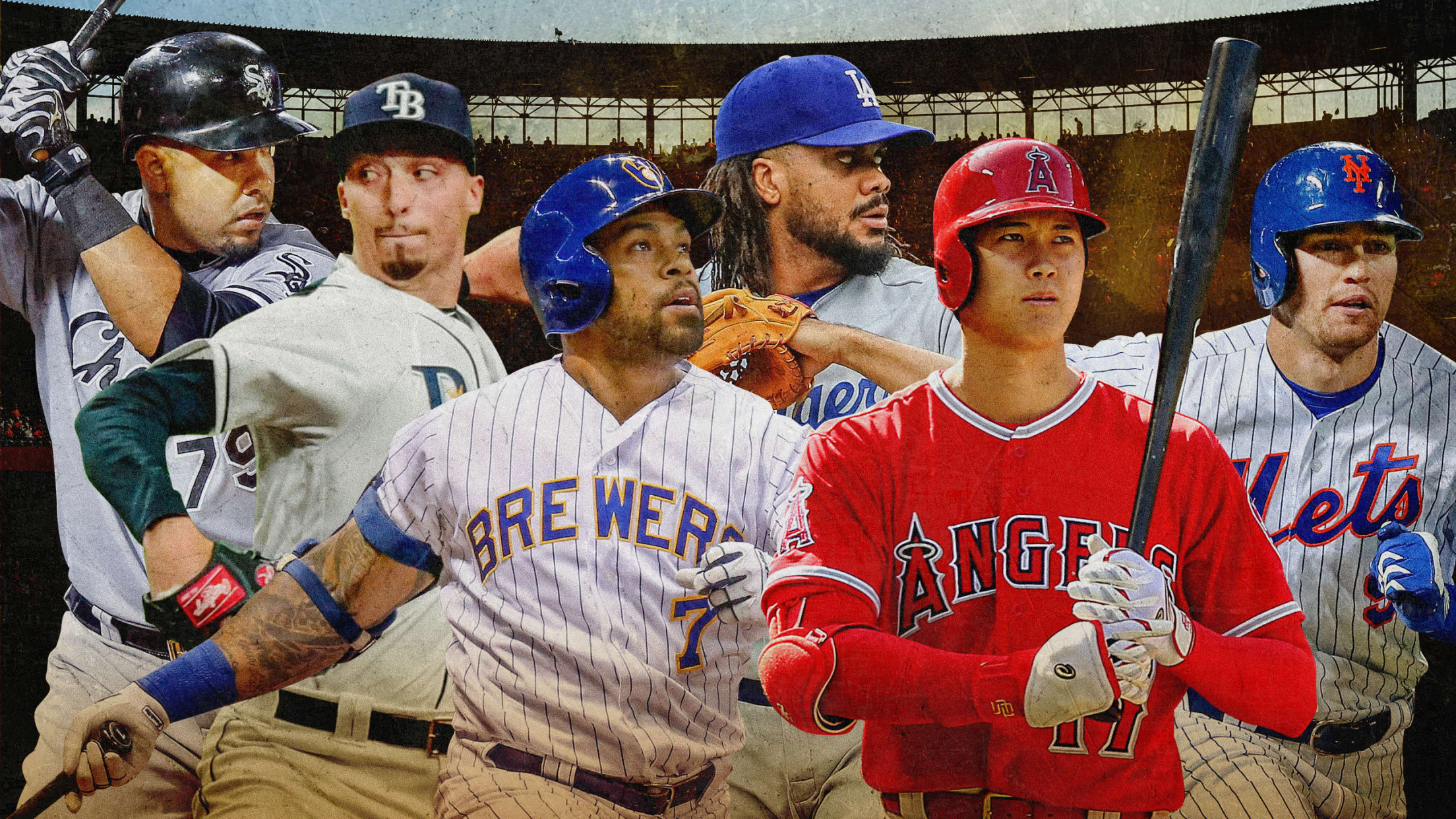 The season is not so far along that, no matter where your team is, there isn't a chance to recover. Only one team in baseball has zero percent playoff odds, according to Baseball Prospectus: the Orioles. And even they are projected to have a better record than anyone guessed heading
The season is not so far along that, no matter where your team is, there isn't a chance to recover. Only one team in baseball has zero percent playoff odds, according to Baseball Prospectus: the Orioles. And even they are projected to have a better record than anyone guessed heading into the season. There's always hope!
So, today on The Thirty, we look at a quick fix for every team in baseball -- a way to help one of their deficiencies so far, or at least aid the team over the next few months. There's so much baseball left. We have only just begun.
AMERICAN LEAGUE EAST
Blue Jays: Just stay out of Vlad Jr.'s way
This season is already going to go down in Blue Jays history as Vlad's first season, so as long as he stays healthy, this year is going to be a success. So just sit back, watch him let 'er rip and enjoy the journey.
Orioles: Call up Ryan Mountcastle
First off, that name! Also, Yusniel Diaz is on the injured list right now, so Mountcastle, the No. 67 prospect per MLB Pipeline, can be the guy who represents a brighter future for Orioles fans. Also, how do you not sell MOUNTCASTLE jerseys?
Rays: Get Blake Snell's toe healthy
The Rays have been one of baseball's best stories in the first month-plus, but the reigning AL Cy Young Award winner hasn't been the same since dropping a bathroom sculpture on his toe. The Rays have a lead in the AL East right now, but the Yankees will be healthy at some point and the Red Sox aren't going away. They need to build onto this lead while they can.
Red Sox: Just stay the course
The Red Sox, after their horrible start, are slowly crawling their way back to .500, and it's not like anyone is running away with the division. These are the same players that had a historic season in 2018. The worst is over.
Yankees: Find the demon plaguing your health, and kill it
Eventually, these players are going to come back. None of them have season-ending injuries. Just keep your head above water as long as you can. The cavalry is coming.
AL CENTRAL
Indians: Find an upgrade for the outfield
It's not like the fact that the Indians' outfield doesn't scare the opposition is a secret, but when other parts of the Cleveland roster started breaking down, the deficiencies became more apparent. The Indians are still somehow hanging around despite all their early issues. There are three positions that should not be difficult to upgrade, to say the least.
Royals: Try to find some young pitchers that will stick
The Royals' offense has been better than advertised. They have five regulars with an OPS+ over 112, including the suddenly unstoppable Hunter Dozier. But the pitching is showing nothing, and lacks long-term promise. The Royals' best teams have always been built around pitching in that big ballpark. Right now, it's tough to find pitchers who will still be there in three years.
Tigers: Start scouting trades
Shane Greene, who has been amazing, is an obvious trade candidate; Nicholas Castellanos is, too. Whatever's not nailed down should be discussed. Honestly, is 28-year-old Matthew Boyd part of the next great Tigers team? Probably not, right?
Twins: Get some bench help
The Twins have a real opportunity to win this division, but they don't have much room for error in that lineup. Marwin Gonzalez is struggling with everyday duties and maybe should be a super-utility player again. The Twins have a window right now. They need to go through it.
White Sox: Be ready to compete in 2020
The injury to Eloy Jimenez was a reminder that the White Sox need to start building for next year. There's a ton of talent here; trading Jose Abreu would be a great way to get more of it.
AL WEST
Angels: Figure out the first-base situation
Shohei Ohtani is coming back to DH as soon as this week, which means the Angels have to solve their problem at first base. Albert Pujols has been a league-average hitter -- a welcome improvement -- and Justin Bour has been a disappointing signing, but there's still a lot of power in that bat. Do they platoon? Getting Ohtani's bat back is a huge addition. Now Los Angeles has to figure out how to maximize his impact.
Astros: Settle the bullpen
The Astros have few arms they can count on right now, and it's the only thing hurting them. There will be relievers at the Deadline to bring in. But that's only if the Astros don't blow out the arms they have now while trying to get there.
Athletics: Trust some of those young bullpen arms
The A's let's-see-if-the-old-guys-can-do-it strategy this offseason hasn't panned out: Fernando Rodney, Yusmeiro Petit, Ryan Buchter and Joakim Soria are getting knocked around. Even 30-year-old Blake Treinen hasn't been his old self, and now he's hurt. The A's have followed up their breakthrough season in 2018 with a last-place start. And time's already running out.
Mariners: Maybe make some trades?
That's what the Mariners do, after all. And considering how the pitching is starting to falter and the Astros are flying past them, improving is not that high of a bar to clear.
Rangers: Start shipping out veteran pitchers, one way or another
The Rangers' offseason rotation strategy was just to find five veterans, let them play it out and see what happens. Two are hurt, two have been bad and Mike Minor has been incredible. With the offense doing what it's doing, there's a wide margin for error here. Drop the worst guys, trade the best and roll the dice again.
NATIONAL LEAGUE EAST
Braves: Sign Craig Kimbrel
This isn't particularly complicated. The Braves are in a tight division race, they have a desperate need for bullpen help and Kimbrel is one of their most beloved players of the last decade. Just do it, OK?
Marlins: Clear out some vets
There's no quick fix for where the Marlins are right now, but for a team building for the future, they sure do have lots of thirty-something players in the lineup. If Curtis Granderson, Starlin Castro, Neil Walker, Miguel Rojas and Martin Prado are still around in August, an opportunity has been missed.
Mets: Put Brandon Nimmo in center field every day
Nimmo is mostly settling in, but he still is occasionally benched when facing lefties. Keon Broxton and Juan Lagares have had ample opportunity to be useful and have not produced. Nimmo should be as much of an outfield staple as Jeff McNeil and Michael Conforto.
Nationals: Put Howie Kendrick in the lineup every day
Sure, Kendrick isn't the sexiest name at this point -- certainly not as much fun as all the young stars -- but he has hit at every opportunity this year, and the Nationals need production wherever they can get it. With the injuries the Nats have, Kendrick may be their most important player over the next month.
Phillies: Let Hector Neris keep his closing job
Even when David Robertson comes back, it should be Neris' job. And for what it's worth, Seranthony Dominguez is still throwing harder than everyone else on this staff.
NL CENTRAL
Brewers: Start thinking of Eric Thames as the regular first baseman
Jesus Aguilar was a wonderful story last year, but the wheels have come off this season. Meanwhile, Eric Thames has even been hitting left-handers a little bit this year.
Cardinals: Start considering some other rotation options
The Cardinals came into the season with as many options for their rotation as any team in baseball. It might be time to start considering them, with Michael Wacha, Dakota Hudson and Miles Mikolas all struggling. Alex Reyes is recovering from an injury, but Daniel Ponce de Leon, Austin Gomber, Jake Woodford and Ryan Helsley are all throwing well at Triple-A Memphis. The Cardinals have everything going right now but their rotation, which is costing them games.
Cubs: Keep the Tyler Chatwood experiment going
Chatwood is still walking guys since moving to the bullpen, but he also hadn't given up a run in more than a month before Sunday. It's possible the Cubs might have stumbled into something here.
Pirates: Get aggressive on Ke'Bryan Hayes
The Pirates are cautious about bringing up their top hitting prospect, but this is a team that considers itself a contender and desperately needs lineup help, particularly at third base. Hayes is raking in his first month at Triple-A Indianapolis. The Pirates need assistance now.
Reds: Don't overreact
The Reds are in last place in the NL Central, but they've outscored their opponents and have a surprisingly excellent starting rotation. Joey Votto and Yasiel Puig will eventually hit. When the lineup comes around, the Reds are going to mess some teams up.
NL WEST
D-backs: Stop messing around with Jarrod Dyson
Dyson is having a resurgent year out of the leadoff spot, but he's been sitting a lot against lefties, which puts a struggling Wilmer Flores in the lineup. Dyson is the engine that makes this team go.
Dodgers: Don't rely so much on Kenley Jansen
The Dodgers have long leaned on Jansen, and for good reason (despite him allowing a walk-off grand slam Sunday). But he's averaging more than an inning per appearance this season, and there's no need to do that, particularly with a division race the Dodgers seem to have in hand. Make sure he's fresh in October.
Giants: Be willing to say goodbye
The Giants are in a transition mode, and that may mean saying some hard goodbyes in the next few months. Fortify thyselves, Giants fans.
Padres: Get Greg Garcia more at-bats
With Fernando Tatis Jr. on the injured list, the Padres have moved Manny Machado to short, which gives more at-bats to Ty France. But with Ian Kinsler struggling, Garcia should probably get in the lineup more, at short or second, until Tatis comes back.
Rockies: End the Ian Desmond experiment
Desmond has just never quite fit on this Rockies team, and now he's hurting them in the outfield rather than the middle infield or first base. There aren't a lot of great options here, but David Dahl should probably be in the lineup every day.