Notes: Devers back at Camp; Peraza impressing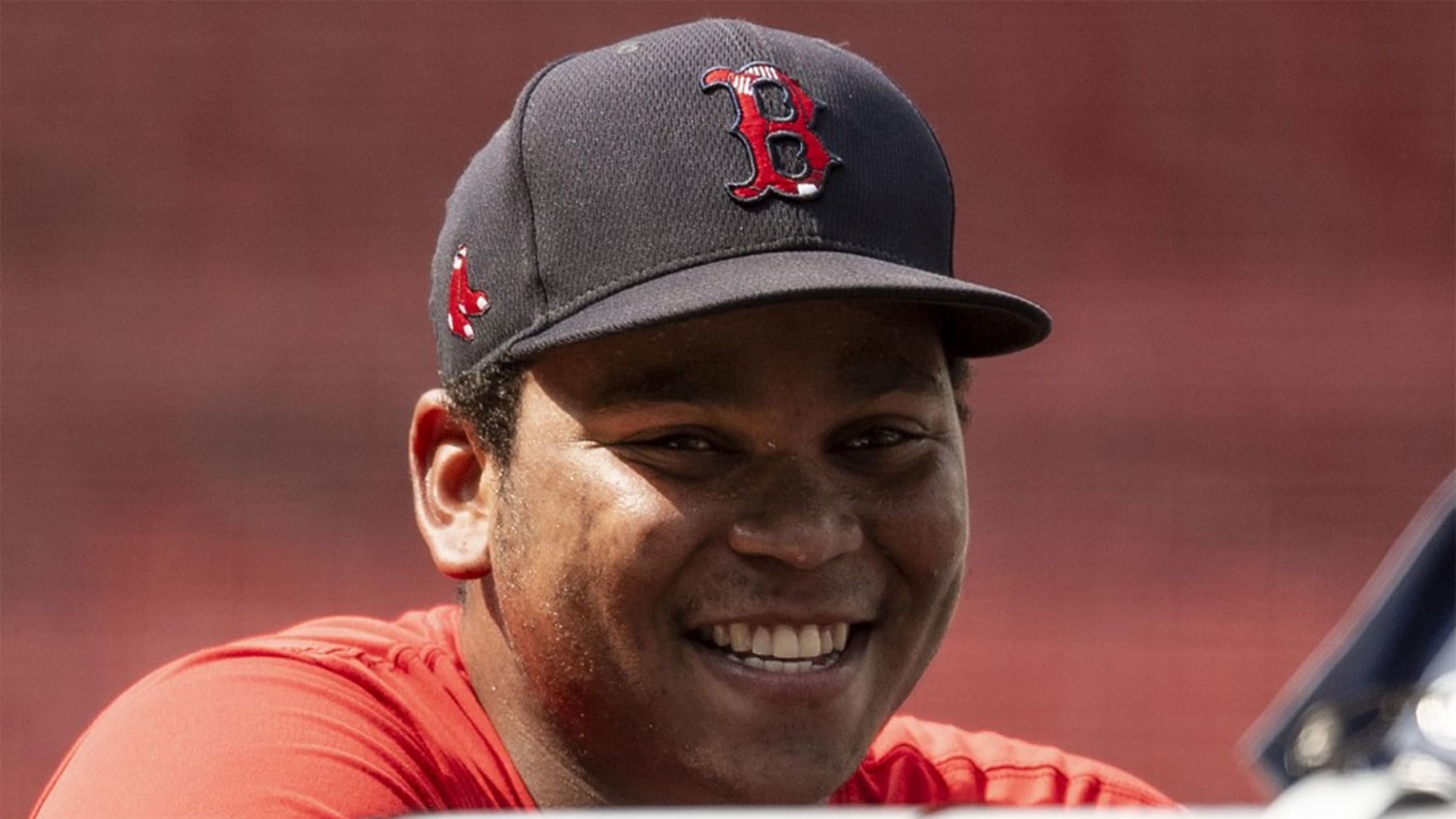 BOSTON -- Using an abundance of caution, the Red Sox excluded third baseman Rafael Devers from their workouts at Fenway Park for a couple of days earlier this week. He returned on Wednesday, working out with a small group in the afternoon. On Tuesday, manager Ron Roenicke simply said that
BOSTON -- Using an abundance of caution, the Red Sox excluded third baseman Rafael Devers from their workouts at Fenway Park for a couple of days earlier this week. He returned on Wednesday, working out with a small group in the afternoon.
On Tuesday, manager Ron Roenicke simply said that Devers had been doing his work over at Boston College, where the Red Sox have been doing some of their workouts.
But the manager was able to give a better explanation on Wednesday.
"We had some guys that were possibly exposed to somebody with coronavirus," said Roenicke. "This group has tested negative three times. We will continue to test them, just because we're being overly cautious. That's kind of why we've separated some of the guys from the later workouts. That's kind of what's going on with him and why he hasn't been part of the other things."
• Narron's steady hand back at perfect time
Sorry to pitchers facing Raffy in live BP. 😳 pic.twitter.com/x6Hz6fFXts

— Red Sox (@RedSox) July 8, 2020
How was Devers safer at Boston College than Fenway?
"He worked out late, to make sure we kept him safe," said Roenicke. "We also made sure how he was getting over there to BC safely. We had a separate bus there, but I think he ended up driving over yesterday. We're concerned with all of that, and making sure that we're keeping other guys away from him, even though he's tested negative three times."
This instance with Devers is an example of why Red Sox players have felt so safe in the six days of Summer Camp. One player after another has praised the team for the way it has run things.
"We're still making sure. We really don't need to do it that way. We're pretty comfortable that we're doing it the right way," Roenicke said. "Today he's working out in the last group again. And then hopefully tomorrow, he'll be back in that regular group with the guys, and he'll be able to participate in the intrasquad game."
Roenicke bullish on Peraza
One player who has impressed Roenicke quite a bit since Summer Camp opened a few days ago is second baseman José Peraza.
"His swings are unbelievable how good they are," said Roenicke. "I thought the changes that he made in the three months that we were off really are benefiting him so far. We'll see how it works once we start these games, but in batting practice, his load is completely different.
"I asked him if he was working with somebody. I know [hitting coach] Tim [Hyers] was staying in touch with him and [assistant hitting coach] Pete [Fatse], but he's doing some things with his load now to really help him. So, with him, every day I go watch him and I'm so impressed with what he's doing compared to what I saw when we were in Florida."
Peraza is expected to be the primary second baseman, but he could be fighting off Michael Chavis for at-bats. Chavis will also see time at first base, particularly against lefties.
Bounce-back Benny
Left fielder Andrew Benintendi will be one of the most important players for the Red Sox this season as he replaces Mookie Betts in the leadoff spot.
Benintendi had a down year in 2019, but he feels like he is primed to bounce back.
"Now it's just getting the timing back, and obviously that will come with facing more pitching, so I'm still putting the work in the cage," said Benintendi. "But yeah, I feel that my swing is in a better spot than it was leaving Spring Training back in March."
What, specifically, is Benintendi working on?
"Just trying to tweak a few little things. There's nothing major," said Benintendi. "Trying to find the right stride, trying to give myself more time to see the ball, trying to keep my bat in the zone a lot longer than what it was last year, and that's something we're working on every day off the tee or with flips before we take BP on the field. So hammer that stuff out every day and trying to find a good routine that works for me and then hopefully that will translate to hitting the ball hard."
Eovaldi ready to air it out
The Red Sox will begin intrasquad games on Thursday, and they will become a near daily occurrence leading up to the start of the season on July 24.
Nathan Eovaldi, who might start on Opening Day, is expected to throw four or five innings on Thursday. Chris Mazza, one of the many pitchers trying to get in the mix as an opener or a reliever, will throw a couple of innings.
Lucroy could see time at first
Non-roster invitee Jonathan Lucroy is competing for the backup catching spot, but he could also be in the mix at first base. He has been spending some time there during workouts.
"Well, I know Luc played a little bit of first base when I had him in Milwaukee," said Roenicke. "He was such a good offensive player that any time he really didn't need the whole day off, and we wanted that good bat in the lineup, we put him over there. Because he's a catcher, he's used to balls in the dirt and on the ground. Nothing gets by him. He does a good job over there."
With the roster at 30 players for the first two weeks of the season, Lucroy could increase his chances by being more versatile. Kevin Plawecki is the other catcher trying to be Christian Vázquez backup.