Devers singles, commits error in return from DL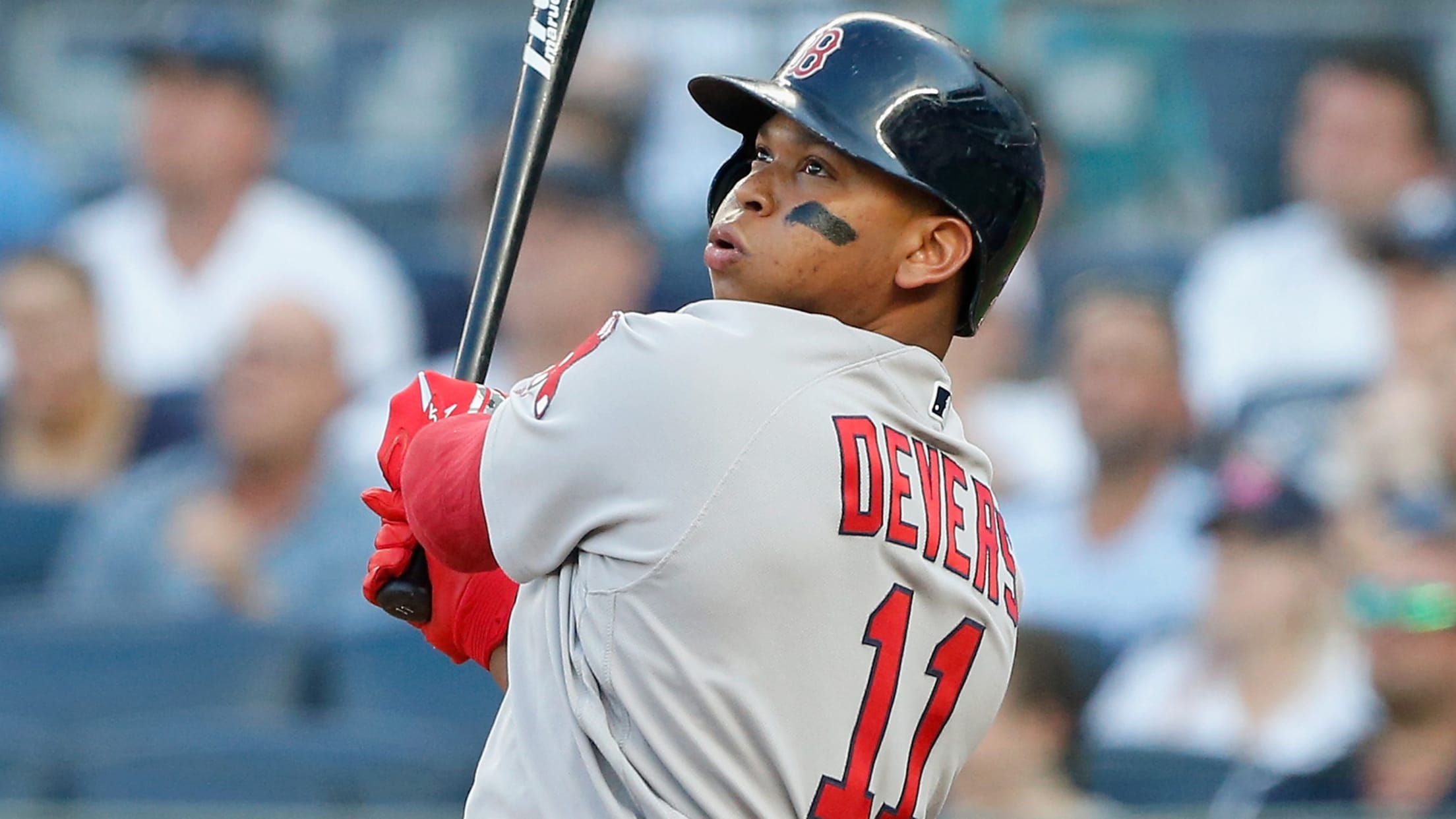 DETROIT -- Third baseman Rafael Devers returned to the lineup for the Red Sox on Saturday, the first day he was eligible to be activated from the disabled list.The 21-year-old finished 1-for-4 and was charged with a throwing error during Boston's 5-0 loss to the Tigers at Comerica Park.Devers had
DETROIT -- Third baseman Rafael Devers returned to the lineup for the Red Sox on Saturday, the first day he was eligible to be activated from the disabled list.
The 21-year-old finished 1-for-4 and was charged with a throwing error during Boston's 5-0 loss to the Tigers at Comerica Park.
Devers had been dealing with inflammation in his left shoulder. His return came at a good time because Boston manager Alex Cora decided to keep star slugger J.D. Martinez out of the lineup on Saturday with general soreness.
The soreness was caused by Martinez running into an outfield wall to make a great catch against JaCoby Jones in the bottom of the third inning of Friday's 1-0 win.
"Just a big dude at full speed hitting that wall," Cora said. "Yesterday, he wasn't feeling great after the game, so I decided to give him today [off]. At the same time, these guys that make the All-Star Game, they really don't have an All-Star break because of everything that goes on. They take batting practice on Monday, they play on Tuesday. The travel and all that. He's getting the day off because he ran into the wall, but I think it's a good day for him anyway."
While Martinez should return to the lineup Sunday, the plan is for Brock Holt to return Monday. Holt sustained a right knee contusion during Friday's game when he was spiked by baserunner Jeimer Candelario during a close play at second base.
The unavailability of Holt is the reason the Red Sox optioned lefty reliever Bobby Poyner to Triple-A Pawtucket instead of infielder Tzu-Wei Lin.
Cora confident in 'pen
While Red Sox president of baseball operations Dave Dombrowski continues to search for another established reliever in the final 10 days before the non-waiver Trade Deadline, Cora expressed confidence in the pitchers who currently work in the bullpen.
Elite closer Craig Kimbrel has a setup crew of Matt Barnes, Joe Kelly, Richard Hembree and Tyler Thornburg. Barnes and Hembree have flourished lately. The Red Sox need Kelly to get back on track. Thornburg is working his way back into the mix after missing a season and a half due to right shoulder woes. Brandon Workman and Ryan Brasier are other options for Cora in the mid-to-late innings.
"I was just talking to [pitching coach] Dana [LeVangie] about it. We've got options, a lot of options now," Cora said. "I think we're going to be in a good position that we're going to keep these guys fresh, and at the same time, they're going to contribute. With all the off days in August, and the way they're throwing the ball and how many guys we have, we should be OK."