Cabrera's journey guided by journeyman father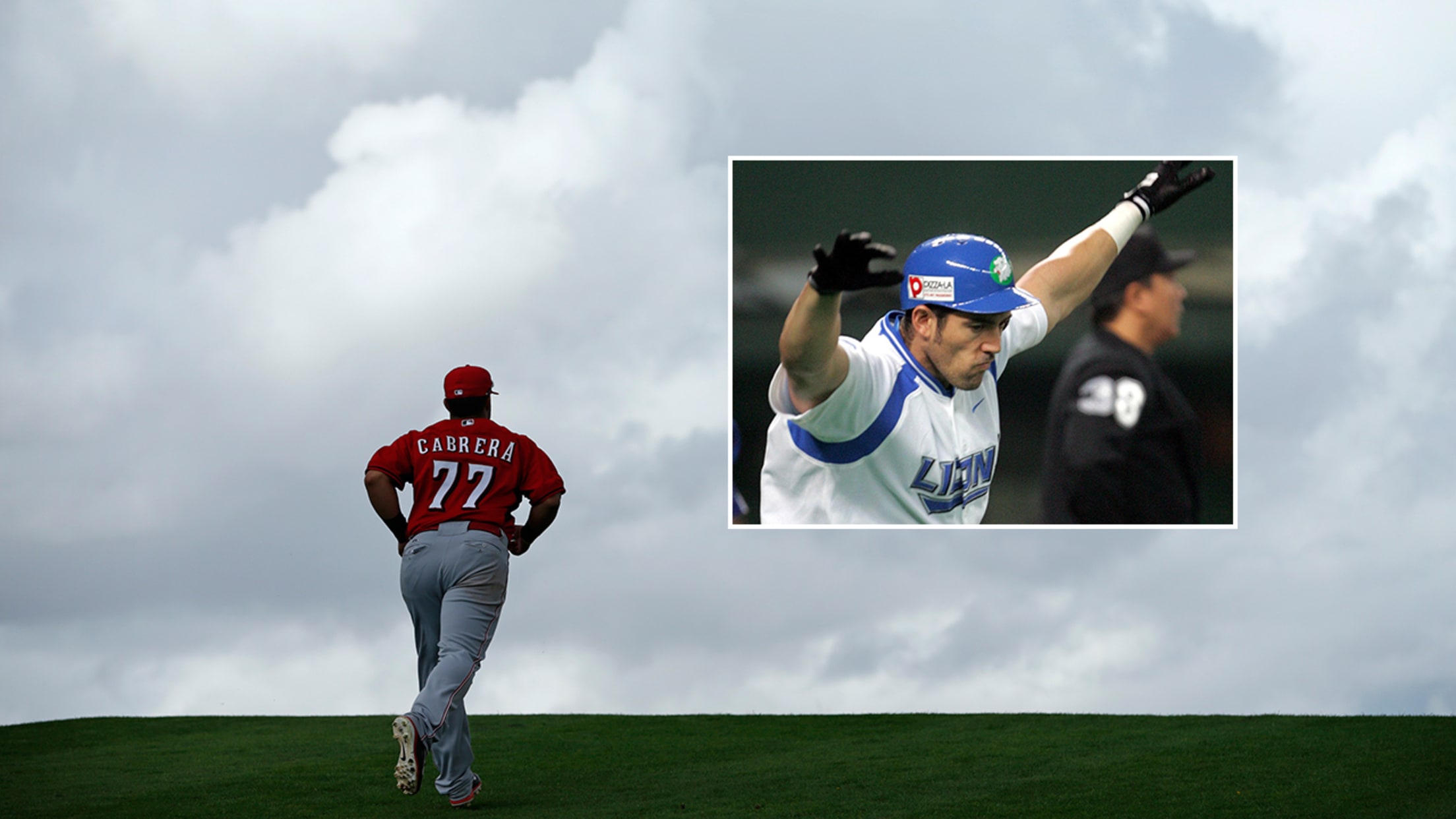 "He's the example that I follow," the Reds' Ramon Cabrera (left) said of his father, Alex Cabrera. (AP)
CINCINNATI -- As a catcher with the Reds, Ramon Cabrera sees a lot of faces in the batter's box, so it's not often that one stands out. But Oct. 31, 2014, was different.The season had been over for close to two months for Cabrera, then the catcher for the Reds'
CINCINNATI -- As a catcher with the Reds, Ramon Cabrera sees a lot of faces in the batter's box, so it's not often that one stands out. But Oct. 31, 2014, was different.
The season had been over for close to two months for Cabrera, then the catcher for the Reds' Double-A Pensacola affiliate. He was back home in Venezuela playing in the Winter League for Leones del Caracas, set to catch pitcher Yoanner Negrin.
As Negrin finished his warmup tosses and prepared to start the second inning against Tiburones de La Guaira, a very familiar face stepped into the batter's box -- one that Cabrera knows better than any other.
It was his dad.
"I was so happy when I saw my son," Alex Cabrera, Ramon's father, said. "It's so special for me. It's the only boy I have."
Ramon, like many Major League players, grew up around the game as his dad advanced through the Minor Leagues. In 2000, at age 28, Alex got his shot at the big leagues, hitting .263/.299/.500 in 31 games with the D-backs.
After that season, Alex made a decision that greatly diverted Ramon's childhood from those of the sons of other professional ballplayers: He went to Japan.
Alex put together a 12-year career in Nippon Professional Baseball, bringing Ramon to see him play every summer. Ramon even picked up a little Japanese along the way.
"Any time he was playing with a translator, I tried to learn a little bit," Ramon said. "He speaks it a lot. He's pretty good. He can make conversation."
Instead of using his Japanese career as a springboard to more success in Major League Baseball, Cabrera became somewhat of an international star. In 2002, he tied the NPB home run record with 55. He hit at least 30 home runs in all but one season from 2001-06; he missed half of the '04 season due to injury and still hit 25 that year.
In '06, Alex began playing in the Venezuelan Winter League when he wasn't in Japan. There, he continued to mash, setting the home run record with 21 in 2013 at age 41. This past winter, 24 years after he played in his first Minor League game, Alex was still going strong in Venezuela, putting together a .335/.427/.572 line with a league-leading 11 home runs.
"For me, it's a big [source of pride]," Ramon said. "I always say he's the example that I follow, and any time I feel something wrong, I feel something bad, I call him and we have a lot of specific conversations together. We have a really nice relationship -- father and son -- and I talk to him a lot."
Alex takes pride in his knowledge of hitting, and his favorite person to share that knowledge with is his son. After every game Ramon plays, his father calls him and talks about his at-bats. Alex tells Ramon to stay patient at the plate, and even though he earned his reputation hitting home runs, he emphasizes contact and defense to Ramon.
But more than anything else, Alex makes sure that his son is having fun.
"You have to enjoy baseball," Alex said. "When you play baseball, you enjoy it, laughing. It's what I tell him every single day."
That enjoyment is something Ramon notices and loves about his father. He said it's one of the biggest reasons that he can't see his dad hanging up his spikes just yet.
Of course, every career has to end eventually. Every season for the last few years, Alex has told himself that would be his last, then talked himself out of it. He plans to put the spikes on again in October in Venezuela but believes that season will finally be his last.
It's time for Alex to just be dad.
"Twenty-seven years I've played baseball, and … always I play for Ramon," Alex said. "I'm the example for him. It's why I started playing. I enjoy when I see my son catching or hitting. It's a great feeling. I'm feeling everything when I see my son behind me. It's why I [keep] hitting. … I think this year is my last year. I think I have to be the coach [to] my son."
Cody Pace is a reporter for MLB.com based in Cincinnati.