FAQs for Rangers' 2018-'19 offseason
Managerial search, Beltre's future among biggest concerns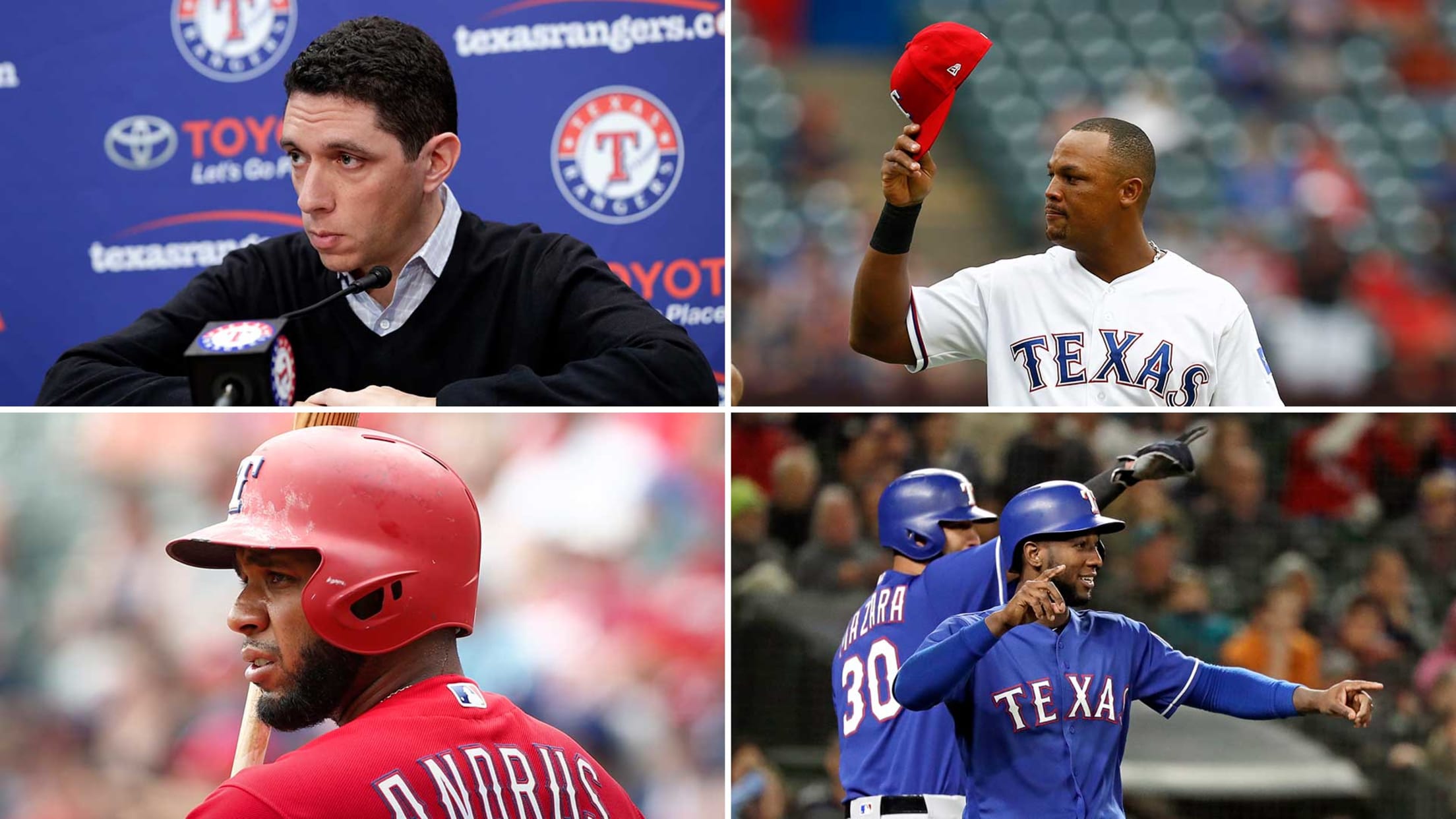 ARLINGTON -- Many questions surround the Rangers this winter. Here are perhaps the most frequently asked questions going into the offseason.What is the Rangers' timetable for manager? The Rangers are in the process of compiling a list of candidates beyond interim manager Don Wakamatsu. The Rangers should announce the list
ARLINGTON -- Many questions surround the Rangers this winter. Here are perhaps the most frequently asked questions going into the offseason.
What is the Rangers' timetable for manager?
The Rangers are in the process of compiling a list of candidates beyond interim manager Don Wakamatsu. The Rangers should announce the list in the next few days and then begin the interviews. They will likely come up with 2-3 finalists and have a second round of interviews. A manager will likely be named by the World Series.
What are the Rangers looking for as a manager?
This is how general manager Jon Daniels explained it on Tuesday: "We are looking for someone who will help us create an environment where people thrive in what they do on a very simple basis. Players, staff, everybody involved. So much of everybody's job -- certainly this job -- is managing people, personalities, egos, really developing relationships to where you get through them on a variety of different levels."
What is Adrian Beltre's timetable on a retirement decision?
Beltre said he is going home to Southern California to relax, spend time with the family and maybe go on vacation. At some point, he will take a week, consider his options and make a decision. The Rangers can't wait forever because they have to start executing an offseason plan, but Beltre is unlikely to keep them in suspense. Again, the most likely scenario is Beltre calling it a career.
Beltre is a free agent. Do the Rangers want to sign him?
That's an intriguing situation, considering that Jurickson Profar appears capable of playing every day at third base. If Beltre were to come back, it would likely be in a reduced role, and that might tough for him to accept.
More from Daniels: "We didn't talk to Adrian about what the role or what the opportunity would be here. I think, generally speaking without [knowing the roster], we would love to have Adrian back. At the time he has some thoughts and is ready to talk about it, we'll sit down and talk about what the opportunity looks like then. We haven't had that conversation yet."
What is Elvis Andrus' timetable?
Andrus could opt out of his contract and walk away from four years and $58 million. At some point, he will confer with his agent Scott Boras and get a clearer picture of his options.
Andrus wants to stay. At some point, Boras could talk with the Rangers about a possible restructuring of the contract that would keep Andrus from opting out.
Who do the Rangers have club options on?
Catcher Robinson Chirinos and pitchers Matt Moore, Doug Fister and Martin Perez. The Rangers will pick up the option on Chirinos and decline on Fister and Moore.
Perez is the more intriguing decision. The option is for $7.5 million, and he had a poor year. But he is 28, healthy and talented. The Rangers are not in a position to discard starting position. All these decisions are due after the World Series.
Who are the Rangers' other free agents?
Pitchers Bartolo Colon and Yovani Gallardo. Colon is not expected back. If Gallardo comes back, it would likely be on a Minor League contract.
Who will the Rangers target in free agency?
They will consider every potential free-agent pitcher out there, whether it is a starter or a reliever. Beyond that, there are Adam Jones and A.J. Pollock, two right-handed hitting center fielders who could help balance out the Rangers' lineup. The caveat is they are both not elite defensive players.
What is the payroll going to be like?
The Rangers' payroll was approximately $133 million on Opening Day this season. It's unlikely to go much higher than that. That's one reason the Rangers need to hear from Beltre and why they may not be willing to pick up Perez's option.
Who is eligible for arbitration and who are the non-tender candidates?
Nomar Mazara, Profar, Alex Claudio and Delino DeShields. Matt Bush, Eddie Butler and Ryan Rua could be eligible under the Super Two category, depending on where the cutoff is on two-plus years of service time.
Mazara and Profar will be offered contracts. Claudio, Butler and Bush had rough seasons but again, the Rangers aren't in a position to discard pitching. It is time -- past time -- for Rua to get a chance to play elsewhere.
What about DeShields?
DeShields had an excellent defensive season, but was disappointing on the offensive side. He may still have a future with the Rangers, but here is what Daniels said about him on Tuesday: "Delino does some things really well ... hasn't done them consistently at this level yet. Talented guy … skillset we don't have exactly. He'll be in competition for a spot next spring."
Who needs to be added to the 40-man and protected from the Rule 5 Draft?
From the Rangers' Top 30 prospects, as determined by MLB Pipeline, outfielder Scott Heineman and pitcher Taylor Hearn.
Pitchers Wei-Chieh Huang (who was acquired from the D-backs for Jake Diekman), Reed Garrett (who was in big league camp last spring), Brady Fiegl, Wes Benjamin, Edgar Arredondo, Emerson Martinez, Mike Matuella and Jake Lemoine are also eligible. However, Heineman and Hearn are the only locks on that list.
Who can be Minor League free agents?
Most notable is pitcher Chi Chi Gonzalez, who is finishing off his recovery from Tommy John surgery. Outfielder Preston Beck, who is from Dallas, is another, as is reliever Jairo Beras.