Here are the Rangers' 2019 Top 30 Prospects
Coming off a last-place finish in the American League West, their first in five years, and their first back-to-back losing seasons in a decade, the Rangers are in rebuild mode. Their farm system won't spark an immediate turnaround, but it's stocked with enough young talent to fuel hopes for a
Coming off a last-place finish in the American League West, their first in five years, and their first back-to-back losing seasons in a decade, the Rangers are in rebuild mode. Their farm system won't spark an immediate turnaround, but it's stocked with enough young talent to fuel hopes for a return to contention in a few years.
Texas continues to target high-risk, high-reward prospects who have lofty ceilings but will require time to develop. None of the first 14 players on our new Rangers Top 30 Prospects list has reached Triple-A, and only three (right-hander Jonathan Hernandez, left-handers Brock Burke and Taylor Hearn) have even appeared in Double-A.
Top 30 Prospects lists
| | |
| --- | --- |
| AL East | BAL, BOS, NYY, TB, TOR |
| NL East | ATL, MIA, NYM, PHI, WSH |
| AL Central | CLE, CWS, DET, KC, MIN |
| NL Central | CHC, CIN, MIL, PIT, STL |
| AL West | HOU, LAA, OAK, SEA, TEX |
| NL West | ARI, COL, LAD, SD, SF |
| Division | Team |
Nevertheless, it's easy to dream of the power arsenal of right-hander Hans Crouse, the all-around tools of outfielders Julio Pablo Martinez and Bubba Thompson, the advanced feel and quality stuff of righty Cole Winn and the uncommon power for his position and strong arm of shortstop Anderson Tejeda.
Amid losing 95 games in 2018, the Rangers infused a lot of new talent into the system. They added three high school right-handers who combine polish and stuff (Winn, Owen White, Mason Englert) in the first four rounds of the Draft. A number of intriguing international players made either their professional or U.S. debuts, led by Martinez, infielders Osleivis Basabe and Diosbel Arias, catcher David Garcia and right-hander Ronny Henriquez.
One side benefit of losing was that it shifted Texas' focus to trading veterans for prospects, after the reverse had been the case in previous seasons. The Rangers added four members of their Top 30 Prospects list via trades in the last eight months: Burke, Hearn, infielder Eli White and third baseman Sherten Apostel.
Here's a look at the Rangers' top prospects:
1) Hans Crouse, RHP
2) Julio Pablo Martinez, OF
3) Cole Winn, RHP
4) Anderson Tejeda, SS/2B
5) Bubba Thompson, OF
Biggest jump/fall
Here are the players whose ranks changed the most from the 2018 preseason list to the 2019 preseason list:
Jump: Tyler Phillips, RHP (2018: NR | 2019: 14) -- Combines three potential solid pitches with some of the best control stats in the Minors.
Fall: Pedro Gonzalez, OF (2018: 9 | 2019: NR) -- Still loaded with tools, must develop a better offensive approach to translate them into production.
Best tools
Players are graded on a 20-80 scouting scale for future tools -- 20-30 is well below average, 40 is below average, 50 is average, 60 is above average and 70-80 is well above average. Players in parentheses have the same grade.
Hit: 55 -- Eli White (four others tied at 55)
Power: 55 -- Anderson Tejeda (Sam Huff)
Run: 70 -- Osleivis Basabe
Arm: 70 -- Anderson Tejeda
Defense: 65 -- Leody Taveras
Fastball: 70 -- Hans Crouse (Demarcus Evans, Taylor Hearn)
Curveball: 60 -- A.J. Alexy (four others tied at 60)
Slider: 60 -- Hans Crouse (Kyle Cody, Jonathan Hernandez)
Changeup: 60 -- Tyler Phillips (Yohander Mendez, Cole Ragans)
Control: 60 -- Tyler Phillips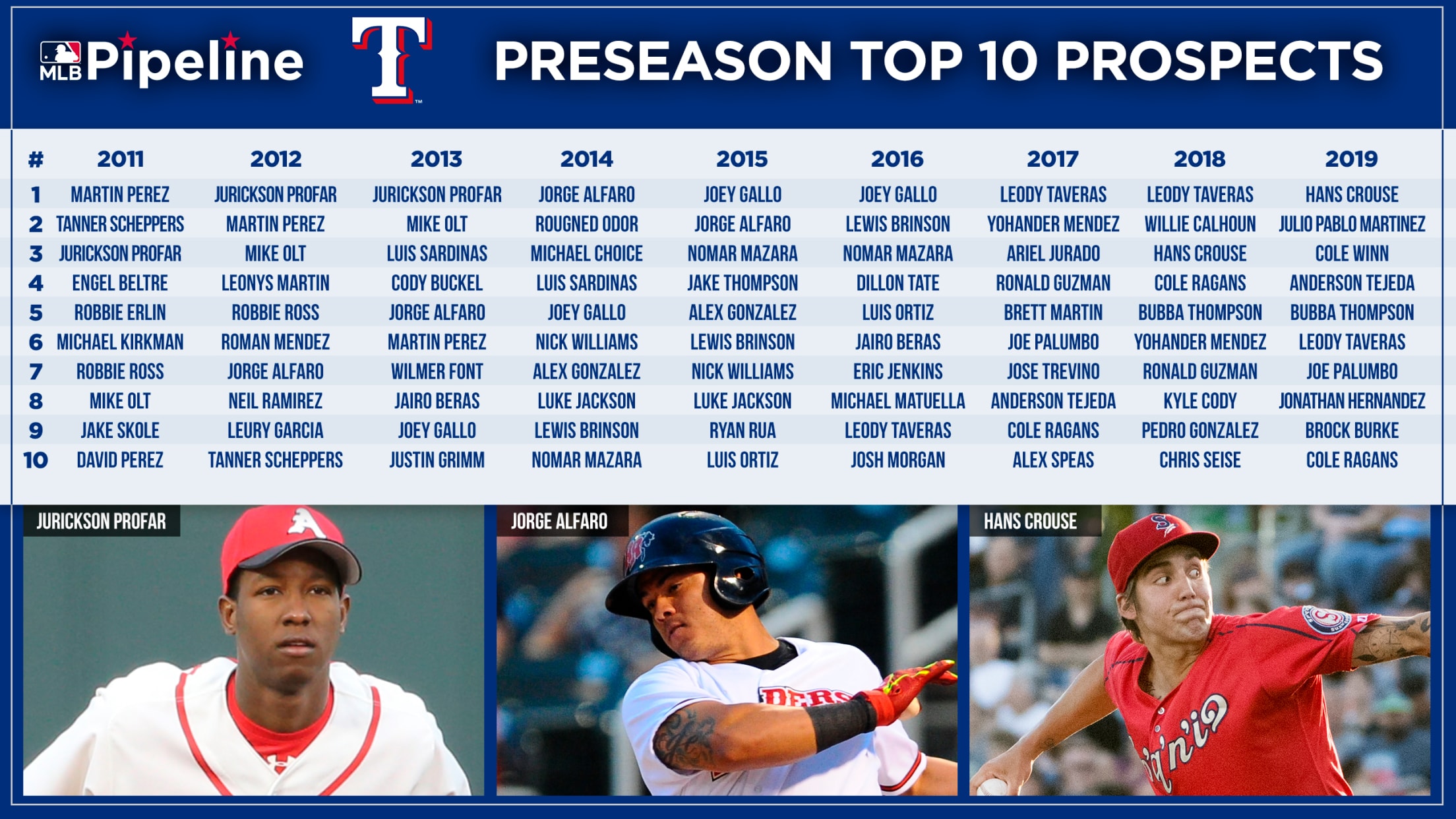 .
How they were built
Draft: 16 | International: 9 | Trade: 5
Breakdown by ETA
2019: 8 | 2020: 4 | 2021: 9 | 2022: 8 | 2023: 1
Breakdown by position
C: 3 | 1B: 0 | 2B: 1 | 3B: 3 | SS: 3 | OF: 4 | RHP: 10 | LHP: 6