Rangers acquire Grilli from Blue Jays
Barnette activated from DL; Andrus named Player of the Month for June; Cashner to start on Wednesday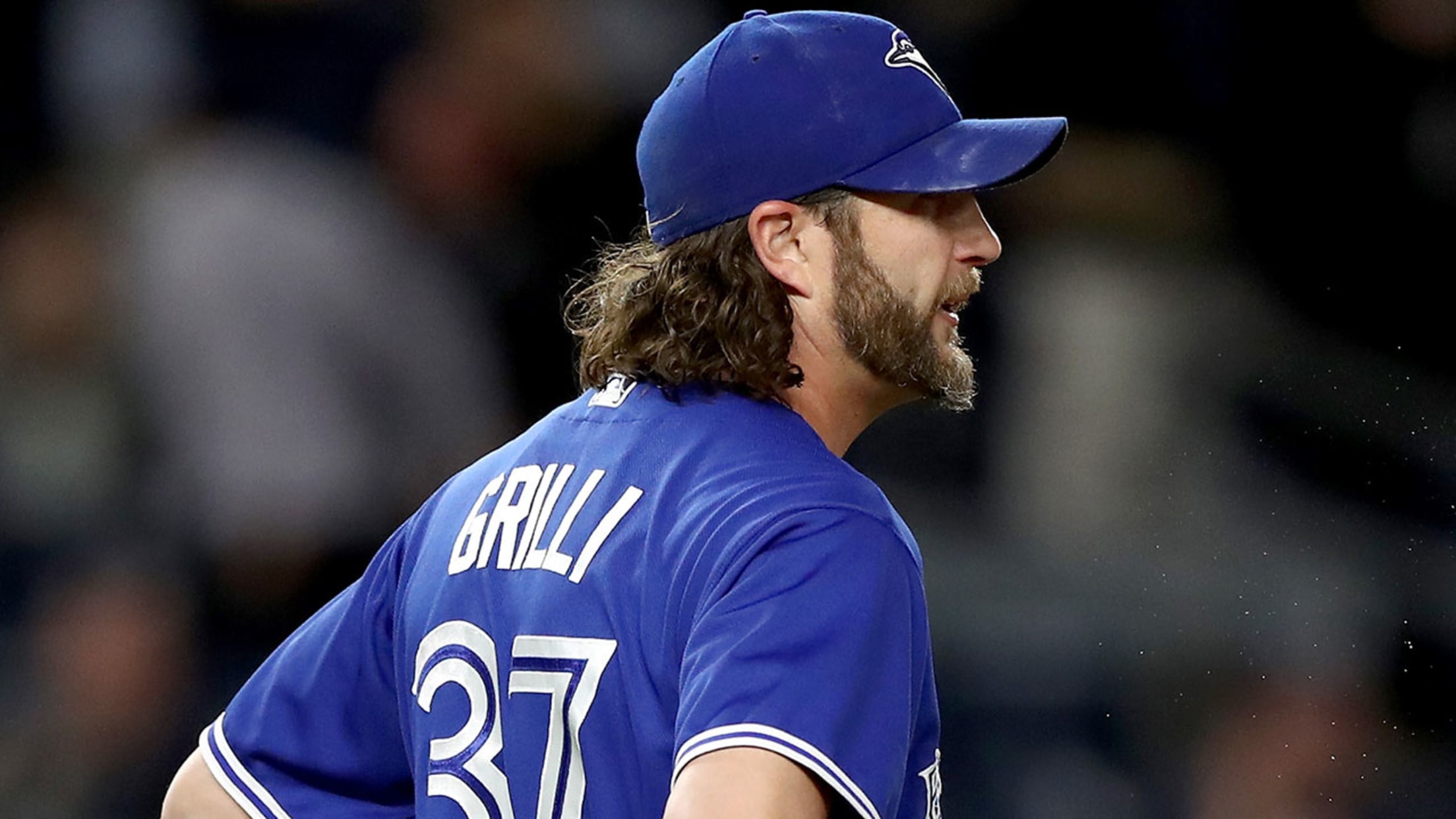 Jason Grilli was 2-4 with a 6.97 ERA in 26 games for the Blue Jays this year. He spent part of 2009 with Texas. (Getty)
CHICAGO -- The Rangers have acquired reliever Jason Grilli from the Blue Jays, activated right-handed reliever Tony Barnette off the disabled list and optioned pitcher Tanner Scheppers to Triple-A Round Rock.Grilli is expected to join the Rangers on Monday in Arlington. The Rangers are sending Minor League outfielder Eduardo Pinto
CHICAGO -- The Rangers have acquired reliever Jason Grilli from the Blue Jays, activated right-handed reliever Tony Barnette off the disabled list and optioned pitcher Tanner Scheppers to Triple-A Round Rock.
Grilli is expected to join the Rangers on Monday in Arlington. The Rangers are sending Minor League outfielder Eduardo Pinto to the Blue Jays in return for Grilli and cash considerations.
Grilli, 40, was designated for assignment on June 27 after going 2-4 with a 6.97 ERA in 26 games for the Blue Jays. He is a 15-year veteran with nine different teams including part of 2009 with the Rangers.
Scheppers made five appearances for the Rangers since being called up on June 19. Four of the five appearances were scoreless. He allowed three runs without retiring a hitter in a 15-9 loss to the Indians on Monday.
Scheppers has options and veteran right-hander Ernesto Frieri does not. That was a determining factor in the decision, according to manager Jeff Banister. Frieri has allowed two runs in four innings since he was also called up on June 17.
"We like the look of Scheppers and what he has done," Banister said. "We like the look of Frieri too."
The Rangers also elected to keep Dario Alvarez because Banister wanted the second left-hander in the bullpen. The Rangers will have to make two roster moves on Monday to make room for Grilli and because Martin Perez is being activated off the disabled list to pitch against the Red Sox.
Barnette has been on the disabled list with a strained right ring finger. He pitched three scoreless innings over two appearances on medical rehabilitation assignment for Round Rock.
Rangers beat:
• Elvis Andrus was named the Rangers' Player of the Month for June. Andrus hit .311 with three home runs, 18 RBI and eight stolen bases in June.
• Robinson Chirinos started at catcher for the second straight game on Sunday with Jonathan Lucroy being used at designated hitter with left-hander Jose Quintana on the mound. This is the first time Chirinos has started back-to-back games behind the plate this year.
• The Rangers are listing Andrew Cashner as their starter for Wednesday against the Red Sox. He has been dealing with a contusion on his right forearm but is ready to return to make his next start.