Barnette cherishes memories of Japan
32-year-old righty revitalized career during six seasons with Yakult Swallows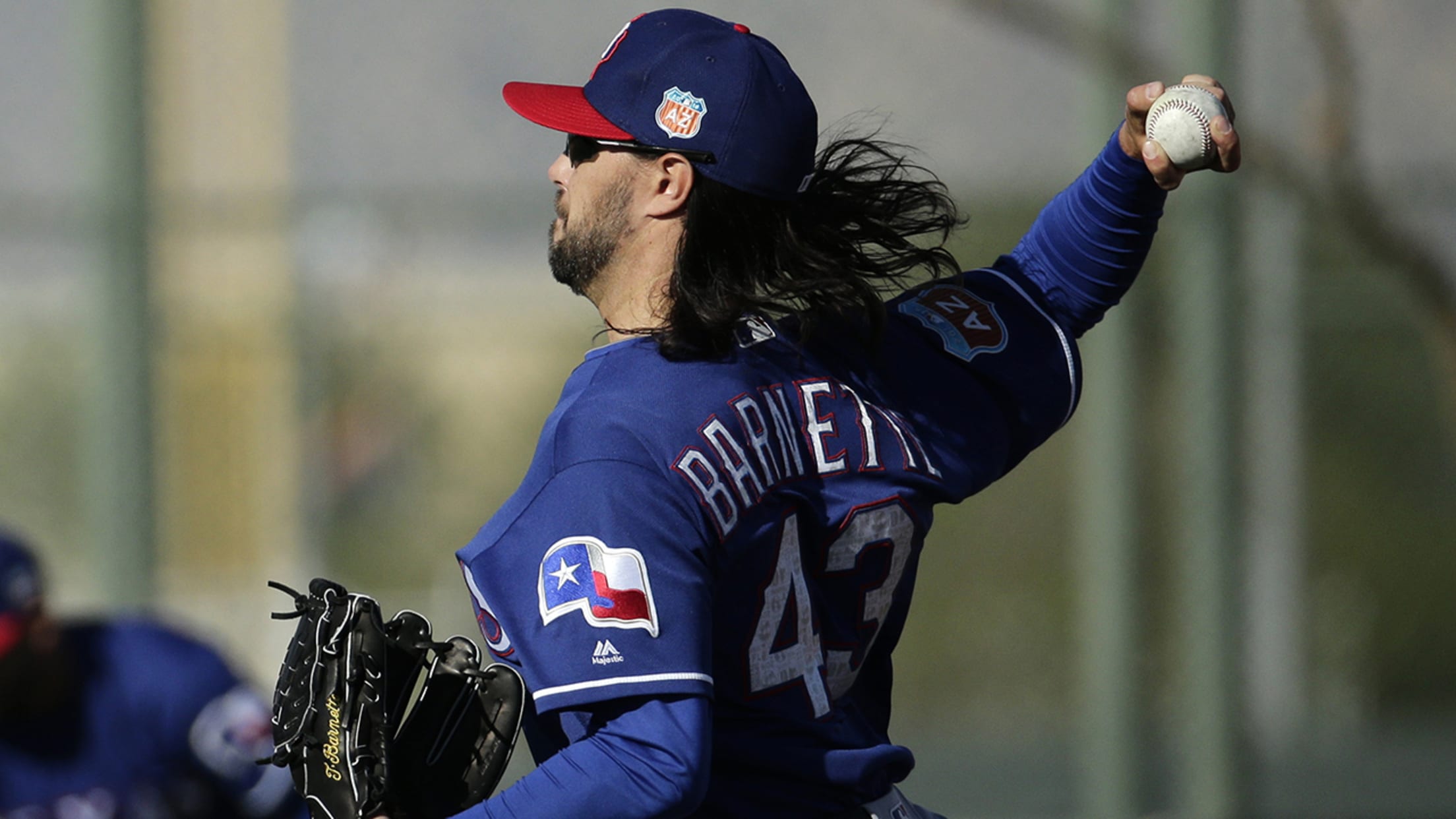 Tony Barnette was 3-1 with a 1.29 ERA and 41 saves for the Yakult Swallows last season. (AP) (Charlie Riedel/AP)
SURPRISE, Ariz. -- Tony Barnette was the No. 6 starter for the Tokyo Yakult Swallows in 2010. His first start was against the Yokohama BayStars."It was a jarring experience," Barnette said. "The stands were packed, people were chanting, horns blowing, drums beating from first pitch until they turn out the
SURPRISE, Ariz. -- Tony Barnette was the No. 6 starter for the Tokyo Yakult Swallows in 2010. His first start was against the Yokohama BayStars.
"It was a jarring experience," Barnette said. "The stands were packed, people were chanting, horns blowing, drums beating from first pitch until they turn out the lights. … It hit me like a ton of bricks. I thought, 'This is intense.' It was like a playoff atmosphere, and it was just game six of the season."
Barnette responded with seven hitless innings, earning the win in the Swallows' 1-0 victory.
• Spring Training:Schedule | Tickets | Complete info
Thus began a six-year affair between an American pitcher and a foreign country, the culture and the Japanese way of playing baseball. Some players have difficulty adjusting to Japan. Barnette thrived in the atmosphere during his six years with the Swallows.
The 32-year-old right-hander signed with the Rangers in the offseason because he still wanted the chance to play Major League Baseball. But Barnette and his wife Hillary have nothing but fond memories of their time in Japan.
"It was a great time, the experience was great and so were the people," Barnette said. "In six years, you see a lot. I wish I could have been able to do more of the touristy stuff, but we saw a lot of cool stuff. I think my favorite was the Giant Buddha of Kamakura. But anywhere you travel in the countryside, you would come across something, like a statue of Buddha or an old building, [and] see something you didn't expect.
"People over there are so willing to help you. The customer service was great, they're always willing to make you comfortable. I remember one time me and my wife went into a grocery store with my daughter. She was crying and carrying on, and all of a sudden, this man came up to her and gave her a little toy to play with it."

Yes, Barnette is already missing the sushi.
"The other night my wife and I were driving around looking for something to eat and she said, 'I wish we were in Tokyo,'" Barnette said. "I haven't been able to bring myself to eat sushi in Arizona. I'm not a snob, but after being in Japan so long, I never dreamed that I would be a part of something like that. But looking back now, it was great."
Barnette started his professional career like hundreds of other average pitching prospects. He was a 10th-round pick by the D-backs in the 2006 Draft out of Arizona State and spent 3 1/2 years climbing their system. Barnette went 14-8 with a 5.79 ERA in 29 starts for Triple-A Reno in 2009 before being left unprotected for the Rule 5 Draft. Nobody selected him.
That's when the Swallows called the D-backs and expressed interest in bringing Barnette to Japan.
"The Diamondbacks were up front," Barnette said. "They said, 'If you want to, we'll let you go, we don't see you in our immediate plans. If you want to stay, we'd love to have you.' In business, all you can ask is for someone to be up front with you. So I talked it over with my family and some coaches I was close to and made the decision to go."
• Darvish nearing throw date
Barnette posted a 4-5 record with a 5.99 ERA in 15 starts and one relief appearance for the Swallows in 2010. They released him after the season, but they reconsidered and offered him another contract. Barnette moved to the bullpen in '11. His career took off from there, as he twice led the Central League in saves (33 in '12, 41 in '15). Last year, he helped pitch the Swallows to the Nippon Series.
"I left the first year with a sour taste in my mouth," Barnette said. "I knew I was better than I showed. It didn't sit well with me. I wanted to show I was better than that."
His success on the field was a reflection of how well he handled the transition of living in Japan.
• Rangers sign Stubbs to Minor League deal
"It's just being able to be uncomfortable, being out of your comfort zone," Barnette said. "You are totally blown out of your comfort zone. You comfort zone is an ocean away. It was tough my first year. It was a struggle. Some guys don't get used to it. They don't like the style of baseball or living away from home. The language barrier is a fact. You feel isolated, and as a baseball player, it's hard to give it your best like that."
Barnette was 3-1 with a 1.29 ERA and 41 saves for the Swallows last season. Coming off his best performance, he decided to see if there was an opportunity with a Major League team.
"It was obviously the right time," Barnette said. "My stock was high, so it was a chance to pitch in the big leagues. I'm 32 and not getting any younger, and MLB is top tier. It has the best talent. If you don't want to get to this level, you might be crazy.
"But I loved playing in Japan."