Bibens-Dirkx earns long-awaited callup
Right-hander spent 12 seasons in Minors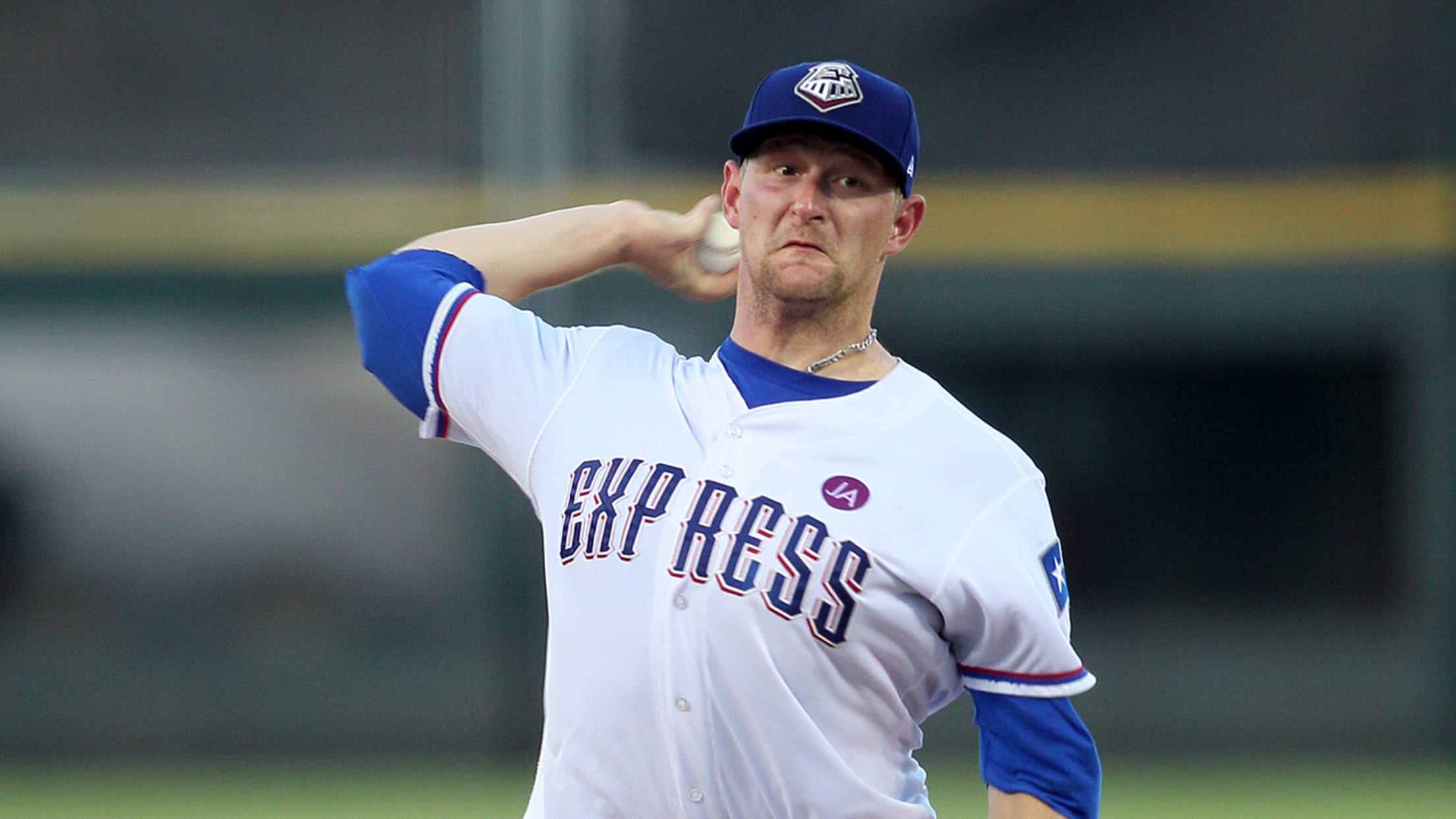 Austin Bibens-Dirkx compiled a 4.04 ERA over 12 Minor League seasons. (MiLB)
SEATTLE -- Right-hander Austin Bibens-Dirkx finally got the call he has been waiting for all his life. It came after 12 years of pitching in the Minors and independent leagues, as well as seven seasons of winter ball in Venezuela.The Rangers purchased the contract of Bibens-Dirkx, 32, from Triple-A Round
SEATTLE -- Right-hander Austin Bibens-Dirkx finally got the call he has been waiting for all his life. It came after 12 years of pitching in the Minors and independent leagues, as well as seven seasons of winter ball in Venezuela.
The Rangers purchased the contract of Bibens-Dirkx, 32, from Triple-A Round Rock on Sunday.
"It's a blessing and a dream come true," Bibens-Dirkx said. "It has been a grind. I've seen a lot of highs and a lot of lows. … I'm extremely happy. I can't put it into words. I'm from Oregon, so I have a lot of family coming up, my high school coach. Seattle was the team that originally drafted me [in 2006], so it's been quite a turnaround."
Round Rock manager Jason Wood told Bibens-Dirkx the news on Saturday.
"The first thing I did was call my wife," Bibens-Dirkx said. "She started crying, and I started tearing up. There were a whole lot of mixed emotions."
Bibens-Dirkx replaces Dario Alvarez, who was optioned to Round Rock. The Rangers did not make the move for sentimental reasons.
"Our bullpen was extremely thin, rail thin," Rangers manager Jeff Banister said. "Dario, with just the sheer volume of work, you could see his stuff was backing up. This is an opportunity to give him a break. His stuff wasn't as sharp."
Bibens-Dirkx earned the promotion with a 3.04 ERA and a 1.23 WHIP at Round Rock. He also pitched in six Cactus League games for the Rangers in Spring Training even though he wasn't in big league camp, posting a 1.50 ERA.
"We had him in Spring Training a number of times and got a really good look at his stuff and got to know the guy," Banister said. "He was willing to take the ball anytime we gave it to him in Spring Training. One of the great assets he showed is his overall instincts and moxie to get outs."
Bibens-Dirkx made three starts and three relief appearances for Round Rock, so he has the length built to pitch middle-to-long relief. Now he gets the chance to show he belongs in the big leagues.
"My goal was to get here, but the goal doesn't stop," Bibens-Dirkx said. "The goal is to be successful and be here as long as I can, do everything I can to make it a tough decision when it comes time to send people down."
His manager understands what Bibens-Dirkx is going through, having played just one game in the Major Leagues as a player.
"You see these stories over and over again," Banister said. "It never gets old. It's real. It's raw, so emotional, and we carry so many people along with us. A guy who spends that much time in the Minors, winter ball and independent leagues, there are not enough superlatives and adjectives to describe how you feel."