Rangers add Farrell, sign Montero, Sampson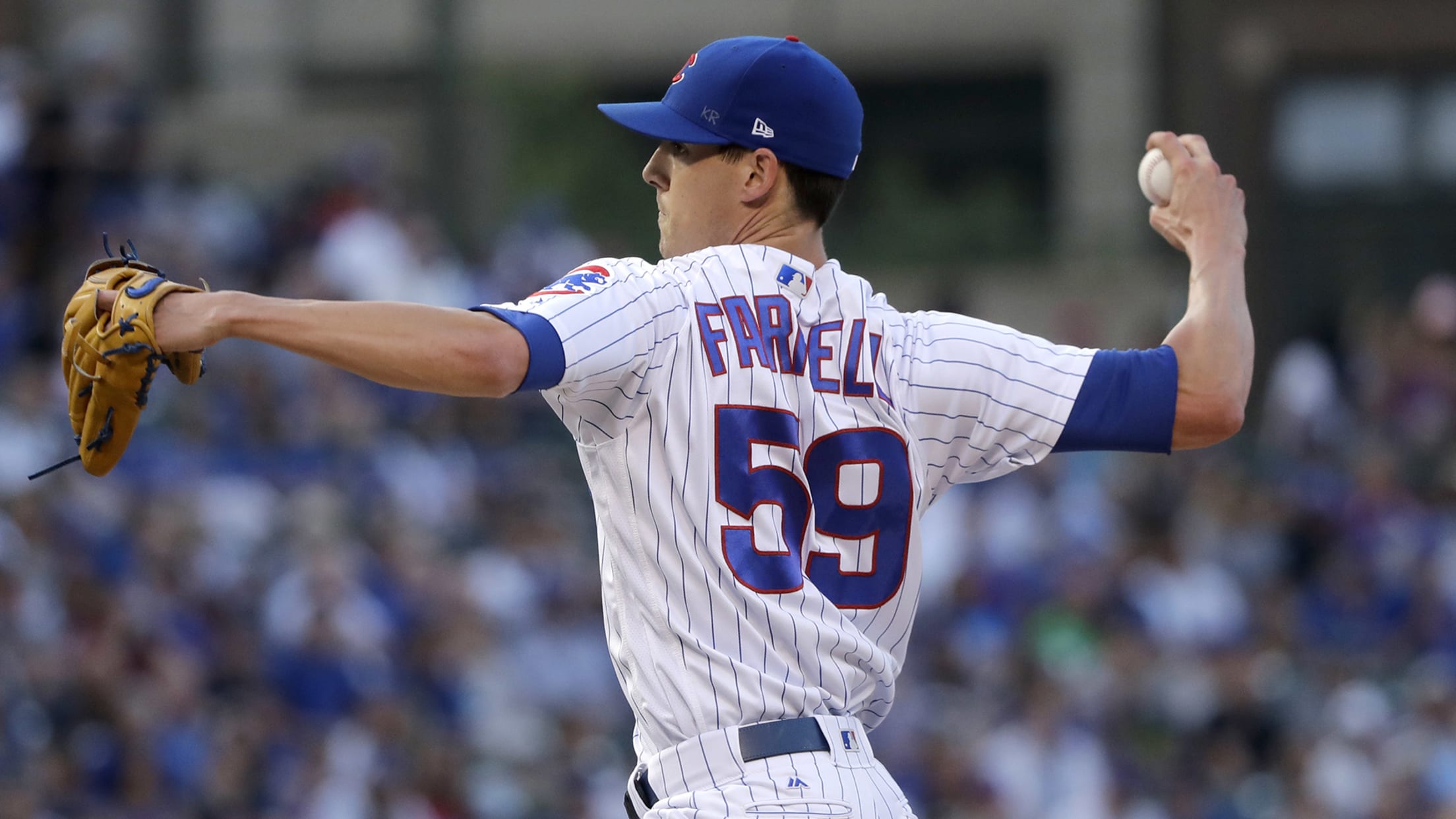 Chicago Cubs relief pitcher Luke Farrell delivers during the first inning of a baseball game against the Arizona Diamondbacks Monday, July 23, 2018, in Chicago. (AP Photo/Charles Rex Arbogast) (Charles Rex Arbogast/AP)
ARLINGTON -- The Rangers have claimed right-hander Luke Farrell off waivers from the Angels. Farrell, who has the ability to be a starter or reliever, is the son of former Blue Jays and Red Sox manager John Farrell.The club on Friday also signed right-handers Adrian Sampson and Rafael Montero to
ARLINGTON -- The Rangers have claimed right-hander Luke Farrell off waivers from the Angels. Farrell, who has the ability to be a starter or reliever, is the son of former Blue Jays and Red Sox manager John Farrell.
The club on Friday also signed right-handers Adrian Sampson and Rafael Montero to Minor League contracts with an invitation to Spring Training.
Farrell, 27, spent most of last season with the Cubs, and he was 3-4 with a 5.17 ERA and a 1.47 WHIP in two starts and 18 relief appearances. He also made 12 starts at Triple-A Iowa, where he was 1-4 with a 3.64 ERA and a 1.25 WHIP.
The Angels claimed Farrell off waivers on Sept. 3, but he did not pitch in a game for the club. He was then designated for assignment on Dec. 21.
The Rangers are Farrell's sixth organization in the past two years. Farrell was selected by the Royals in the sixth round of the 2013 MLB Draft out of Northwestern, and he made his Major League debut with the club on July 1, allowing five runs in 2 1/3 innings against the Twins. He was sold to the Dodgers on July 28 before being claimed off waivers by the Reds on Aug. 9.
In his nine relief appearances for the Reds in 2017, Farrell had a 2.61 ERA and a 1.16 WHIP. On Sept. 23, of that season, Farrell pitched a scoreless inning for the Reds against the Red Sox. It was the first time in Major League history that a son pitched in a game against a team managed by his father. The Cubs claimed him off waivers at the end of the season.
Montero was a free agent after refusing an outright assignment from the Mets at the end of the 2018 season. He underwent Tommy John surgery on March 27 at the end of Spring Training and he missed the entire season. He is not expected to be ready until May or June in 2019.
Montero, 28, has spent all or part of four seasons with the Mets in 2014-17, with a career record of 6-16 with a 5.38 ERA and a 1.71 WHIP. He averages 8.8 strikeouts, 5.2 walks and 10.2 hits per nine innings.
Sampson made a nice recovery for the Rangers last season after being limited in 2016-17 while recovering from surgery to repair a torn right flexor tendon. He pitched in just eight Minor League games in 2017.
Sampson was at full strength in 2018, and he was 8-4 with a 3.77 ERA and a 1.27 WHIP at Triple-A Round Rock. The Rangers brought him to the Major Leagues in September and he was 0-3 despite a 3.57 ERA and a 1.06 WHIP in four starts.
The Rangers took Sampson off the 40-man roster by non-tendering him in November, but with the intention of re-signing him to a Minor League contract. Sampson is expected to come to camp and compete for a spot in the rotation.