Lewis takes in NASCAR thriller in Phoenix
Rangers starter joins buddy Harvick in Victory Lane at Good Sam 500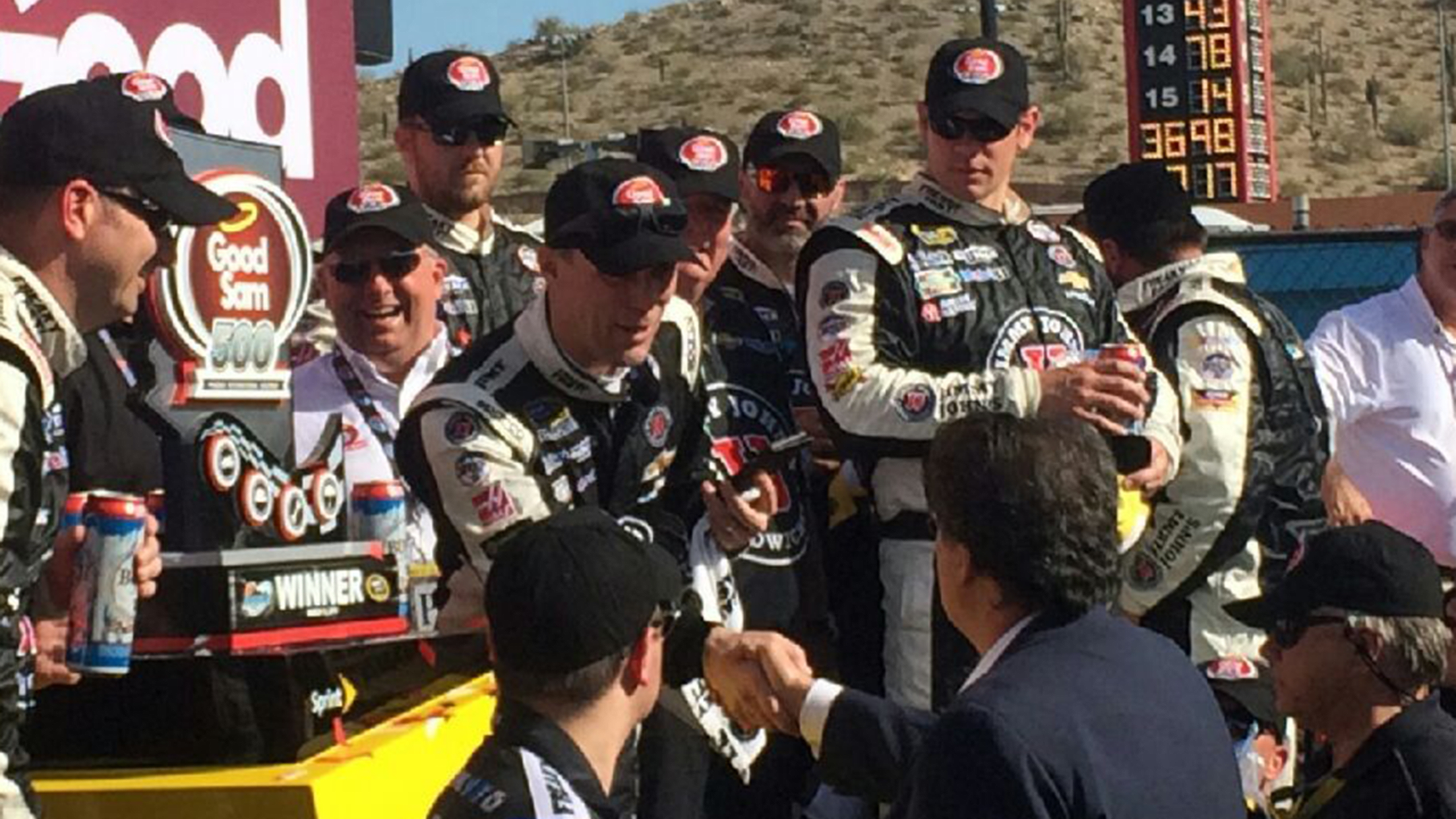 NASCAR driver Kevin Harvick celebrates his victory Sunday at the Good Sam 500 in Phoenix. (Colby Lewis)
SURPRISE, Ariz. -- NASCAR driver Kevin Harvick all but owns the Phoenix International Raceway, and Rangers pitcher Colby Lewis loves every moment of it.Lewis was there on Sunday when Harvick -- his pal from Bakersfield, Calif. -- edged out Carl Edwards in a heart-stopping finish to win the Good Sam
SURPRISE, Ariz. -- NASCAR driver Kevin Harvick all but owns the Phoenix International Raceway, and Rangers pitcher Colby Lewis loves every moment of it.
Lewis was there on Sunday when Harvick -- his pal from Bakersfield, Calif. -- edged out Carl Edwards in a heart-stopping finish to win the Good Sam 500. Harvick won by 0.010 seconds, or just four inches, after a restart of the race with five laps to go.
• Rangers Spring Training info
"I thought he had it locked up, he got a great restart," Lewis said. "But Edwards just moved him out of there. They were beating and banging ... that's what I love about NASCAR when they are out there rubbing on each other and fighting to the finish.
"I was jumping around at the end thinking he won it," Lewis said. "Then somebody said, 'I don't know, I don't know.' Then they made the announcement that he had won."
It is the eighth time Harvick has won in Phoenix. Lewis has been there with him two years in a row in Victory Lane.
"It was a lot of fun," Lewis said. "We watched the first 60 to 70 laps from the pit box, then went into his motorhome to watch. The last 70 or 80 laps we went back out to the pit box. It's tough to watch because you can only see a part of the track from the pit box. I was watching on the Jumbotron or television."
Lewis loves cars. He has rebuilt multiple vintage Chevrolets and has a go-kart track in his backyard in Bakersfield. It only adds to the fun that he has become friends with Harvick.
"It's like watching my brother race," Lewis said. "I get more nervous watching him race than I do anything else. I'm on pins and needles, but I wasn't as nervous [on Sunday] because I felt he had it locked up."
The Good Sam 500 is convenient for Lewis being held in Phoenix. It gave him a diversion and break amid the drudgery of Spring Training. But on Monday, Lewis was back at his day job while Harvick and his team were headed for Fontana, Calif., for the next stop on the Sprint Cup Series.
"We're not super-friends," Lewis said. "We're friends. If I were to call him and need something, he'd help and vice versa."