For Texas quartet, all that remains is the ring
Carryovers from 2010 squad seek title in what could be final run together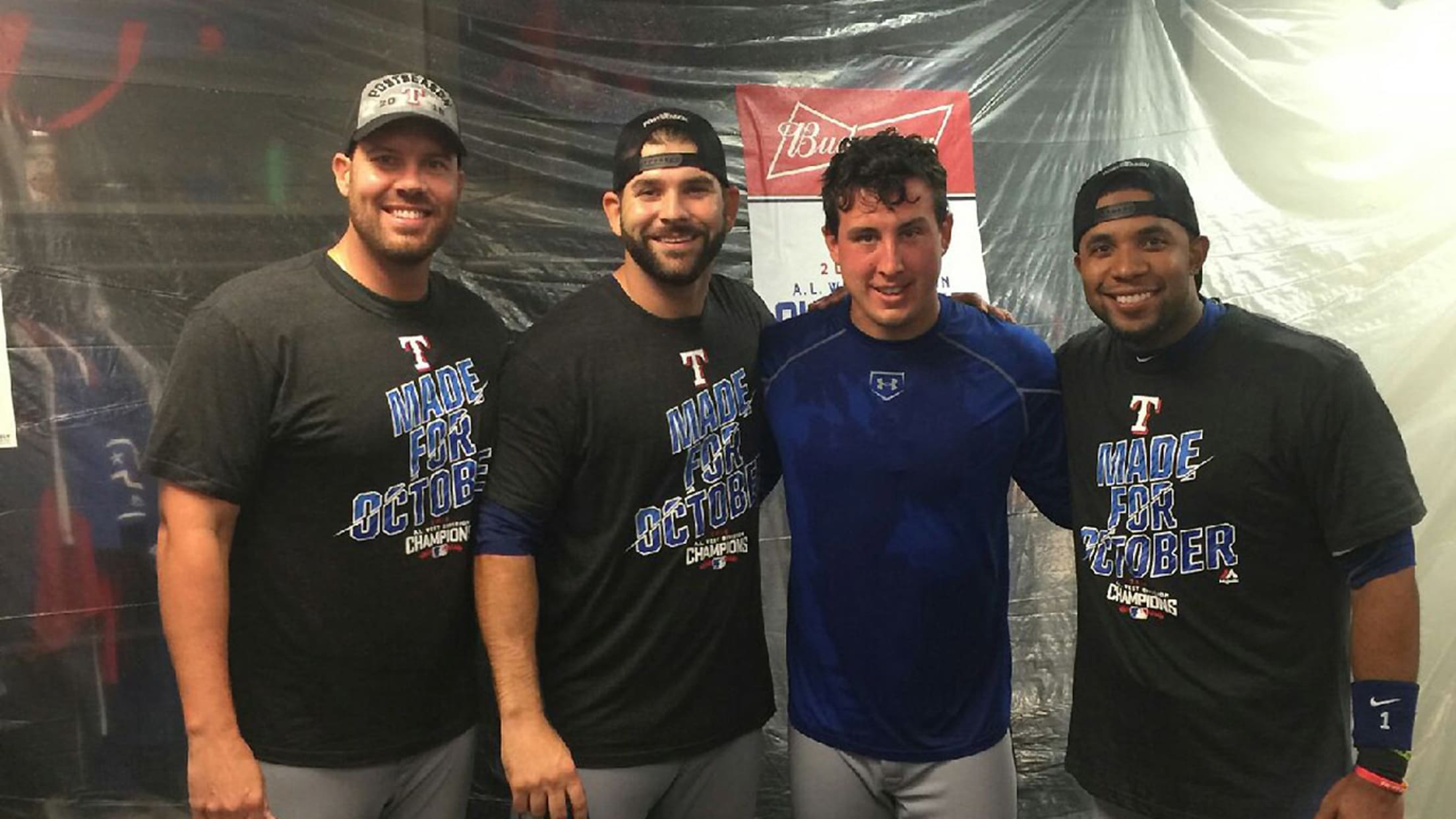 ARLINGTON -- The photo was taken by Jenny Lewis in the visitors' clubhouse at the Oakland Coliseum when the Rangers were celebrating their American League West championship.Her husband, Colby Lewis, was in the photo, along with first baseman Mitch Moreland, pitcher Derek Holland and shortstop Elvis Andrus. All smiles, this
ARLINGTON -- The photo was taken by Jenny Lewis in the visitors' clubhouse at the Oakland Coliseum when the Rangers were celebrating their American League West championship.
Her husband, Colby Lewis, was in the photo, along with first baseman Mitch Moreland, pitcher Derek Holland and shortstop Elvis Andrus. All smiles, this was hardly their first celebration.
The photo is of the four remaining players from the Rangers' first World Series team in 2010.
:: ALDS: Wild Card winner vs. Rangers coverage ::
"It was actually Jenny's idea," Moreland said. "She said, 'We need to get the original four guys together.' When I told Derek and Elvis, they were all for it. It has been a long ride and a fun ride. We had a lot of success, that group."
The success has brought the group to this postseason, in which the Rangers have secured home-field advantage through the World Series. Texas will face the winner of the American League Wild Card Game in the AL Division Series that begins on Thursday at Globe Life Park (TBS, 4:30 p.m. ET/3:30 CT).
While the front office under general manager Jon Daniels has remained relatively stable, the Rangers have changed managers and turned over the entire coaching staff. Only four players from 2010 are still with them.
Moreland was a rookie in 2010, while Andrus and Holland were in their second year. Lewis, 30 at the time, was experiencing a rebirth in his career, signing with the Rangers that year after two excellent seasons in Japan.
Moreland and Holland were both drafted by the Rangers, while Andrus was part of the franchise-changing trade that sent Mark Teixeira to Atlanta. Lewis was the Rangers' top Draft pick in 1999, but after making his Major League debut in 2002, he had six injury-riddled seasons with five organizations before going to Japan in '08.
"We definitely feel like it's pretty special to be here and be a part of something special," Lewis said. "It is a testament to ourselves to still be here and be a part of some winning clubs. For me, the best part has been instilling a winning atmosphere in the clubhouse. That's the thing I am most proud of."
The quartet has been a part of four division championships and one Wild Card team, and it has experienced just one losing season. All that's missing is a World Series title, and the players hope to change that this season, before they potentially get broken up for good.
• Get official postseason gear
"That's the only thing we haven't done -- win the World Series," Holland said. "We need to get there and win it. We have the right players. It's a matter of finishing out on top."
Andrus said winning a World Series was the reason why he signed an eight-year contract extension to remain with the Rangers.
"It would be amazing," Andrus said. "When I look at that picture, I think about how nice it would be. We've got everything but the World Series ring. You just want to get that shot, and I believe it will happen this year. If we get there, we have the team to do it. We want it bad."
Andrus is the only one of the four signed for next year; his contract takes him through 2022. Moreland and Lewis are free agents. The Rangers have an $11 million option on Holland for '17, with a $1.5 million buyout. Holland turns 30 on Saturday, and it's a weak free-agent market for starting pitching. But he has been limited to just 35 starts the past three years because of injuries.
"Hopefully this isn't it," Holland said. "I know it's a possibility, but hopefully this won't be the last time we are [together] in a Rangers uniform. It would definitely be pretty devastating. This is home, where it all began. I know I didn't have the year I wanted and had injuries the past three years, but the fans have been behind me and pulling for me. I don't want it to end."
Lewis, 37, has been a free agent in each of the past four offseasons, and each time, he has re-signed with the Rangers. Lewis wants to make it five straight.
"I feel like I've always said, 'I want to come back and be here,'" Lewis said. "I want to continue my career with the Texas Rangers. We'll see what the offseason brings."
This will be the first time Moreland will potentially be a free agent. As he has all season, Moreland continues to brush aside any discussion of what the future might hold.
"Who knows?" Moreland said. "That stuff we can't control. We just go out and play for each other and make the most of it. The way we look at it, we've got the first round of postseason. That's the next chapter for us -- [we'll] take care of that, and then we'll see what happens."
The picture says it all. These are four players who have had success together over the past seven years, and only a World Series title has eluded them. They want to change that before it comes to an end.