Profar trade leaves hole at third for Rangers
Wisdom is leading internal candidate, though Texas will look at outside options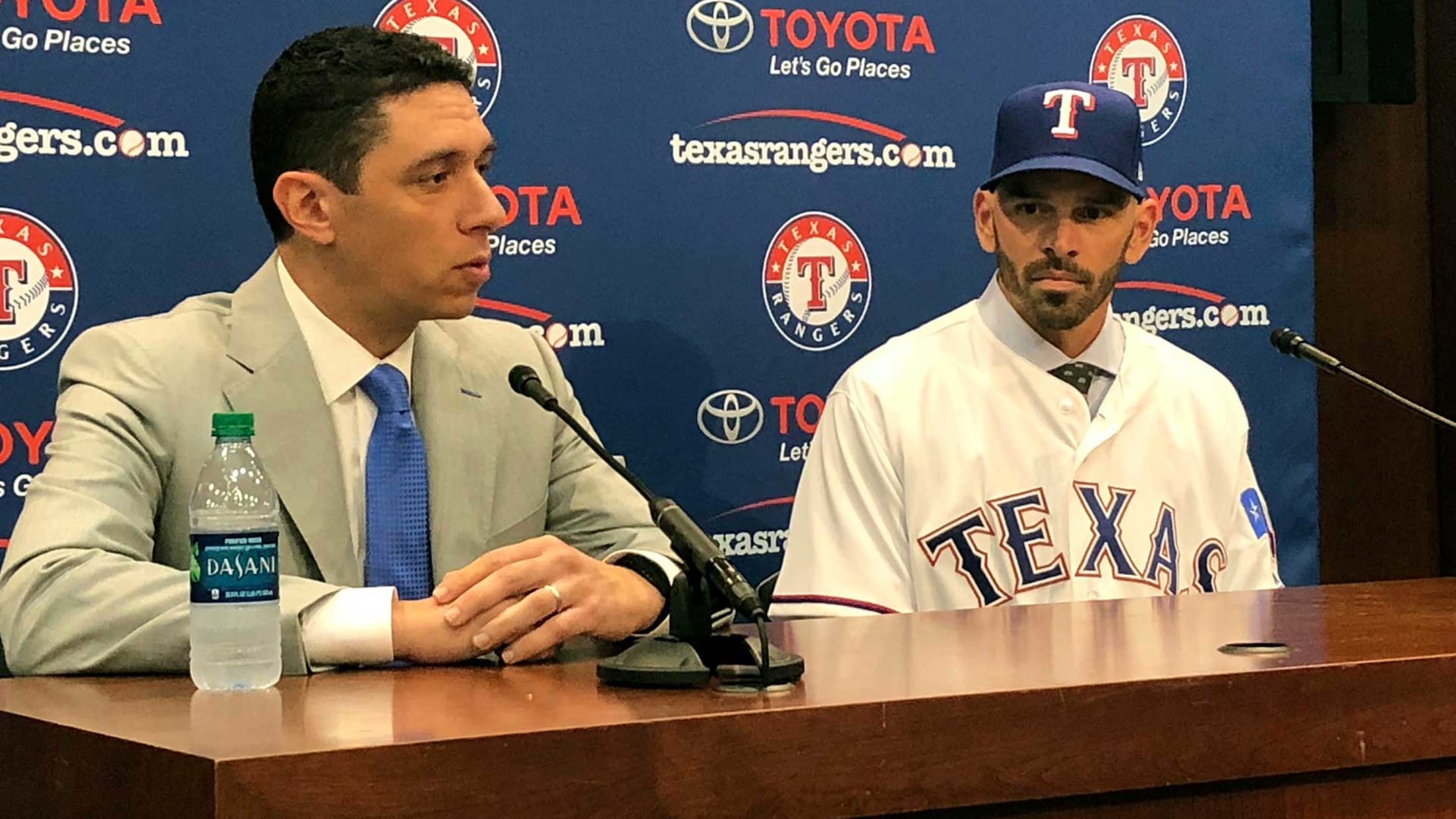 ARLINGTON -- Joey Gallo is not a candidate to be the Rangers' third baseman now that Jurickson Profar has been traded to the Athletics in a deal finalized on Friday. General manager Jon Daniels made that clear in announcing the three-way trade with the Athletics and Rays."That is not something we
ARLINGTON -- Joey Gallo is not a candidate to be the Rangers' third baseman now that Jurickson Profar has been traded to the Athletics in a deal finalized on Friday. General manager Jon Daniels made that clear in announcing the three-way trade with the Athletics and Rays.
"That is not something we have discussed," Daniels said.
Gallo came up as a third baseman in the Rangers' system and has played 92 games there at the big league level. But he was used in the outfield and first base this past season, and that will be the plan going forward.
Isiah Kiner-Falefa played in 46 games at third base this year and showed the ability to play the position. But the Rangers want him to focus on his development at catcher.
So, what is not clear is what the Rangers intend to do at third base now that Profar has been traded and Adrian Beltre has announced his retirement. The only option right now is rookie infielder Patrick Wisdom, who was acquired from the Cardinals for utility player Drew Robinson this past week.
Wisdom, a Pacific Coast League All-Star this past season, is a legitimate prospect, hitting .288 with a .363 on-base percentage and a .480 slugging percentage in 107 games for Triple-A Memphis. But he has played in just 32 games at the Major League level.
"We are going to add a couple of things," Daniels said. "We may add a veteran that we will look at, we may add somebody over there who will compete with Wisdom and others. We'll add to the infield; we have some options."
The most obvious name on the free agent market is Mike Moustakas, a two-time All-Star who hit 28 home runs and drove in 95 runs for the Royals and Brewers last season. But that may require financial resources that the Rangers would prefer to devote to pitching.
Profar was hoping to stay with the Rangers and get a chance to play every day. Third base appeared to be the position for him before Friday's trade went down.
Profar's time with the Rangers comes to an end 9 1/2 years after being signed at the age of 16 on July 2, 2009, out of Curacao. By 2013, he was rated as the No. 1 prospect in all of the Minor Leagues, but his career was derailed by a shoulder injury that sidelined him in 2014-15. He spent the next two years trying to re-establish himself as a Major League player.
He did just that this past season when he played in 146 games as a utility infielder and hit .254 with 82 runs scored, 20 home runs and 77 RBIs. He is just 25 years old, although he can be a free agent after the 2020 season.
"There is definitely an emotional piece to this one," Daniels said. "We have known Jurickson for 10 years, seen the ups and downs, the precocious talent, big smile and the way he loves to play the game. Some frustrations, but [he] still had a good attitude despite his career not going the way we thought it would or he thought it would.
"You look up and he is only 25. In a lot of circumstances, he would be a building block. The way the service clock works, he is two years away from free agency. The business reality overcomes the emotional side."
Rangers sign several Minor League free agents
The Rangers have signed four players to Minor League contracts with an invitation to Spring Training: left-handed pitcher Miguel Del Pozo, infielder Nolan Fontana, and right-handed pitchers Ariel Hernandez and Phillips Valdez.
Del Pozo, 26, was 5-0 with a 3.97 ERA and one save over 28 relief appearances with Double-A Jacksonville in the Marlins organization. The left-hander has averaged 10.0 strikeouts per nine innings over seven seasons in the Marlins' farm system.
Fontana, 27, has reached the Majors in each of the last two seasons with the Angels, appearing in 20 games while playing second base, third base, and shortstop. He has two hits in 31 at-bats -- both home runs -- with a career .243 batting average over seven Minor League seasons.
Hernandez, 26, pitched in three Minor League organizations last season -- Reds, Dodgers and Brewers -- going 5-2 with a 2.93 ERA and seven saves over 42 relief appearances. He began the season in the Cincinnati organization and was traded to the Dodgers on April 17 before going to the Brewers on a waiver claim on August 7. He had a 5.18 ERA in 19 relief appearances with the Reds in 2017.
Valdez, 27, went 6-7 with a 2.73 ERA over 31 games (19 starts) with Triple-A Syracuse and Double-A Harrisburg in the Washington organization last season. The right-hander has spent the majority of his professional career in the Nationals' farm system, compiling a 3.61 ERA over nine Minor League seasons.
Texas has also signed free-agent left-handed pitcher Jack Leathersich to a 2019 Minor League contract. Leathersich, 28, was 0-2 with a 3.98 ERA in 35 games with Triple-A Columbus in the Cleveland organization in '18. He has a 2.70 ERA in 24 career Major League appearances with the Mets ('15), Cubs ('17), and Pirates ('17).