Rehabbing Diekman launches foundation
Lefty reliever makes announcement day before rehab assignment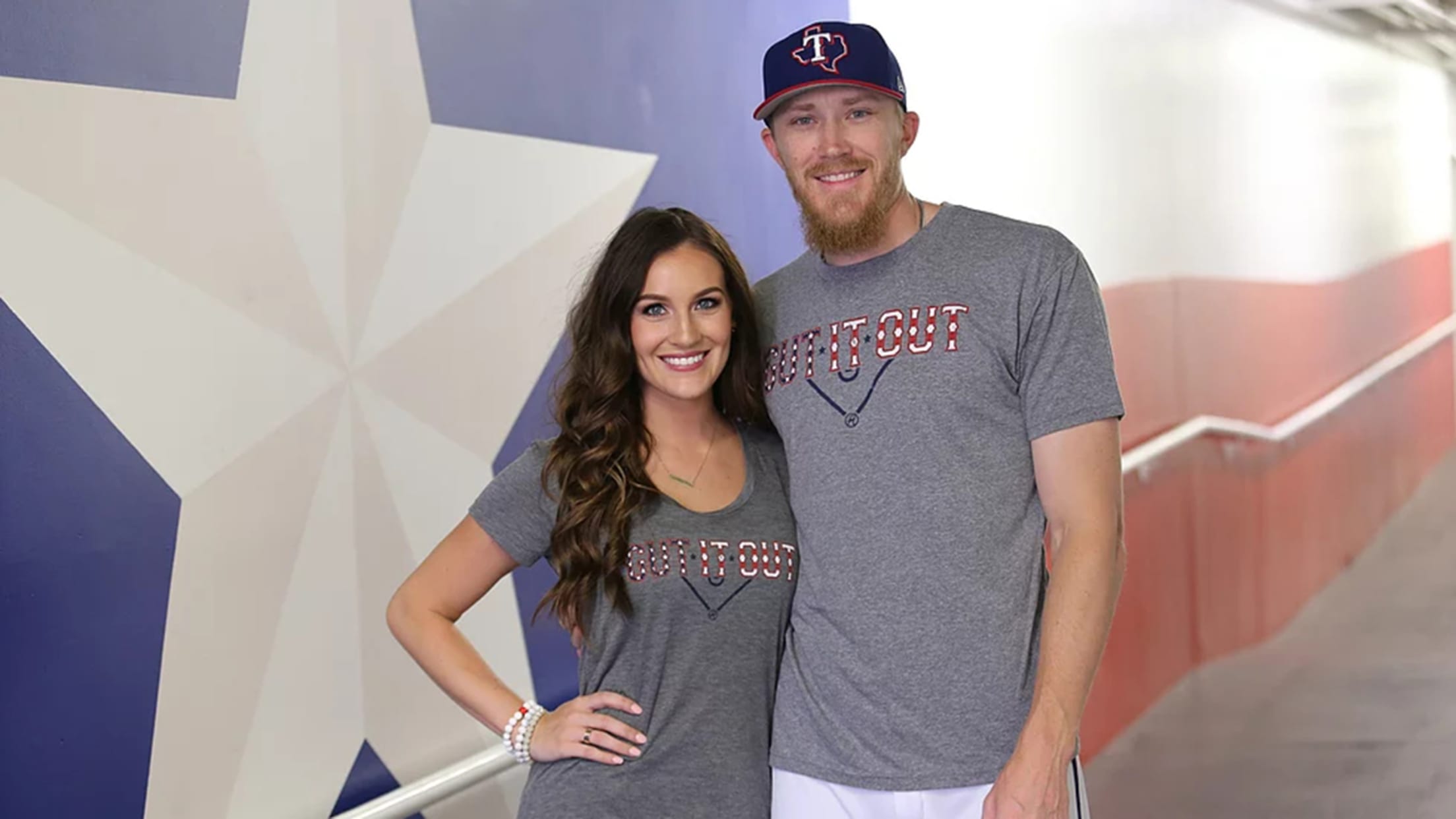 Jake Diekman and his fiancee, Amanda, have launched the Gut It Out Foundation. (Rangers)
ARLINGTON -- Wednesday, as it turned out, ended up being a pretty good day for Jake Diekman.First came the news that he's headed out for a rehab assignment on Thursday with Double-A Frisco. The left-hander is scheduled to throw 15 pitches in his first game action this year. Diekman said
ARLINGTON -- Wednesday, as it turned out, ended up being a pretty good day for Jake Diekman.
First came the news that he's headed out for a rehab assignment on Thursday with Double-A Frisco. The left-hander is scheduled to throw 15 pitches in his first game action this year. Diekman said he's keeping it pretty simple; he wants to be certain his fastball is under control before trying to mix it up.
"I want to have command of my heater first," he said. "I don't want to be in 2-0, 2-1, 3-0 counts. If I get a count where I feel like I can throw a slider and stuff, I'll do that. But I want to make sure I can command both sides of the plate, up and down."
But the other reason it turned out well for Diekman stemmed from the reason he was out of baseball for so long to begin with. He, along with his fiancee, Amanda, launched the "Gut It Out Foundation" on Wednesday.
Diekman underwent three surgeries this year to correct the ulcerative colitis he has endured since childhood. It's a condition where the colon has inflammation and ulcers, and it can cause long-term problems.
He progressed through his years without the effects being too serious. But once Diekman entered professional baseball with the Phillies, it worsened. Fatigue, weight loss and abdominal pain are just a few of the symptoms associated with ulcerative colitis.
"As a kid, it didn't really flare up. It was just when I got into pro ball; that was the biggest thing. I feel like the stress and being outside, I was so dehydrated every day," he said. "You just rewire how your life is. I would walk in a Target [store] and know where every bathroom is. I never have to worry about that ever again. That's the best thing in the world.
"But I know exactly how people feel like you're on an airplane, you know exactly where everything is. You walk into a department store, and that's the first thing you scan. Hopefully, people never have to go that way again, feeling miserable and anxious."
When the colitis flared up, Diekman coined the "gut it out" mantra, and a few years later the foundation with the same name has launched. Diekman said the goal is to raise enough money to potentially find a cure.
"If you talk to an adult with Crohn's [disease] or colitis, they'll be like, 'Oh, I can deal with it.' It's more so that 6-to-10-year-olds don't have to go through infusions," he said. "Drugs that just got on the market, and 10 years down the road, they find out that, 'Well, that drug really did harmful stuff to your body.' That's the reason why. I'd like to find a cure for these kids that are on a drug that harms them down the road."
The foundation raises money through direct donations and through the sale of "Gut It Out" T-shirts, and the first $10,000 that the Foundation receives will be donated to the Mayo Clinic in Rochester, Minn., as a thank you from Diekman for the care he received there.
Beyond that, it's all about finding a cure and helping the people who are dealing with colitis and Crohn's disease.
"Camp Oasis by Waco [Texas], we would like to send kids there. The biggest thing is we don't make any money off it. We're not taking a dollar. Anything that's donated, 100 percent of it goes to whatever we choose to."
There's a network of people that have been battling this condition, including some people that Diekman noted "you'd have no idea" were fighting it. Professional athletes like Diekman. New Orleans Saints linebacker Michael Matui, the Los Angeles Lakers' Larry Nance Jr., Pearl Jam guitarist Mike McCready and Pete Davidson of Saturday Night Live all are battling either colitis or Crohn's disease.
Donations can be through the foundation's website, https://www.gutitoutfoundation.org.
Sam Butler is a reporter for MLB.com based in Texas.