Rangers, Mariners hold Hispanic Heritage events
Ballclubs to wear #PonleAcento BP jerseys as part of month-long initiative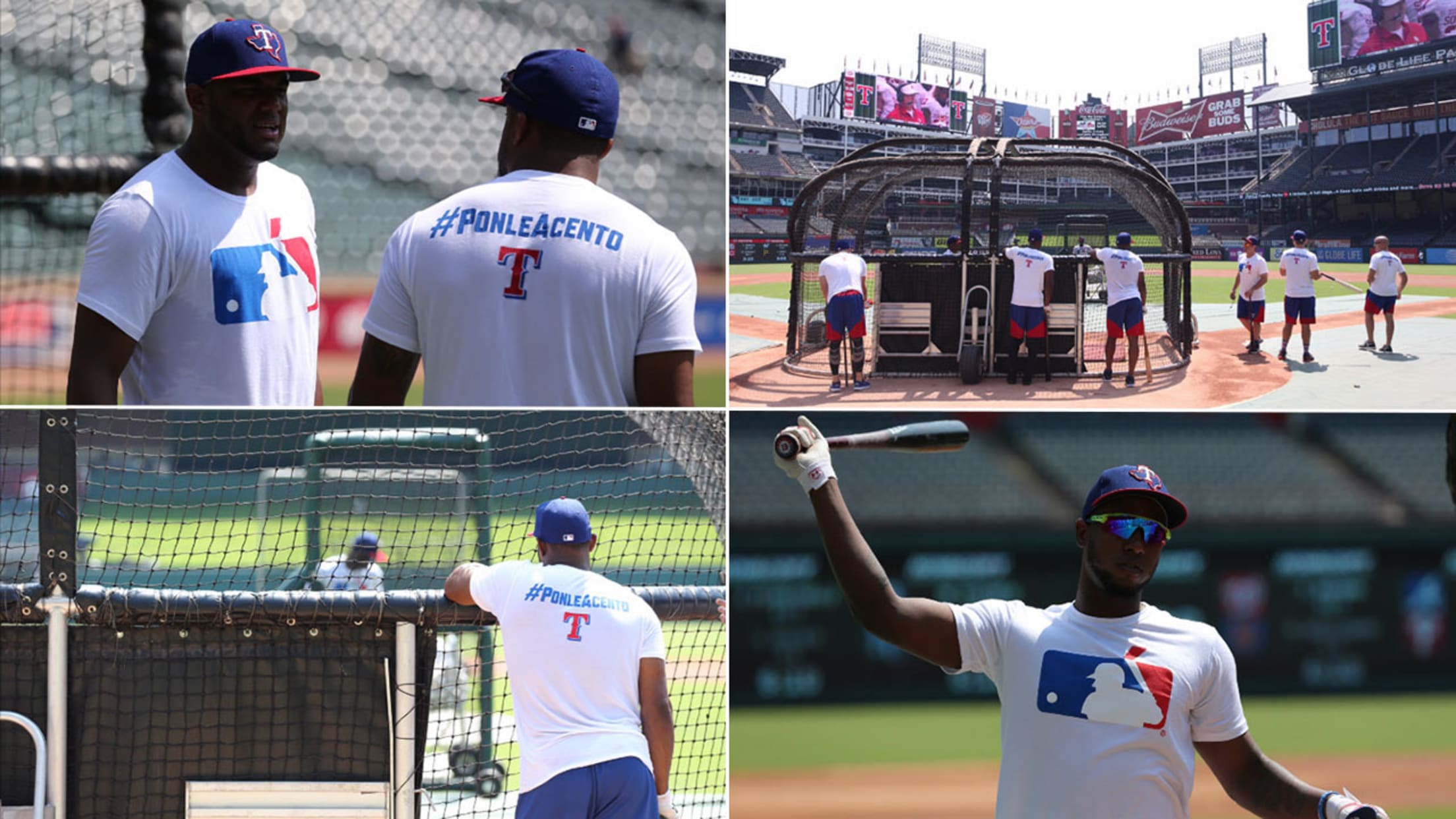 Two American League West rivals are coming together for a celebration this weekend. The rest of the league is right behind them.On Saturday, the Rangers will celebrate Hispanic Heritage Day at Globe Life Park in Arlington as part of Major League Baseball's Hispanic Heritage Month initiative. The Mariners will have
Two American League West rivals are coming together for a celebration this weekend. The rest of the league is right behind them.
On Saturday, the Rangers will celebrate Hispanic Heritage Day at Globe Life Park in Arlington as part of Major League Baseball's Hispanic Heritage Month initiative. The Mariners will have a similar event Sunday at Safeco Field.
Both events are part of the largest Hispanic Heritage Month celebration ever conducted by Major League Baseball. The month-long initiative also features a silhouetted batter logo with an accent mark, a nod to MLB's #PonleAcento campaign, which literally means "to put an accent on it."
The #PonleAcento initiative shows all the ways Latinos have put an accent on the game both on and off the field.
"Our rosters are so dynamic and we have players from so many different countries that it's important for them and the fans to recognize their contributions and the impact the world has had on baseball," said Karin Morris, the vice president of community outreach and executive director of the Texas Rangers Foundation. "It's good to take a moment to acknowledge them and how hard they have worked to make it to the highest level."
The event in Arlington will feature a Mariachi group performing in the Hall of Fame as well as members of Ballet Foklorico de Fort Worth on the field to present the flag of each country represented by the Rangers' players and staff. The club will also pay tribute to life-long community leader and World War II veteran Felix Lozada, who died last month at age 94.
One day later, the Mariners will celebrate Latin culture and salute the contributions of Latin American players to baseball with the Salute to Latin American Beisbol Day. Pregame festivities include a performance on the field by the Bailadores de Bronce dancers. Former Mariners infielder Julio Cruz will throw out the ceremonial first pitch.
The Rangers and Mariners were scheduled to wear the #PonleAcento batting practice jerseys on Saturday and Sunday, respectively.
Approximately 25 percent of Major League Baseball players are from Spanish-speaking countries, a figure that does not include U.S.-born players with Latino heritage. More than 20 players and coaches have added accents or tildes to their jerseys since the #PonleAcento campaign began in 2015.
Hispanic Heritage Month starts Sept. 15 and ends Oct. 15.