Smyly moving to bullpen for time being
Gallo, Calhoun making progress with injuries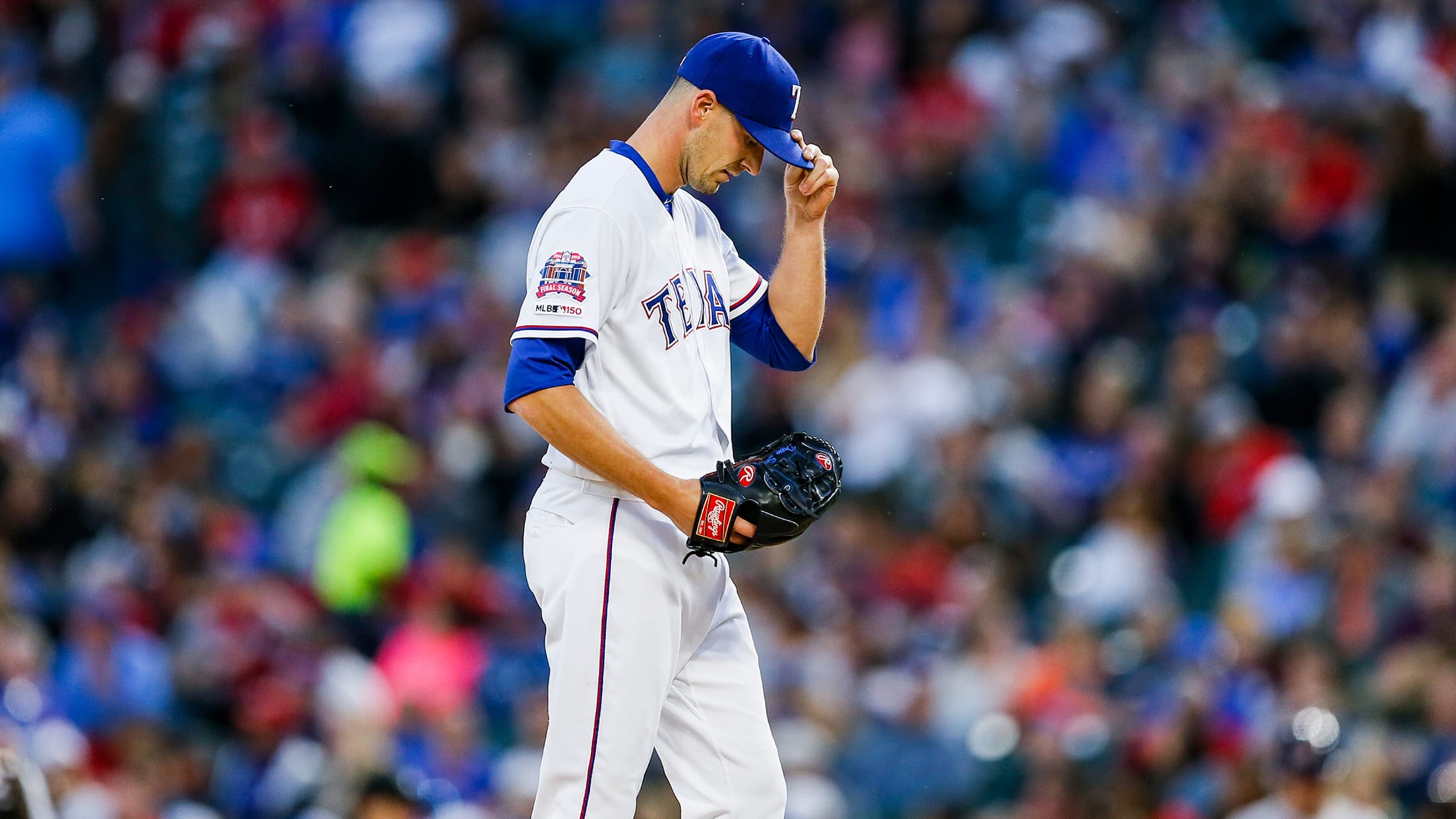 BOSTON -- Following his recent struggles, Drew Smyly will not start on Friday as originally planned and instead will move to the bullpen. Smyly was slated to open the series against the Reds, but manager Chris Woodward said the left-hander will pitch in limited innings to help him get back
BOSTON -- Following his recent struggles, Drew Smyly will not start on Friday as originally planned and instead will move to the bullpen.
Smyly was slated to open the series against the Reds, but manager Chris Woodward said the left-hander will pitch in limited innings to help him get back on track. He is 0-2 with a 17.05 ERA over 6 1/3 innings in his last two starts.
"To alleviate some of the stress of having to go through it again," Woodward said of the decision. "Would another start have helped? Maybe. Maybe it would have allowed him another chance to kind of test out what he's been working on. But we'll put him in the bullpen, and we're still going to ask the same thing of him. Whether it's one or two innings or three innings, however we use him, I still want to see the same thing, because I'm not giving up on the fact that he can start.
"It's just, I think it's better to do it in smaller samples, just build up some confidence, because I did like what I saw last time."
Woodward will specifically be watching Smyly's mechanics when he is on the mound. He made the change with the hopes Smyly, who has a 4.08 ERA over 167 career appearances (94 starts), will rejoin the starting rotation again.
"I want to see the life on his fastball, the way he throws his offspeed pitches, command of the strike zone, an ability to repeat that over and over again," Woodward said. "Whether that's one inning or two innings, we can hopefully build off of something to get him back to that role. Ideally, that's what I would like. I just don't know what's going to happen."
The Rangers had considered placing Smyly on the injured list to address his left ankle soreness. The lefty told Woodward his health wasn't an issue.
"He was pretty adamant about [not going on the IL]," Woodward said. "He said he felt great. He said he felt physically good. That meant a lot to me for him to put that to the backburner."
The Rangers have not named Friday's starter, but it will be someone from the bullpen. Woodward does not expect to call up a pitcher to start, unless other circumstances arise, such as playing extra innings on Wednesday or Thursday.
Woodward plans to use a starter by the time Smyly's next turn is up in the rotation, whether Smyly gets the start or they call on another pitcher.
"I don't assume that it's just going to be the one time," Woodward said. "But if that's our only option, then maybe that is it."
Gallo, Calhoun injury updates
• Woodward was encouraged by Joey Gallo (strained left oblique) taking swings off a tee on Tuesday for the first time since going on the 10-day injured list on June 2.
"He's swinging, which is good," Woodward said. "I don't think it bothers him at all to swing. Hitting off a tee, he said it felt fine. He couldn't feel anything. He said he got up to 80, 90 percent swinging -- we all know with Joey swinging 90 percent, nobody swings that hard."
Gallo is expected to take batting practice when the Rangers play the Reds in Cincinnati this weekend. Woodward said Gallo is likely to DH in his first "couple" games back because of the concern of how he will feel throwing.
"I know we're going to be careful with him because we don't want it to come back," Woodward said. "He's too valuable. We don't want to lose him for another couple weeks or three weeks, especially where we are right now."
• Woodward expects Willie Calhoun (left quad strain) to be available to rejoin the Rangers for Monday's game against the Indians. The outfielder will play four games with Triple-A Nashville this weekend, where he is slated to play five innings on Thursday, seven innings on Friday, DH on Saturday and nine innings on Sunday. He has been on the injured list since May 22.
Rangers sign 13 Draft picks
The Rangers announced on Wednesday the signing of 13 players selected in last week's 2019 MLB Draft.
Right-handed pitcher Justin Slaten (third round) and center fielder Kellen Strahm (fifth round) are the highest-drafted among the signees.
Texas also signed eight other right-handed pitchers -- John Matthews (eighth round), Zak Kent (ninth), Joe Corbett (10th), Ben Anderson (13th), Luke Schiltz (24th), Mason Cole (27th), Spencer Mraz (33th) and Leon Hunter (35th). The other three signings included left-hander Triston Polley (16th), first baseman Blaine Crim (19th) and shortstop Jake Hoover (28th).
All of those players are set to report to the Rangers complex in Arizona before the start of short-season leagues.