Q&A on status of Rangers' pitching roles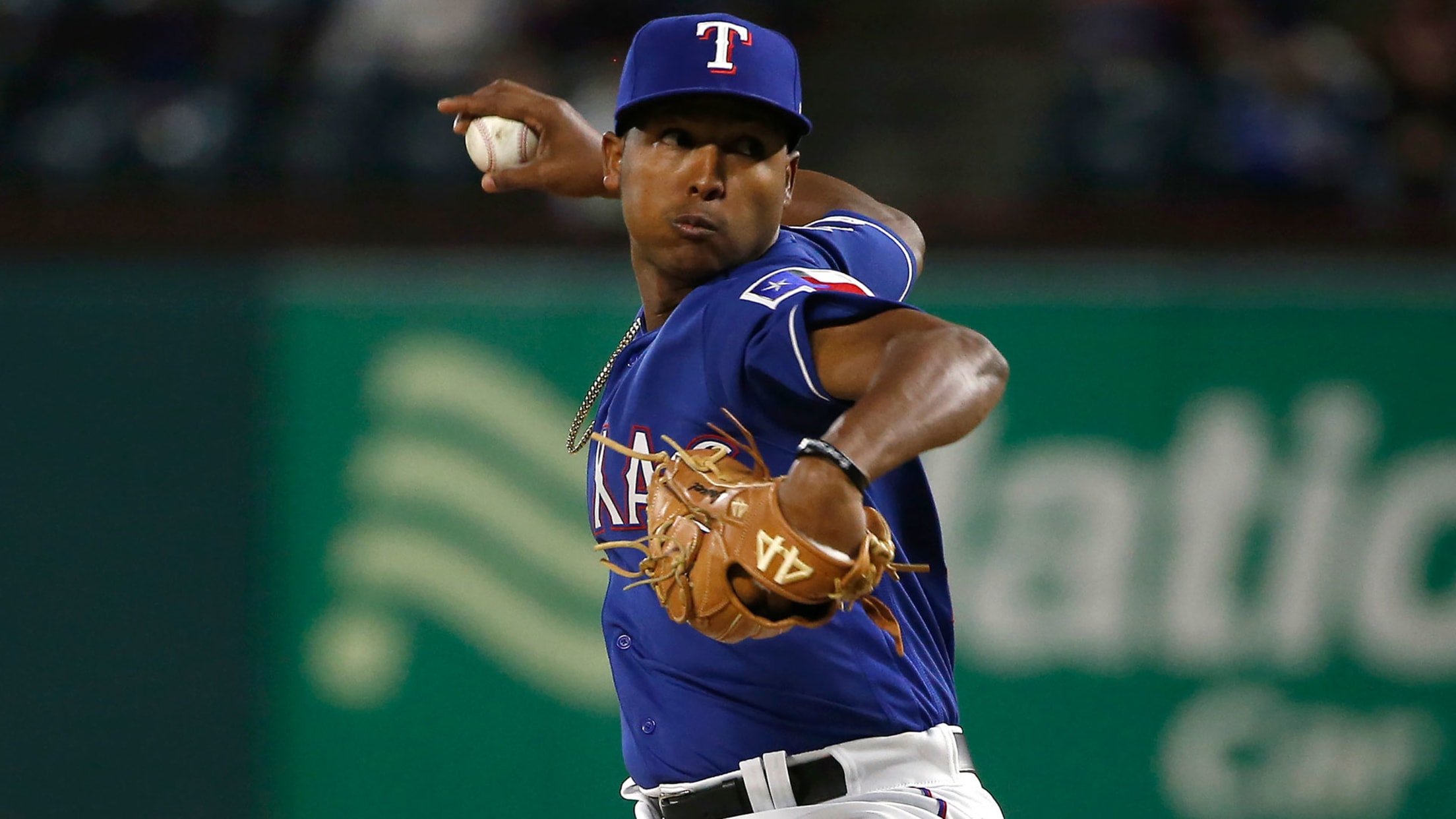 ARLINGTON -- The latest burning questions, and answers, on the Rangers' pitching staff. Q: Who is the Rangers' closer now that Jose Leclerc has been taken out of the role? A: Manager Chris Woodward said that it will be either Shawn Kelley or Chris Martin. Kelley locked down the save
ARLINGTON -- The latest burning questions, and answers, on the Rangers' pitching staff.
Q: Who is the Rangers' closer now that Jose Leclerc has been taken out of the role?
A: Manager Chris Woodward said that it will be either Shawn Kelley or Chris Martin. Kelley locked down the save during Saturday night's 8-5 win over the Blue Jays, but Woodward said that it will depend on matchups. Martin has more sheer power, while Kelley is better at throwing strikes and executing pitches.
"I wouldn't label one as the closer," Woodward said. "I'm comfortable with either one."
Q: What is the plan to get Leclerc turned around?
A: Last year, Leclerc did all of his pregame throwing on flat ground. Now, pitching coach Julio Rangel has him throwing off a mound for about 5-10 pitches every other day. Rangel said Leclerc is not finishing his delivery in a strong way, and that is causing his fastball to be erratic.
Q: Is it a bad sign that Leclerc didn't pitch at all Friday in a 1-0 game that went 12 innings?
A: The Rangers' No. 1 goal is for Leclerc to get his confidence back.
"In a tie ballgame, it would almost be like closing at that point," Woodward said. "I would rather it be a little less stressful than a tie ballgame. He just needs to have an outing that's a little less stressful. Ideally, but we may not have that choice."
Woodward found a less stressful situation Saturday, when Leclerc worked a clean seventh inning, which included strikeouts of Randal Grichuk and Vladimir Guerrero Jr.
Q: Who is expected to be sent down when Drew Smyly is called up Sunday?
A: The obvious choice is rookie right-hander Wei-Chieh Huang, who has Minor League options.
Q: Don't the Rangers need to get Ariel Jurado back to Triple-A so that he can stay built up as a starter?
A: Not necessarily. The Rangers are having the same debate about Jurado as they did with Adrian Sampson in Spring Training. That being -- is it better for him to be pitching every fifth day at Nashville or as a long reliever at the Major League level? The long-relief role would be even more vital if the Rangers go with a seven-man bullpen when first baseman/designated hitter Ronald Guzman comes off the injured list.
"That's one thing we've talked a lot about, because [Jurado] is an intriguing guy," Woodward said. "He has starter ability. Is he better in the 3-4-inning stint where he can throw the daylights out of it? I don't know what his best role is, but we may use him in that situation."
Q: If the Rangers are serious about carrying seven relievers, are either Jesse Chavez (8.79 ERA) or Jeanmar Gomez (9.58 ERA) in jeopardy of losing their job when Guzman comes off the injured list Thursday?
A: Chavez signed a two-year deal with the Rangers this winter. This would be a good time for Gomez to start pitching better.
Q: Are the Rangers serious about moving Shelby Miller to the bullpen?
A: Miller is going to start Wednesday in Pittsburgh. But …
"We are just toying around with the idea," Woodward said. "Obviously we would talk to Shelby before we ever considered doing that. It's an intriguing thing because if he is better in three-inning stints, maybe that's the best way to use him. I don't know. I would prefer to use him as a starter. I'd love to see that arm play out for six or seven innings rather than three, because he has the strength and power to do it.
"But if he is better just going as hard as [he] can for as long as [he] can, if that means 3-4 innings, that's what it is. We are going to keep exploring the options. If we can get him consistently through five or six innings, I'd rather do that."
Rangers beat
• Rougned Odor, in an 0-for-17 skid, was dropped from No. 2 to No. 6 in the order Saturday night with left-hander Thomas Pannone starting for the Blue Jays. Woodward said that it was a one-day demotion. Pannone, normally a reliever, is only expected to go 3-4 innings at the most and Woodward wanted to get as many right-handed hitters at the top of the lineup as possible.
• Friday's 1-0 loss in 12 innings was only the seventh by the Rangers in club history in which the only run scored was unearned. It has happened just twice since 1984, with the other coming on July 21, 2011, against the Angels.
• The loss was also just the seventh in club history in which the Rangers' starting pitcher tossed eight scoreless innings. They are 277-7 in those games.