Rangers explain Players' Weekend nicknames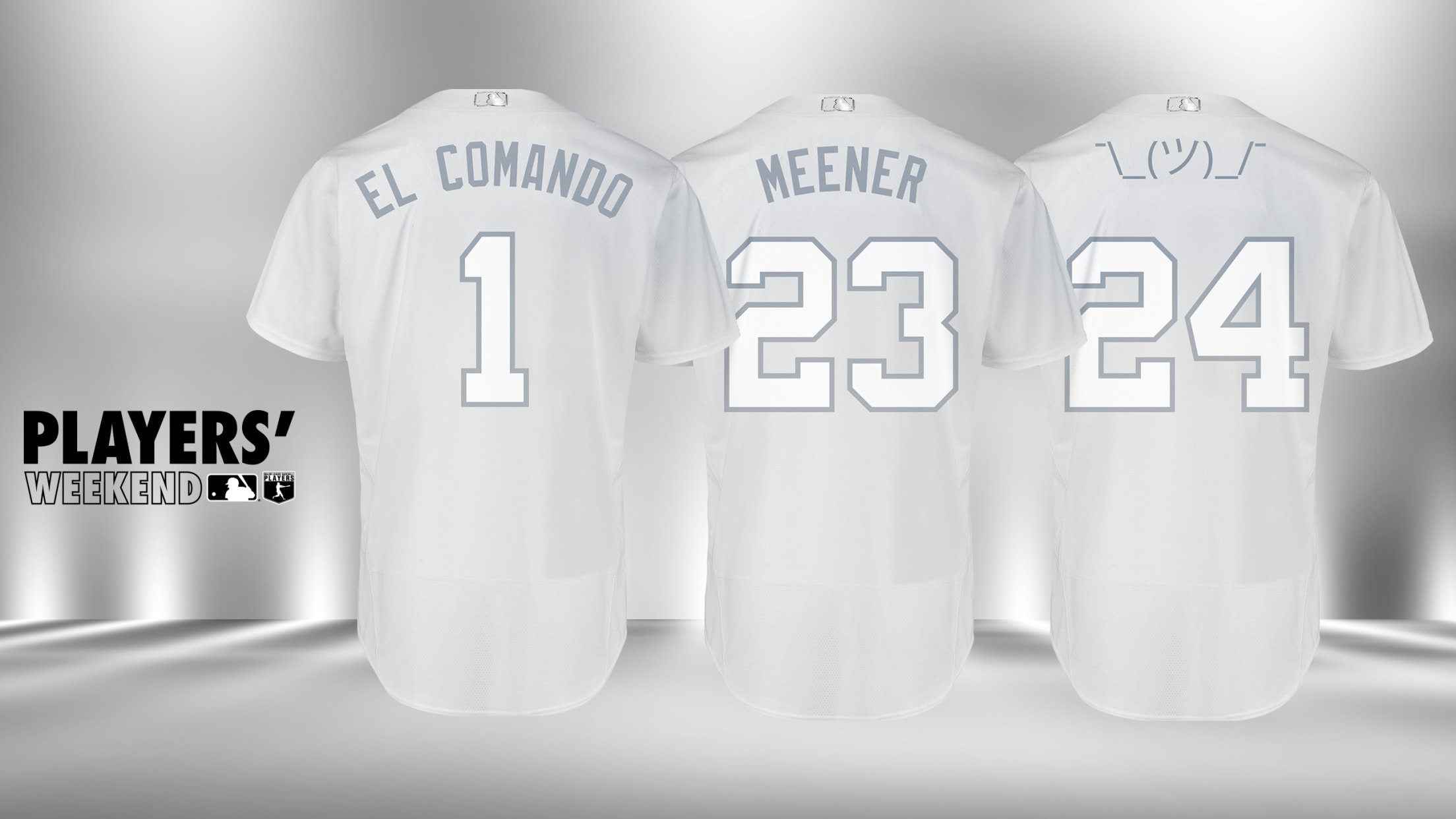 ARLINGTON -- The Rangers are ready to show off their nicknames for Players' Weekend from Friday to Sunday when they play the White Sox at Guaranteed Rate Field. This is the third year that Major League players get to choose a nickname that allows them to show a little personality
ARLINGTON -- The Rangers are ready to show off their nicknames for Players' Weekend from Friday to Sunday when they play the White Sox at Guaranteed Rate Field.
This is the third year that Major League players get to choose a nickname that allows them to show a little personality for three days. Some are obvious and some not quite so.
• Every team's Players' Weekend nicknames
Here are the Rangers' nicknames with a few explanations.
Elvis Andrus: "EL COMANDO"
Andrus is El Comando because he has become one of the "commanders" on the Rangers squad.
Willie Calhoun: "OSITO"
Osito means Teddy (as in teddy bear) in Spanish.
Jesse Chavez: "SHAYVEZ"
Shin-Soo Choo: "KOREAN KID"
Choo has always been proud of his Korean heritage.
Delino DeShields: "LIL BOP"
In honor of his father Delino DeShields, the former Major League second baseman who was known as Bop.
Logan Forsythe: "LOGIE BEAR"
Joey Gallo: "PICO DE GALLO"
Unfortunately, Gallo is on the injured list so he won't be able to show off his favorite hot sauce.
Taylor Guerrieri: "TEE-GEE"
Ariel Jurado: "BARTOLITO"
Jurado has always reminded people of a young Bartolo Colon so he will be Bartolito.
Isiah Kiner-Falefa: "IZZY"
José Leclerc: "PICO"
This is a reference to his nose, as pico is peak in Spanish.
Lance Lynn: "ML²"
His full name is Michael Lance Lynn.
Brett Martin: "JOEY SEAVES"
This is in honor of former Rangers Minor League pitching coach George "Joey" Seaver, who passed away last December. Said Martin, "He was like a father figure to me. I wouldn't be here today if it wasn't for him."
• Shop for Players' Weekend gear
Jeff Mathis: "MATTY"
He shares that with Hall of Famer Christy Mathewson.
Nomar Mazara: "BIG CHILL"
This is his long-standing nickname referring to his cool, unflappable demeanor on the field.
Mike Minor: "MEENER"
Rafael Montero: "MONTE"
Rougned Odor: "EL TIPO"
It means "dude" or "chap" in Spanish and that's Odor's reputation due to his satorial sharpness in the way he dresses.
Pedro Payano: "PAYANITO"
Hunter Pence: "¯\_(ツ)_/¯"
Pence chose an emoji of a stick figure shrugging, saying, "I really don't have a nickname and I love that emoji."
¯\_(ツ)_/¯ https://t.co/iUA95fG4Ko

— Hunter Pence (@hunterpence) August 6, 2019
Adrian Sampson: "YO ADRIAN"
Yo Rocky!
Danny Santana: "DANIELITO"
Because he was the little one of his family growing up.
Jose Trevino: "TREVI"
He shares this with a famous fountain in Rome.