These Rangers could have key roles in 2020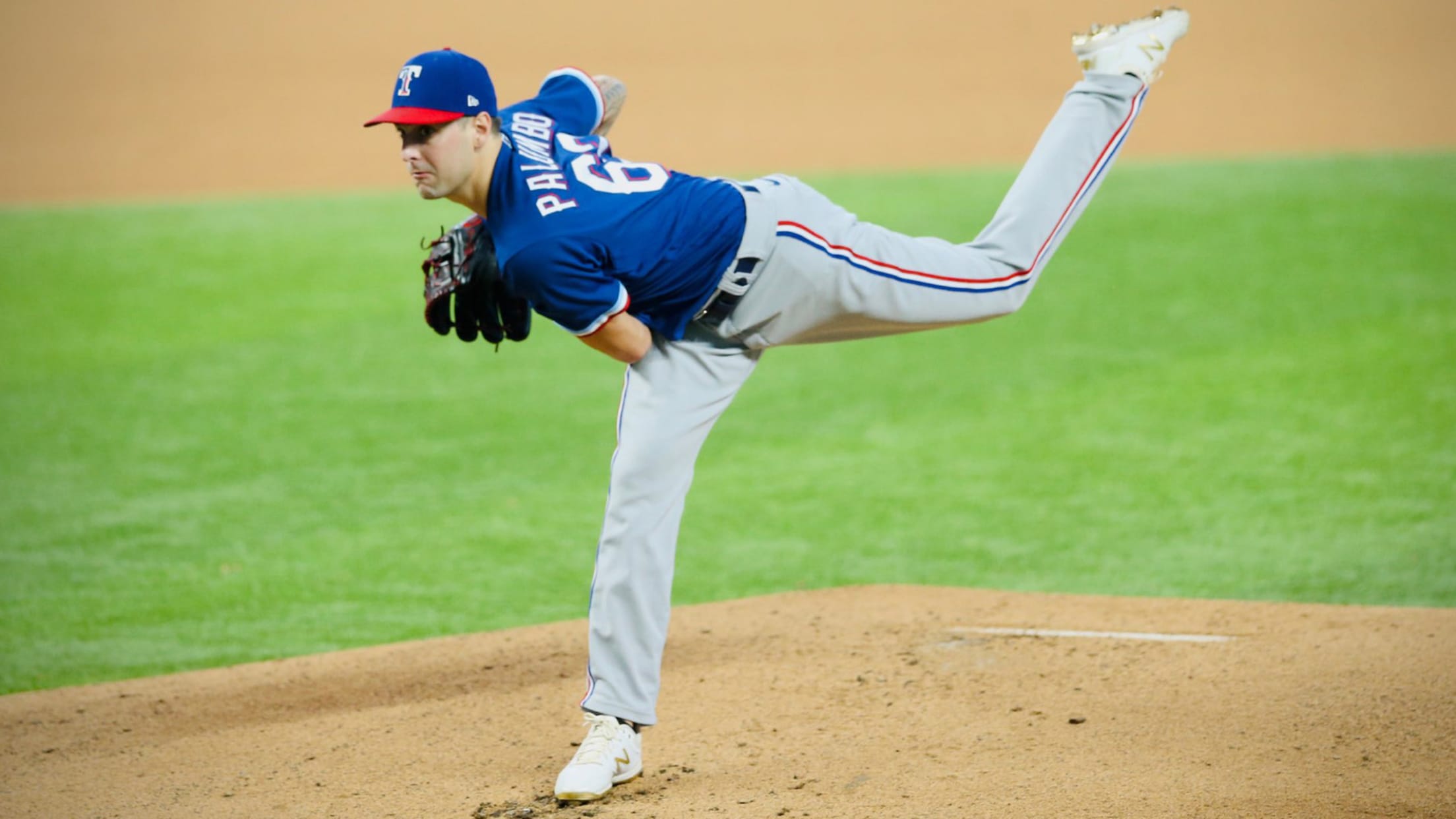 ARLINGTON -- Left-hander Joe Palumbo opposed right-hander Kyle Gibson in the Rangers' intrasquad game on Friday. Gibson is expected to be one of the Rangers' five starters when the season opens. Palumbo? He is an alternate, and the Rangers need all the alternatives they can get. There are plenty of
ARLINGTON -- Left-hander Joe Palumbo opposed right-hander Kyle Gibson in the Rangers' intrasquad game on Friday.
Gibson is expected to be one of the Rangers' five starters when the season opens.
Palumbo? He is an alternate, and the Rangers need all the alternatives they can get. There are plenty of unknowns heading into a 60-game regular season, so a big part of Texas' quest during Summer Camp is to identify who its best alternatives are for the year.
Palumbo, who gave up one run in 2 2/3 innings, and left-hander Kolby Allard are viewed as the Rangers' two best options in case they need a starter to fill in in the rotation. Now, they need to prove they can handle that role, which could consist of pitching simulated games across the street while the Rangers are playing at Globe Life Field.
"I am just going to show up every day and be ready to go when I get that chance to get the ball on the mound and give it 110 percent," said Palumbo, the Rangers' No. 9 prospect per MLB Pipeline. "Whatever they have me doing, starting, relieving. I will do whatever the team wants me to do. That's about it."
Here are others who could play crucial roles for the Rangers in the 2020 season.
Nick Solak, UTL
Solak is the Rangers' alternative at just about every position. His best position is second base, and Rougned Odor isn't ready to give that up. Odor hit another home run on Friday and is 7-for-14 with three homers in the first week of Summer Camp intrasquad games.
The Rangers expect Solak, the club's No. 5 prospect, to be a candidate to play first base, third base and center field. Oh, and he started in left field on Friday, when he went 2-for-3 to improve to 7-for-20 in Summer Camp.
Taylor Hearn, LHP
The Rangers' top two left-handers are Joely Rodríguez and Brett Martin. Rodriguez is sidelined with a strained lat muscle and is not expected to throw off a mound until Monday, at the earliest. Martin tested positive for COVID-19 last week and is out indefinitely.
Hearn has one game of Major League experience ad missed most of last season with an elbow injury. The Rangers were impressed with what they saw in Spring Training and so far here in Summer Camp, giving them early hope he could fill a left-handed role in the bullpen.
Jimmy Herget, RHP
The Rangers are loaded with veteran right-handed relievers who are in camp as non-roster invites. Herget is of interest to the Rangers because he doesn't throw as hard as some of the other candidates, but he has a "funky" delivery from a three-quarters angle that could be trouble for right-handed hitters. They hit .196 off him last season while he pitched for Triple-A Louisville in the Reds' organization.
Herget did not allow a run in five innings in Spring Training, with only two hits allowed and three walks while striking out eight. With Rafael Montero, who is dealing with family issues, not yet in camp, Herget could be an intriguing setup option.
Luke Farrell, RHP
Jonathan Hernández is wowing the Rangers with his overpowering stuff that features a 98 mph fastball. He could win a job as a multi-inning reliever, but he remains unproven at the big league level.
Farrell isn't as overpowering, but he keeps getting hitters out. He did not give up a run over 10 2/3 innings spanning eight outings in both Spring Training and Summer Camp, before allowing one on Friday.
Isiah Kiner-Falefa, IF
Kiner-Falefa started at shortstop behind Gibson in Friday's intrasquad game, and he was tested right away. Leody Taveras, who runs well, hit a grounder into the left-side hole. Kiner-Falefa made a backhanded play and a strong throw to first for the out.
The nice play is a reminder that shortstop was Kiner-Falefa's original position before he started moving around the diamond. Kiner-Falefa is well on his way to making the Opening Day roster, and being able to play shortstop only adds to his growing value.
Scott Heineman, OF
The leading candidate to be the Rangers' fourth outfielder because he is a right-handed hitter on a team with lefty-swinging Willie Calhoun and Joey Gallo on the corners and Shin-Soo Choo at designated hitter. That should allow Heineman to get some at-bats.
The question is whether the Rangers have enough confidence in Heineman's defense to play him in center if Danny Santana needs a day off or is struggling at the plate. Heineman has played 149 games in center in the Minors, as opposed to 218 in left and 105 in right.
Cody Allen, RHP
The Rangers have so far deftly deflected questions about the possibility of Allen being a candidate for the closer's job. Allen had 32 saves for the Indians in 2016, when they won the American League pennant, and he recorded six more that postseason.
Right now, the Rangers are viewing Allen as a candidate for the bullpen who still must win a job in Summer Camp. That is not a lock by any means. He pitched a scoreless inning with two strikeouts on Thursday.