Chirinos' return muddles catching picture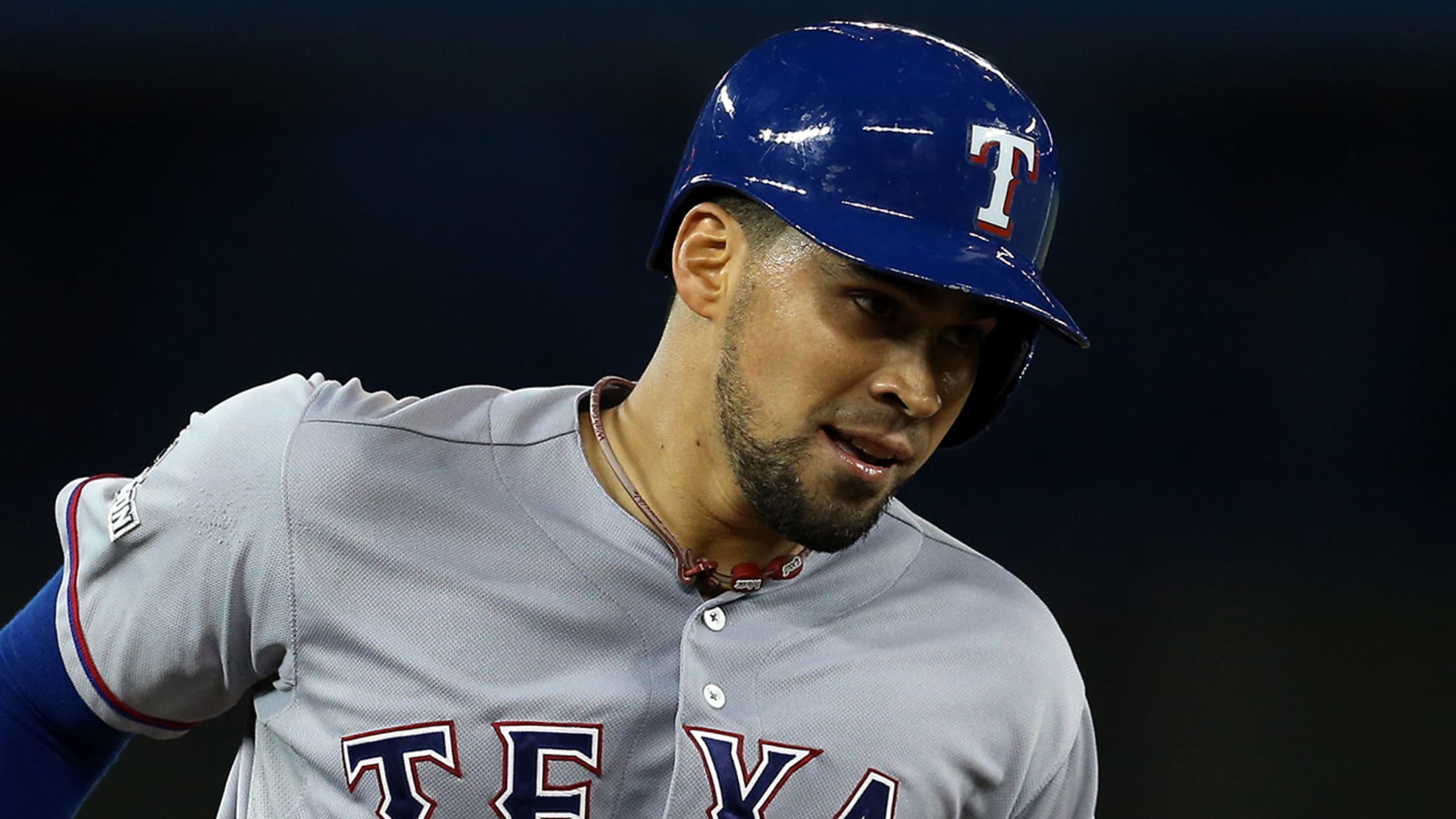 Robinson Chirinos returned to the Rangers' lineup on Friday for the first time since April 9 when he suffered a fractured right forearm. (AP). (Vaughn Ridley/Getty Images)
SEATTLE -- Robinson Chirinos returned to the Rangers lineup on Friday night, going 0-3 with a walk in a 7-5 loss to the Mariners at Safeco Field. He also let two tricky throws from the outfield get past him in a two-run eighth inning that proved costly.It was Chirinos' first
SEATTLE -- Robinson Chirinos returned to the Rangers lineup on Friday night, going 0-3 with a walk in a 7-5 loss to the Mariners at Safeco Field. He also let two tricky throws from the outfield get past him in a two-run eighth inning that proved costly.
It was Chirinos' first start since April 9 against the Angels when he suffered a fractured right forearm getting hit by a pitch from Garrett Richards
"Long time," Chirinos said. "Thank God I am back here with the guys. Seeing my name in the lineup for the first time in two months is exciting."
Chirinos probably won't see his name in the lineup on Saturday. After being out so long, manager Jeff Banister isn't eager to have Chirinos play back-to-back right away.
He also has two other catchers to keep busy. For right now, the Rangers are going with three catchers on their 25-man roster, including Bobby Wilson and Bryan Holaday.
"We'll keep Wilson and Holaday engaged," Banister said. "We'll treat that the same as the rest of the roster and manage their at-bats. It's not like any other challenge managing the playing time of everybody."
Wilson and Holaday deserve to play. Both have done a terrific job while Chirinos was absent.
Wilson was 3-for-7 with a home run in his last two games and hitting .342 in his last 11 games. Since being re-acquired from the Tigers, he is hitting .306 with three home runs and 14 RBIs in 21 games. The Rangers are 12-9 in those 21 games.
Holaday, after a slow start, is hitting .359 with five doubles, a triple, two home runs and 10 RBIs in his last 12 games. The Rangers have won seven straight and 10 of their last 11 with Holaday starting at catcher.
With those three combined, plus Brett Nicholas, Rangers catchers went into Friday's game with a .794 OPS, the highest for their position in the American League.
But having three catchers on a 25-man roster is still difficult, especially with a 12-man pitching staff. The Rangers bench on Friday night consisted of Holaday, Wilson, rookie outfielder Jared Hoying and injured third baseman Adrian Beltre, who is sidelined and unavailable because of a strained left hamstring.
The Rangers had one chance to use their bench on Friday. They trailed 5-4 in the eighth, but had a runner on second base with two outs and Ryan Rua, a right-handed hitter, at the plate against sidearming right-hander Steve Cishek.
Banister had Hoying, a left-handed hitter available, but stuck with Rua, who had homered in his last at-bat. Cishek had been holding right-handed hitters to a .120 average, as opposed to .235 against left-handed hitters. He retired Rua on a fly to right.
"Pretty much an even matchup so continue to stay with the guy who had swung the bat well for us," Banister said.
Holaday is working out at third base and in the outfield trying to increase his versatility. But Banister admitted it will be tough long-term to carry three catchers and limit other options in the bench.
"You have to have the rest of your players playing at a pretty high level," Banister said.
The Rangers would have sent down either Holaday or Wilson upon Chirinos' return except they are both out of options. They would have to clear waivers to be sent to Triple A Round Rock and there is a good chance one or the other would be claimed by another team.
The Rangers have flexibility because Jurickson Profar and Rua can play multiple positions. That keeps the Rangers from having to drop a catcher just so they can cover themselves with a utility infielder.
"That's why it's so crucial to have players that are multi-dimensional," Banister said. "You are the sum of all your parts."
The sum of the Rangers catching parts has been good this season. But right now the parts are more than the Rangers expected.