Adames called up, draws critical walk in rally
Williams sent down day after making MLB debut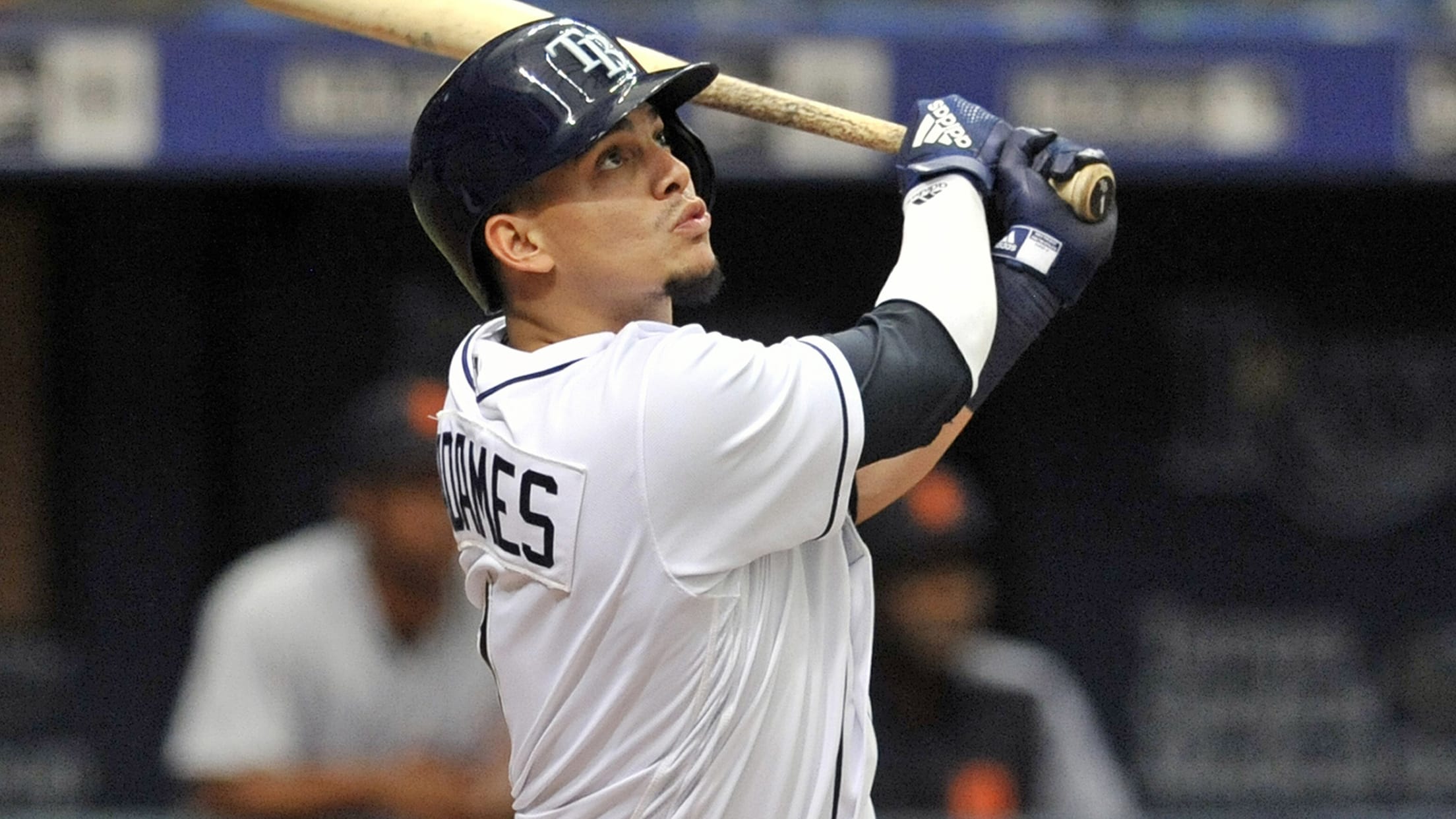 Tampa Bay Rays' Willy Adames bats during a baseball game against the Detroit Tigers Wednesday, July 11, 2018, in St. Petersburg, Fla. (AP Photo/Steve Nesius) (Steve Nesius/AP)
ST. PETERSBURG -- After making his MLB debut in Saturday night's 3-2 loss to the Marlins, Rays No. 8 prospectJustin Williams returned to Triple-A Durham. Tampa Bay recalled infielder Willy Adames -- the team's No. 2 prospect -- in his place.With Matt Duffy (back spasms) and Kevin Kiermaier (right foot
ST. PETERSBURG -- After making his MLB debut in Saturday night's 3-2 loss to the Marlins, Rays No. 8 prospectJustin Williams returned to Triple-A Durham. Tampa Bay recalled infielder Willy Adames -- the team's No. 2 prospect -- in his place.
With Matt Duffy (back spasms) and Kevin Kiermaier (right foot soreness) out Saturday night and Adeiny Hechavarria (sore oblique) having to leave after the seventh inning, the Rays had to bring in Carlos Gomez to play second base in the eighth and ninth innings. Hechavarria does not feel like he's headed to the disabled list, but he's not yet ready to be back out at shortstop.
"Obviously, with Hech and his oblique -- I think he's going to be more day to day -- we needed another infielder," Rays manager Kevin Cash said. "Sending down Justin Williams, it's tough. I think we pride ourselves in trying not to make those quick decisions. But he was on the roster. We needed somebody, just because of the injuries to the bench lately.
"It's not ideal, but [Williams will] go down there. I reassured him, we all reassured him, he's done some good things. He's definitely in the plans. He's a young player. Part of that core we're excited to see what the future brings. But he's done good things. He'll go back down there and continue to do so."
Duffy started at third base in Sunday's 6-4 walk-off win over the Marlins at Tropicana Field. Adames started at shortstop, and though the rookie went 0-for-3, he drew a critical walk during the Rays' ninth inning rally, which ended on a pinch-hit grand slam by Daniel Robertson.
Williams, 22, made his debut Saturday when he pinch-hit for Hechavarria in the seventh inning, grounding into a double play to end the frame.
Bill Chastain has covered the Rays for MLB.com since 2005.