Drummer Longoria plays more than baseball
Rays third baseman uses music to break from game's daily grind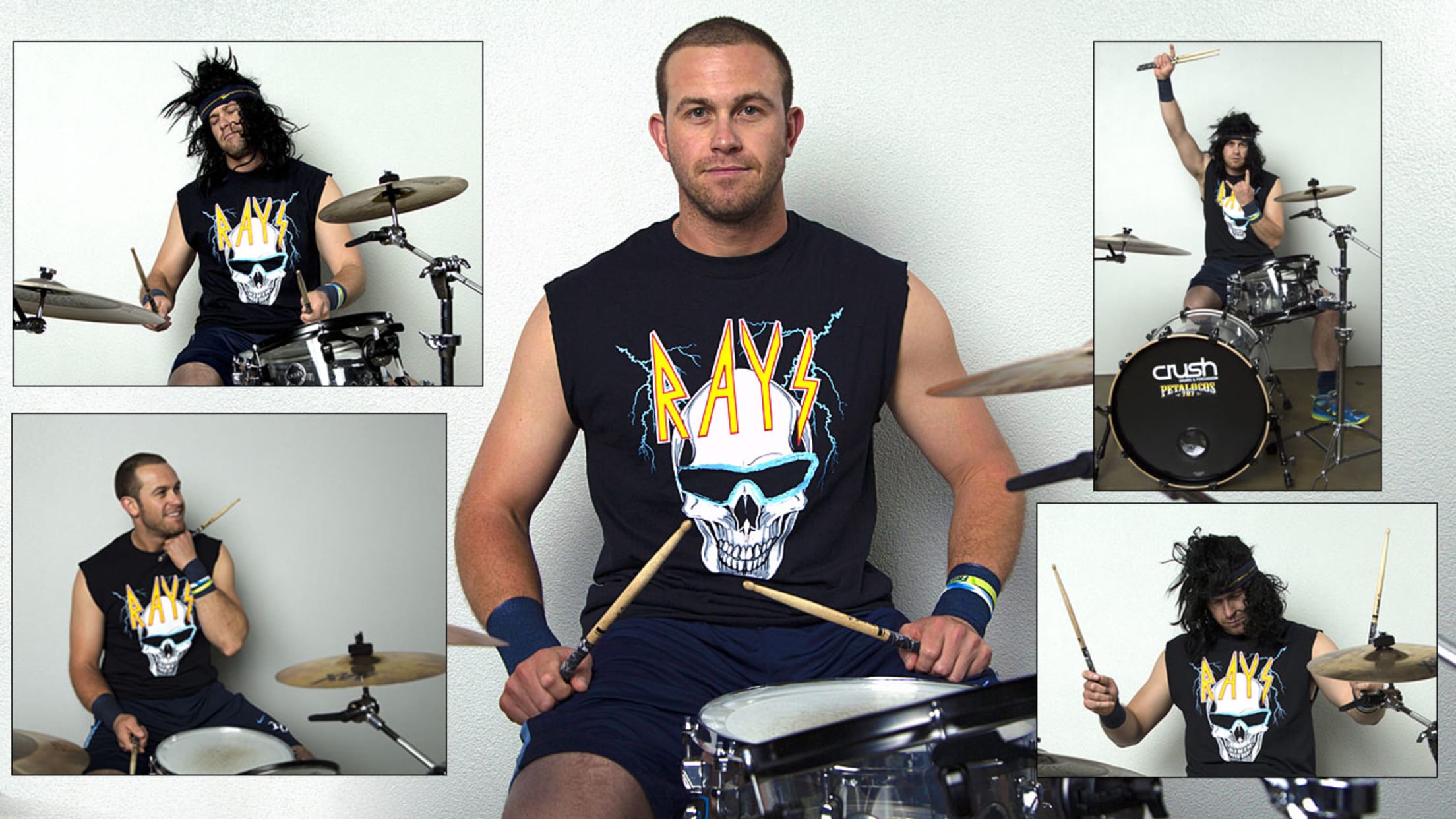 ST. PETERSBURG -- Keith Moon, the famous drummer known for his work with the The Who, doesn't exactly come to mind at the sound of the beat vibrating throughout the underbelly of Tropicana Field. Good thing since the guy playing the drums is Evan Longoria, and Rays fans wouldn't want
ST. PETERSBURG -- Keith Moon, the famous drummer known for his work with the The Who, doesn't exactly come to mind at the sound of the beat vibrating throughout the underbelly of Tropicana Field. Good thing since the guy playing the drums is Evan Longoria, and Rays fans wouldn't want the face of the team to quit his day job.
Fortunately, playing third base for the Rays and messing around with the drums aren't mutually exclusive for Longoria, who began playing in 2009 when veteran catcher Greg Zaun joined the team.
"Zaun would bring an electronic kit to the field' and he'd go play it early before anybody really got to the field," Longoria said. "I had always kind of wanted to learn to play a musical instrument, so once I found out what he was doing, it became my first exposure and opportunity to do it.
"I would try to show up earlier than him and go back there and play by myself. And really, I just learned very basic stuff from YouTube, watching YouTube videos. Drum tutorials online."
Longoria usually plays for 10 or 15 minutes every other day. Putting that into perspective he noted, "The guys you hear on the radio probably grew up playing five, six hours a day. There's a big difference in time and dedication there."
Longoria allowed that he has "progressed much" past the YouTube tutorials.
"I've had some opportunities to take some lessons," he said. "I've got some friends who are musicians that I've watched play for some hints and tips here and there. But I've never gone much further than just playing by myself, kind of banging away in the back room."
Longoria views the drums as a form of relaxation.
"It's just a way to get away," he said. "That's kind of the definition of a hobby. Something that takes your mind off of whatever it is, the things you stress about in life. A hobby is meant to be fun and relaxing. And it gives me some energy. I enjoy doing it.
"I play along with whatever music I'm currently into or listening [to]. I don't necessarily try to play the exact song or the exact beat. It's kind just a two-fold, relaxation, fun effect. I get to listen to the music I like and play along."
But Longoria, the perfectionist on the field, is his biggest critic once he's handling the sticks.
"I don't play and just listen to myself play," he said. "Sometimes it's pretty bad."
At times, Longoria has been joined by teammates like John Jaso as well as Rocco Baldelli, who is now the Rays' first-base coach.
"It was fun when we had Jaso, because Jaso was a decent guitar player," Longoria said. "Him and sometimes Rocco, Rocco plays the bass. We'd get a little jam session going back there. It was never that great, but it was fun."
Through his pursuit and struggles to become a better drummer, Longoria has gained an appreciation for those who have mastered the instrument.
"After learning very basic things on the drums, you go to concerts and watch guys playing who are actually good at it -- just the tempo and the timing and movement of all your limbs all at once doing different things; you learn how tough it is and how much work it takes to get good at it," Longoria said. "Watching those guys and watching the other musicians while they're playing, you realize how tough it is to pick up those cues and do what you want with your hands and feet."
Longoria managed a smile when he surmised: "Like anything else, I can go back there and just bang away, but to actually be good, that's another story. I'm a baseball player."
Bill Chastain has covered the Rays for MLB.com since 2005.