Rays helped shape Kapler's baseball philosophy
First-year Phils manager played for TB for 2 seasons, later worked as scout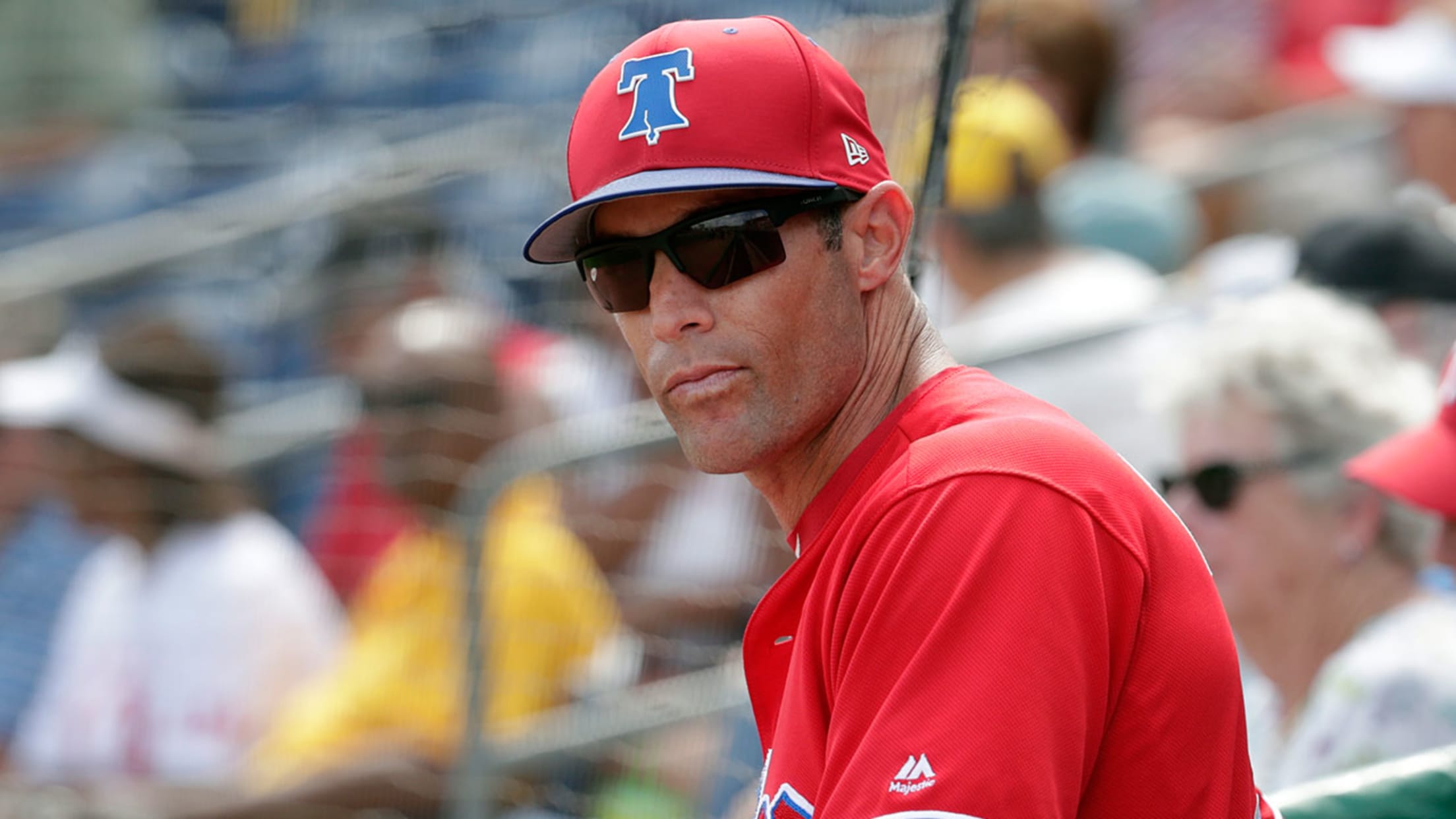 PORT CHARLOTTE, Fla. -- As first-year Phillies manager Gabe Kapler walked in from right field, from the clubhouse to the dugout for the pregame workout, he stopped to shake hands and say hello to several people along the way. Ushers, stadium workers, media members.Kapler ended his 12-year playing career after
PORT CHARLOTTE, Fla. -- As first-year Phillies manager Gabe Kapler walked in from right field, from the clubhouse to the dugout for the pregame workout, he stopped to shake hands and say hello to several people along the way. Ushers, stadium workers, media members.
Kapler ended his 12-year playing career after two seasons with the Rays, in 2009-10. He then spent three seasons as a special assignment scout with Tampa Bay.
Returning to Charlotte Sports Park, the Rays' Spring Training home, was a reunion of sorts for him.
:: Spring Training coverage presented by Camping World ::
"It really seems like yesterday. In a lot of ways, it seems very comfortable," Kapler said. "Seeing [the clubhouse attendants], really good to be around them again. It's a cool place to be. I'm looking forward to seeing Erik [Neander, the Rays' general manager] and Chaim [Bloom, the Rays' senior vice president of baseball operations] and everybody, for that matter."
Tampa Bay's front office helped shape Kapler's way of looking at the game.
"I'd been thinking about [managing] long before putting on a Rays uniform," Kapler said. "Really, more as a bench player you start thinking about those things and you start thinking along with the manager in the game.
"I think the way I personally analyze baseball was shaped heavily by the Boston front office and then the Rays' front office," said Kapler, who played for the Red Sox from 2003-06 and managed in their Minor League sytem in 2007.
So far, what is Kapler's biggest challenge in his new role?
"Hours in the day, without question," he said. "There are just so many things you want to work on."
Kapler is learning to give his mind a rest at the end of the day.
"That's another challenge," he said. "Right now, I shut the bathroom door and sit for five minutes at a time and just breathe and have a moment."
Kingery impressing
Scott Kingery continues to impress. He did so in the Phils' 9-2 win over the Rays on Friday with his bat and his glove, playing second base and hitting leadoff. After robbing Kean Wong to end the second, his two-run homer in the third tied the game.
"I would say I don't know how many other, if any, second basemen make that play," Kapler said. "Obviously, other guys will drive the ball out of the ballpark to right field and have great at-bats and act like they've been there for a really long time. There are very few, if any, second basemen who make that play, get that jump, have that extension, have the composure and the wherewithal to get up and make a strong throw. That floored us all. The dugout was sort of open-mouthed. It was like, 'Woah, what just happened?' It was really impressive.
"He can play in the big leagues at many different positions. He can play second base, he can play shortstop, he can play center field. There's no doubt in my mind he can handle third base, he can handle both corners. So in theory, that is an exciting role for Scott. I dont know how all this plays out. What I can tell you is his mindset is the right mindset, which is that, 'I am a Major League player right this minute.' And that's the only way we can all think about it. … He's that level of talented."
This and that...
• Odubel Herrera made his first appearance in center field in Friday's game.
"Really good to see him out there," Kapler said. "We paid very close attention to him as the pitch was crossing the plate. He was very engaged. Yeah, it was really nice to see him out there."
• With split-squad games Saturday, Kapler will manage at home against the Orioles and bench coach Rob Thomson will be the acting manager against the Pirates in Bradenton, Fla.
Up next
The Phillies have split-squad games on Saturday. Right-hander Tom Eshelman is scheduled to start when the Phillies host the Orioles at 1:05 p.m. ET. Righty Kevin Gausman is scheduled to start for Baltimore, live on MLB.TV. Right-hander Ben Lively is scheduled to start for the squad that travels to Bradenton to face the Pirates at 1:05 p.m. He'll be opposed by Pittsburgh righty Ivan Nova, live on Gamdeday Audio.
Maureen Mullen is a contributor to MLB.com.