Duda finds himself in familiar territory at Citi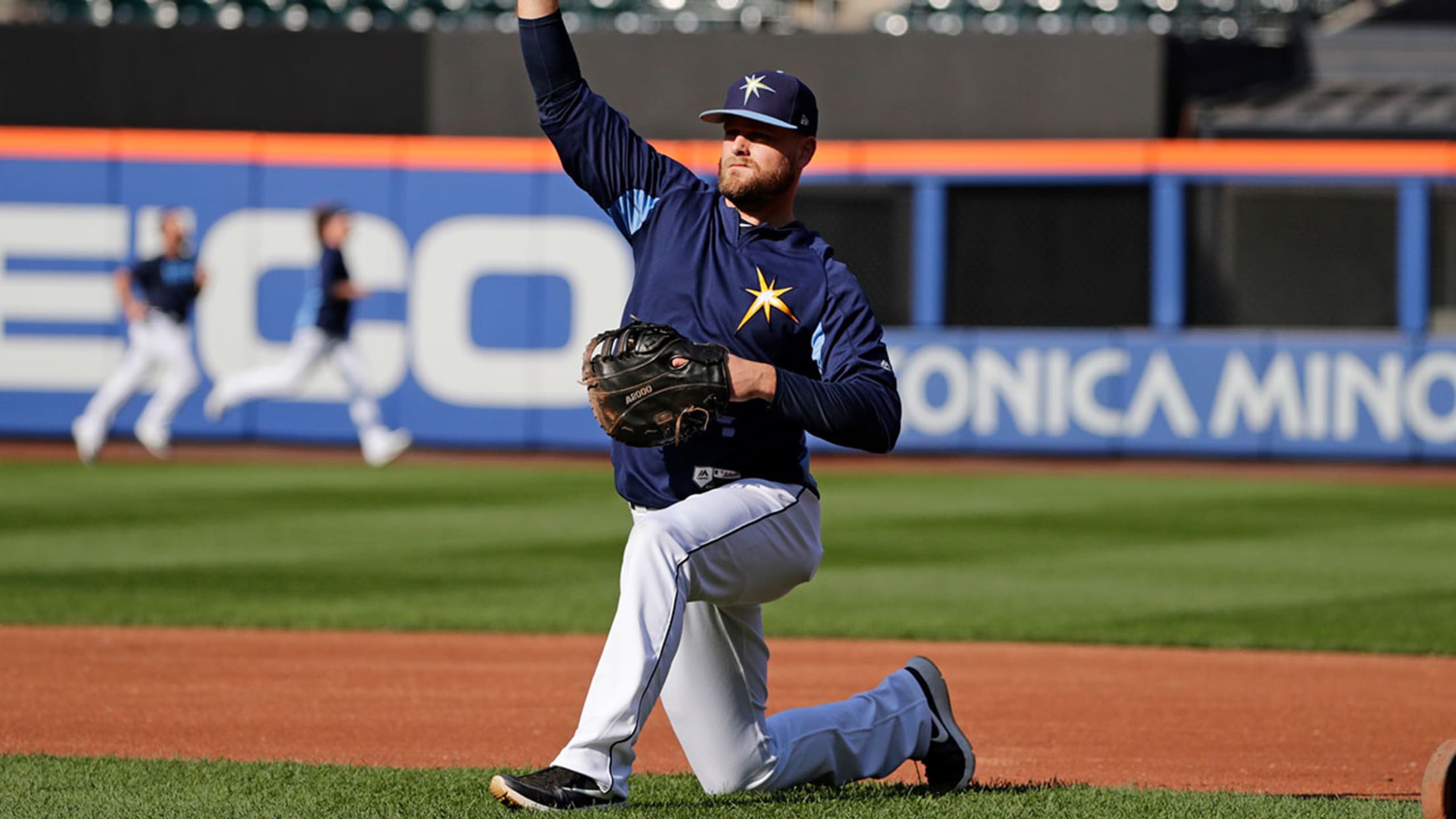 Former Met Lucas Duda occupied his old locker at Citi Field for Monday's game vs. the Yankees. (AP)
NEW YORK -- Lucas Duda was in a familiar place Monday, yet there was something very unfamiliar about it.Duda and the Rays occupied the Mets' clubhouse at Citi Field for the first of their three games against the Yankees, with Duda parked in the locker he called home since he
NEW YORK -- Lucas Duda was in a familiar place Monday, yet there was something very unfamiliar about it.
Duda and the Rays occupied the Mets' clubhouse at Citi Field for the first of their three games against the Yankees, with Duda parked in the locker he called home since he broke into the Majors in 2010. But given the fact that he was in a Tampa Bay uniform, surrounded by guys he's called teammates for less than eight weeks, it wasn't quite a homecoming for the first baseman.
• Relieved Rays turn focus to the field
"It's definitely kind of odd to be back, especially under the circumstances," Duda said, referring to the series being relocated due to Hurricane Irma. "I'm definitely thankful to the Mets organization, to the people that brought me up and got me to the big leagues. This place is the first place I've been in the big leagues, it's who I came up with, so I'll always have a deep connection."
Duda was traded to the Rays on July 27 for Double-A reliever Drew Smith.
"Obviously, Lucas has a lot of comfort here," manager Kevin Cash said. "Hopefully he goes out and performs and shows that comfort because he did it for many years, having success in this city and in this stadium."
One more day
Steven Souza Jr. remained out of the lineup for a third straight game, still bothered by a bone bruise in his left knee he suffered Friday when he ran into a wall at Fenway Park.
Cash said Souza Jr. could be available off the bench, but he wasn't ready to put him in the lineup just yet.
"One more day seemed to make the most sense," Cash said.
Getting closer
Nathan Eovaldi (Tommy John surgery) felt good after throwing one inning in a rehab appearance with Double-A Montgomery Saturday. The right-hander could throw again on Wednesday in the Triple-A playoffs, and while Eovaldi hopes to return to the Rays and pitch out of the bullpen this month, Cash wouldn't commit to anything.
"We've discussed it, but we have to do right by him," Cash said. "He's a huge part of our season next year."
Mark Feinsand is an executive reporter for MLB.com.