Rays weigh in with Super Bowl predictions
Among players and coaches, Patriots hold slight edge over Falcons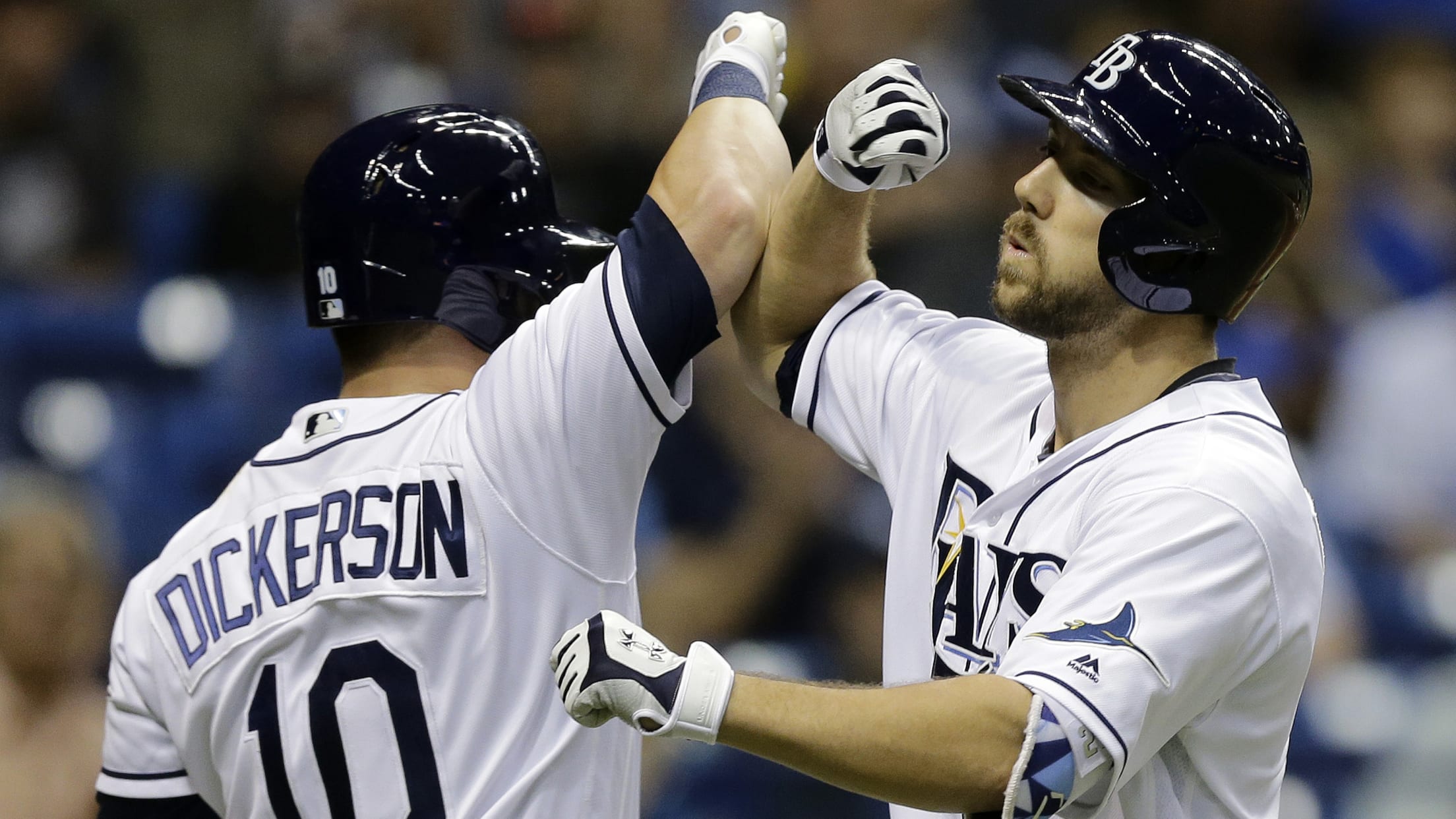 Corey Dickerson believes the Patriots will win, while Steven Souza Jr. is going with the Falcons. (AP) (Chris O'Meara/AP)
ST. PETERSBURG -- Super Bowl Sunday is on the horizon, and just like the rest of the population, the Rays will be tuned in. MLB.com asked players and coaches for their take on the game between the Atlanta Falcons and New England Patriots. Here's what they had to say:Outfielder Steven
ST. PETERSBURG -- Super Bowl Sunday is on the horizon, and just like the rest of the population, the Rays will be tuned in. MLB.com asked players and coaches for their take on the game between the Atlanta Falcons and New England Patriots. Here's what they had to say:
Outfielder Steven Souza Jr.
"The Falcons beat my Seahawks, so I'm saying 27-21, Falcons. Mark it down."
Right-hander Chris Archer
"Man, I don't follow it that much. It's hard to bet against the Patriots. They're always super prepared. I'll say the Patriots, because it's the easy pick. I haven't watched enough NFL to really know."
Outfielder/DH Corey Dickerson
"I just like Tom Brady. I think he goes about his business the right way. His routine. He's probably one of the most dedicated players in football, and I think those routines bring success. Patriots, 34-26."
Right-hander Jake Odorizzi
"I think New England will win, by how much I don't know. I think it will be very offensive. But I think New England has the edge with Tom Brady, he doesn't lose too often. So I'll go with New England as my pick. High-scoring game."
Third baseman Evan Longoria
"I'd love to see Atlanta win, but it's really hard to bet against the Patriots right now. I do think that the crowd may be a little pro-Atlanta. I'm going to pull for Atlanta."
Right-hander Matt Andriese
"I want the Falcons to win. Matt Ryan and the offense have blown out their last two opponents on the offensive side. And their defense has played well, too, but I think the Patriots are going to pull out the win. Obviously, Tom Brady has been there and he always finds a way to win. Their defense will keep Matty Ice in check and Brady will find a way in the fourth quarter. Pats, 31-27."
Manager Kevin Cash
"Pats by 6.... [Bill] Belichick and Brady with two weeks' prep is a dangerous combo."
Catcher Curt Casali
"Patriots over Falcons, 27-24. Brady cements his legacy as best NFL player of all time!"
Hitting coach Chad Mottola
"Falcons ... Growing up in South Florida and being a Dolphins fan, I am tired of watching the Patriots always win."
Shortstop Matt Duffy
"Patriots! They don't beat themselves. Solid fundamentals and everyone plays for the name on the front all the time."
Pitching coach Jim Hickey
"Falcons 31, Pats 28."
Right-hander Danny Farquhar
"Falcons win, because I am a Dolphins fan and I root against the Pats any chance I get."
Outfielder Kevin Kiermaier
"Falcons 29, Patriots 27 ... Falcons' offense has been dominant all year and I see them barely outscoring the Pats. It's going to be a clean game with hardly any penalties. Going to be a great game."
Right-hander Brad Boxberger
"I think the Patriots are going to win. I think it's going to be a high-scoring game with both quarterbacks, but I think the New England defense is going to hold Matt Ryan just enough."
Catcher Luke Maile
"Heads on the coin toss, under on the national anthem, over on [Peyton] Manning's name mentioned, Lady Gaga will be great, Doritos will have the best commercial."