Here are Rays' Players' Weekend nicknames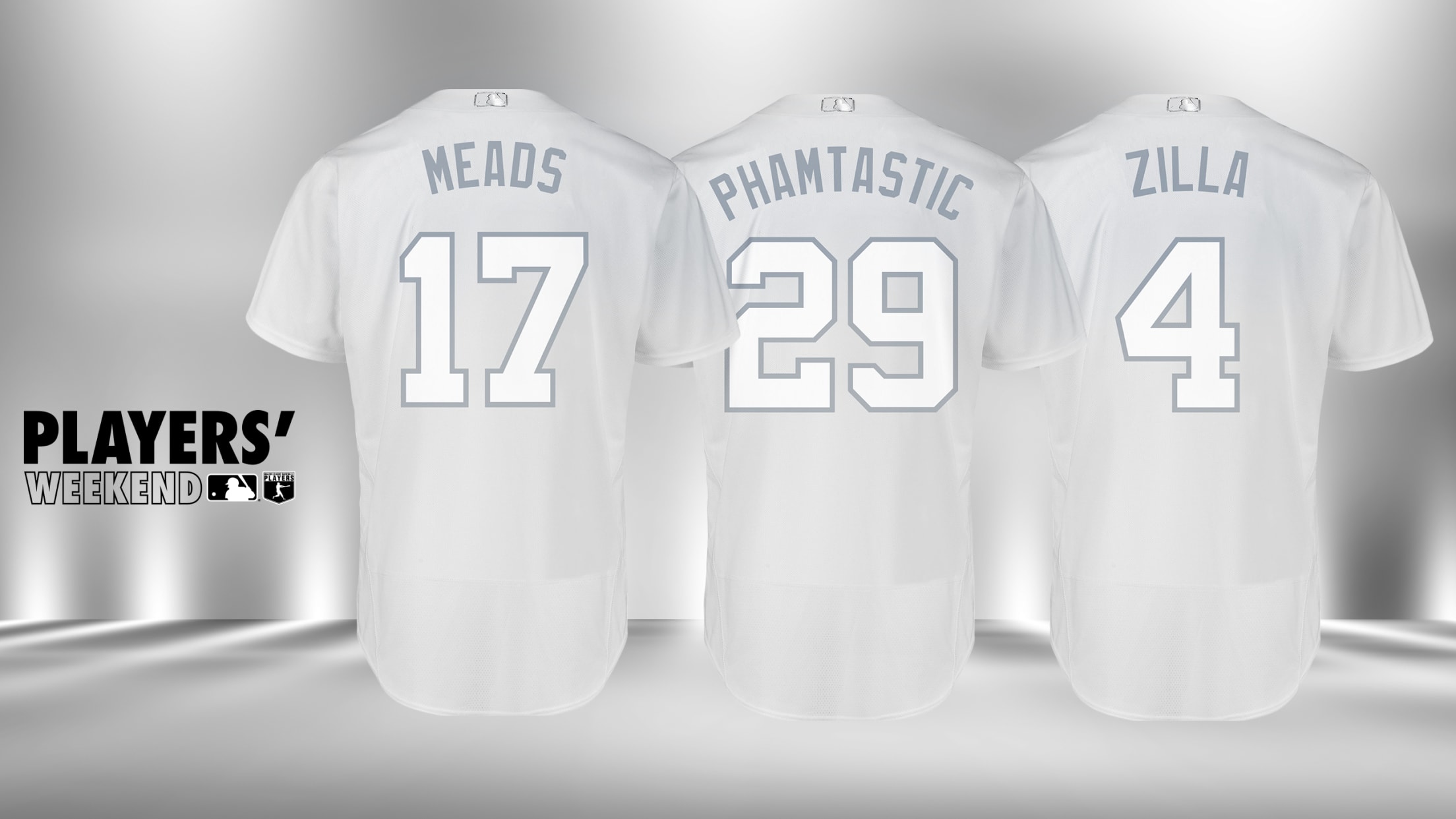 ST. PETERSBURG -- This will be the third consecutive year that players will sport their Players' Weekend nicknames on the back of their jerseys. For some Rays players, it will be the first time they'll be able to show off those nicknames. The Rays will be wearing an all-white look
ST. PETERSBURG -- This will be the third consecutive year that players will sport their Players' Weekend nicknames on the back of their jerseys. For some Rays players, it will be the first time they'll be able to show off those nicknames.
The Rays will be wearing an all-white look from Friday through Sunday during their series in Baltimore, with the pitchers wearing all-black caps to help the hitters track the ball coming out of their hands. The Orioles will be wearing all-black uniforms.
• Every team's Players' Weekend nicknames
Here are the nicknames the Rays' players will be wearing, plus some backstories regarding the names.
Willy Adames: "THE KID"
While Adames has been hesitant to wear the nickname usually associated with Ken Griffey Jr., the shortstop has embraced a name that was given to him by one of the radio broadcasters during his time with Class A West Michigan in the Tigers' organization. Adames, who was the youngest player on the team, has grown accustomed to being one of the youngest players on each of the clubs he has been a part of.
Jesus Aguilar: "EL CAUSA"
Nick Anderson: "ANDO"
When he was with the Marlins, Anderson planned on having "THE OTHER ANDY" on the back of his jersey, being one of two Andersons on the roster along with Brian Anderson. After being traded to the Rays, and with no other Anderson on the team, the reliever decided to go with "ANDO," which was given to him by one of his college friends during his freshman year at Mayville State.
Jalen Beeks: "BEEKER"
Michael Brosseau: "FRENCHY"
Rays first-base coach Ozzie Timmons didn't know how to pronounce Brosseau's name, so he decided to call him "FRENCHY" due to the name's French roots.
Diego Castillo: "SAMANA"
• Shop for Players' Weekend gear
Ji-Man Choi: "G-MONEY"
When Choi signed with the Mariners in 2010 out of South Korea, the scout that got the first baseman signed began to call him by that nickname because he wanted Choi to make a lot of money in his career as a big leaguer.
Travis d'Arnaud: "LITTLE 'D'"
Being the younger brother of Chase d'Arnaud, his former teammates with the Mets began to call him "LITTLE 'D'" to reflect the first letter of his last name. However, d'Arnaud admits that he was "surprised" his nickname was approved.
Yandy Diaz: "ARANITA DIAZ"
Diaz, who will miss the remainder of the season after test results showed a hairline fracture in his left foot, will pay homage to the nickname his father, Jorge Diaz, received during his playing days. Players in Cuba nicknamed his father "Aranita" ("little spider") because of his quickness.
Oliver Drake: "BUCKO"
Matt Duffy: "DUFFMAN"
Avisail Garcia: "UNCLE AVI"
Tyler Glasnow: "BABY GIRAFFE"
Pirates starter Jameson Taillon was the first person to call Glasnow by the nickname, which he believes still applies.
"I got called Mini Horse and Baby Giraffe," Glasnow said. "They were both my favorite nicknames. If I had to choose one, I think Baby Giraffe is the more accurate one."
Guillermo Heredia: "EL CONDE"
Heredia will also be sporting the nickname that was given to his father, Guillermo Heredia Sr., who played 11 seasons in the Cuban National League.
Kevin Kiermaier: "THE OUTLAW"
This is perhaps the most famous nickname on the Rays' roster. It was given to Kiermaier due to his innate ability to make the difficult catches look routine, while also making some spectacular catches in the outfield.
Andrew Kittredge: "KITT"
Brandon Lowe: "BAMM-BAMM"
Brendan McKay: "B-MAC"
Austin Meadows: "MEADS"
Meadows doesn't know why, but everywhere he goes, "MEADS" seems to be the immediate nickname given to him by his teammates and friends.
Charlie Morton: "GROUND CHUCK"
Morton received the nickname during his time with the Pirates due to his ability to get a plethora of ground balls. He also considered "CFM" and "UNCLE CHARLIE".
Emilio Pagan: "EMILIOOOO"
This is a reference to a scene in the movie "A Night at the Roxbury." Pagan's only request was for MLB to add as many "O's" as it could to the name, which resulted in four.
Tommy Pham: "PHAMTASTIC"
Colin Poche: "PO"
Austin Pruitt: "PRUMAN"
Chaz Roe: "RANCH"
Blake Snell: "ZILLA"
Eric Sogard: "NERD POWER (NERD FACE EMOJI)"
Ryan Yarbrough: "YARBS"
Mike Zunino: "Z"
Juan Toribio covers the Rays for MLB.com. Follow him on Twitter @juanctoribio.