Rays' spirited late comeback falls short
Despite missing some key bats, offense nearly overcomes 7-0 deficit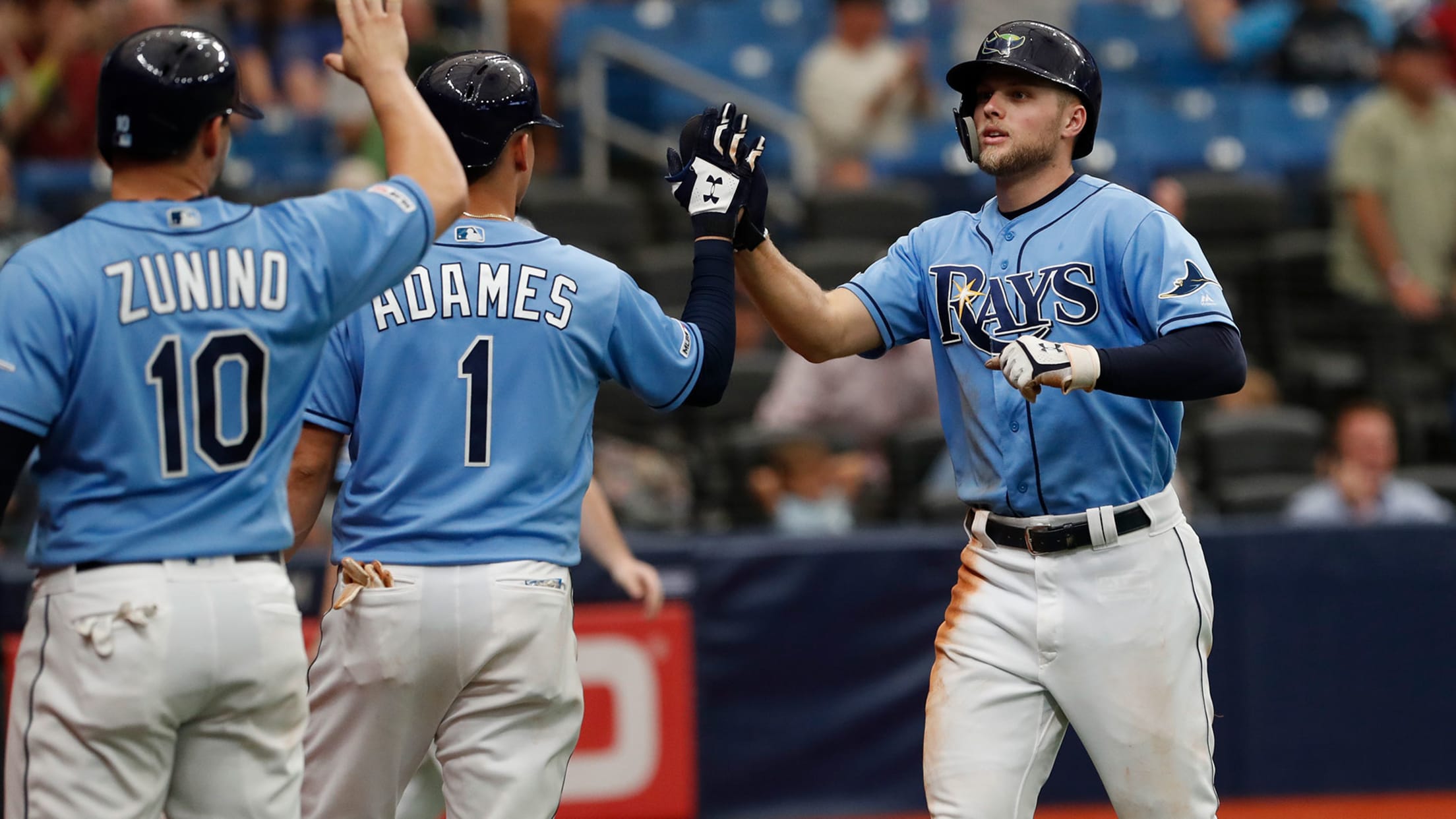 ST. PETERSBURG -- Despite a five-run rally in the seventh inning, the Rays dropped their third consecutive game to the Twins, 9-7, on Sunday at Tropicana Field. The Rays finished the homestand 4-3 after winning the first four games. Tampa Bay fell to 17-14 at Tropicana Field this season and
ST. PETERSBURG -- Despite a five-run rally in the seventh inning, the Rays dropped their third consecutive game to the Twins, 9-7, on Sunday at Tropicana Field. The Rays finished the homestand 4-3 after winning the first four games. Tampa Bay fell to 17-14 at Tropicana Field this season and 14-14 against teams with winning records.
"We went 4-3 on the homestand," Rays manager Kevin Cash said. "It would've been nice to be better than that, but we went 4-3 on the homestand, and more times than not, we're going to be satisfied with a winning homestand."
Rays starter Ryan Yarbrough opened with two clean innings, but for the second consecutive day the Twins scored two runs in the third inning, and a four-run fifth gave them control of the game. After two solid outings since returning from Triple-A Durham, Yarbrough struggled Sunday, allowing seven runs on 10 hits over seven innings. The Rays' defense didn't help the cause, finishing with two errors and a couple of other misplays that cost Tampa Bay extra runs.
"That's not really us," Cash said about his team's defense. "We're going to make some mistakes on defense, but when you play a team that's rolling right now like Minnesota, every little thing you give them, it certainly feels like they take advantage."
The Twins took advantage of every opportunity the Rays gave them over the past three games, while the Rays' offense struggled against former Tampa Bay pitcher Jake Odorizzi. The Twins right-hander pitched well against a Tampa Bay offense that was missing Avisail Garcia and Tommy Pham, finishing with 20 swings and misses on his fastball over six scoreless innings of work.
But once Odorizzi exited the game, the Rays' offense was finally able to get something going. Kevin Kiermaier got the scoring started in the seventh with an RBI single, followed by Austin Meadows' two-run single, which cut the deficit to 7-3. Brandon Lowe continued the rally with an infield single that scored the fourth run, with another scoring on the play on a throwing error by second baseman Jonathan Schoop.
Christian Arroyo hit a two-run home run in the eighth inning off Blake Parker, but Twins reliever Taylor Rogers struck out Meadows, Yandy Diaz and Lowe to close out the game.
"That was encouraging," Cash said of the late offense. "Hopefully we can carry that over into Detroit because [the offense has] been fairly quiet. … But the offense the last two or three innings was very encouraging."
Despite dropping three of four to a hot Twins team, Tampa Bay isn't ready to hit the panic button. The Rays are still 35-22 and entered Sunday's game with a six-game cushion in the American League Wild Card standings.
Tampa Bay also missed Garcia, Pham and Diaz for three of the four games in this series, while also not having ace Blake Snell or Tyler Glasnow, who is on the 60-day injured list with a right forearm strain, on the mound for any of the games. On the flip side, the Twins were without designated hitter Nelson Cruz.
There's a chance that we'll get a better indication of how these teams stack up against each other when the Rays travel to Minnesota for three games from June 25-27. But as of right now, Tampa Bay may have to get healthy before matching up against some of the top teams in the American League.
"There's going to be good series and bad series," Rays catcher Mike Zunino said. "Obviously they're one of the best clubs in baseball. We're getting some guys healthy coming back. All we've got to do is take this off-day, reset and get ready for Detroit."
Juan Toribio covers the Rays for MLB.com. Follow him on Twitter @juanctoribio.