Rays focused, optimistic down the stretch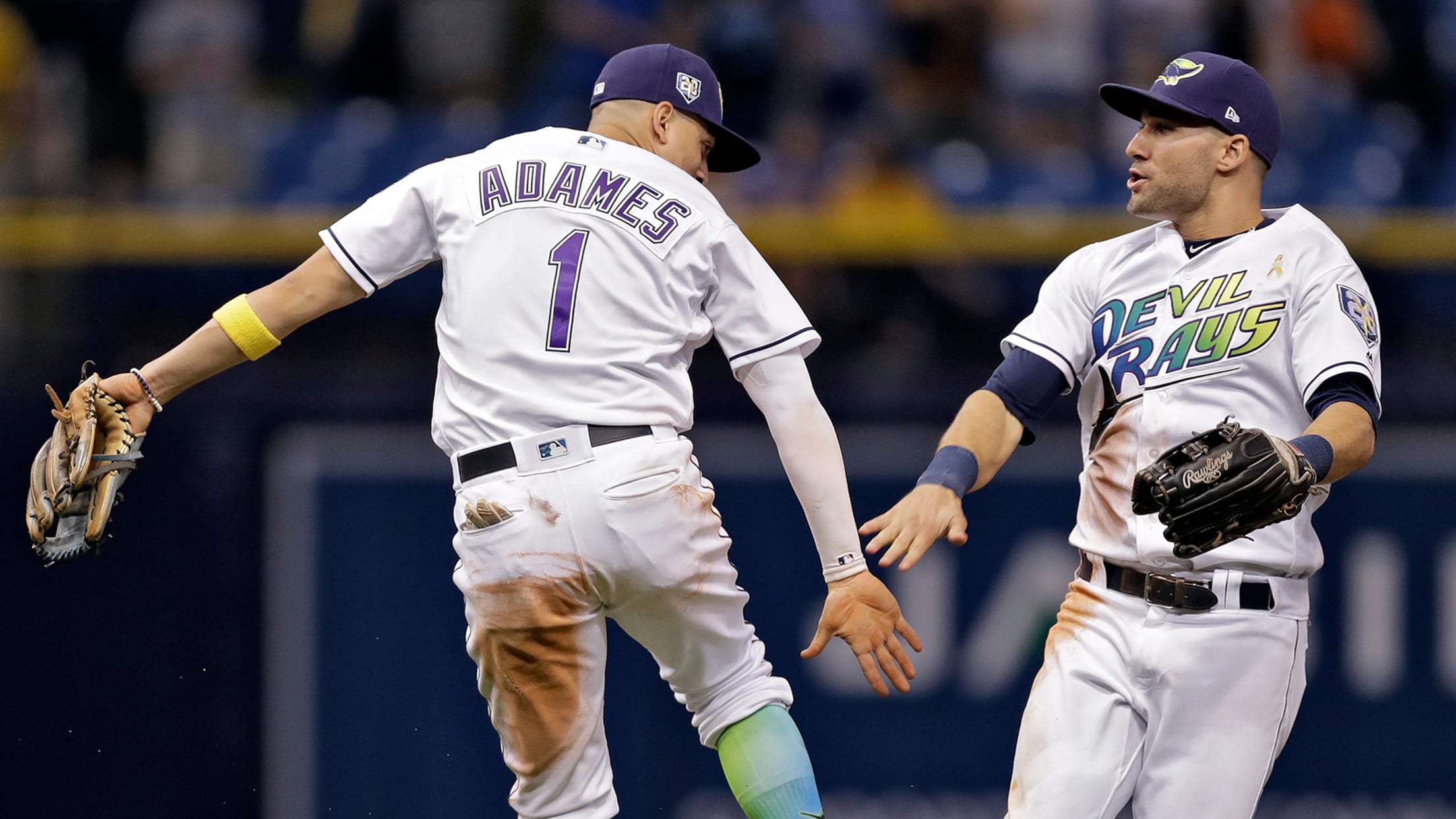 ST. PETERSBURG -- Losing the opener in a three-game series against Oakland was not the ideal way for Tampa Bay to start, but that doesn't mean the team is letting up.Nine games back from the second American League Wild Card spot entering Saturday's bout, the Rays have some work to
ST. PETERSBURG -- Losing the opener in a three-game series against Oakland was not the ideal way for Tampa Bay to start, but that doesn't mean the team is letting up.
Nine games back from the second American League Wild Card spot entering Saturday's bout, the Rays have some work to do with 16 games remaining. Outfielder Kevin Kiermaier is still focused on another run at the postseason.
"[Friday] was probably the most important game of our season thus far with all that was on the line, but we've got two more games," he said. "Now, our focus is on winning this series. Every day we come to the field is a must-win game. These are the guys we're facing, and we'd like to gain as much ground as possible."
Even should the rest of the series not go quite to plan, there would still be plenty to play for.
Let's do something crazy.#RaysUp pic.twitter.com/ZES4oZADI4

— Tampa Bay Rays (@RaysBaseball) September 13, 2018
With 80 wins, Tampa Bay has matched its 2017 win total. With two more, the club would have its first winning record since 2013, when the team went 92-71 (thanks to a one-game tiebreaker). The Rays were not predicted to contend this season, so there is a silver lining should the team not make the playoffs.
"There is some [satisfaction] in a way, just in what we've gone up against this year," Kiermaier said. "Trades, injuries and what our division has done … it's a hard hill to climb. We're always trying to win the division, but with what the Red Sox have done, it's been a tough task for any team to compete with them."
And winning with this group -- with its youthful core including Cy Young candidate Blake Snell and sensational rookie Willy Adames -- makes this all the more promising to keep winning beyond 2018.
"I'm proud of the guys in this room; everyone has handled their business from Day 1," Kiermaier said. "We all get along, and the camaraderie of this team is unlike any other season. I think that's why our record would say that. We enjoy being around each other."
ERA King for a Day
It may only be for a day, but Snell's 2.30 ERA is atop the AL leaderboard.
That's because Boston's Chris Sale, as of Saturday, did not qualify for the mark. In order to do so, a pitcher must have one inning pitched per team's games played. With Sale sitting at 147 innings and the Red Sox playing 148 games, Snell is sitting at No. 1.
How long his reign is remains to be seen. Sale -- who has a 1.96 ERA -- is expected to start Sunday, and would figure to regain the lead if he pitches at least three innings.
Wendle impressive against former teams
Rays utility man Joey Wendle turned in another strong performance against his former A's teammates on Friday.
Wendle went 1-for-3 at the plate with an RBI and a walk, providing a little pop to a lineup that didn't have much in the first of a three-game set against Oakland. He previously went 3-for-12 with two extra-base hits against Cleveland, his other former club.
Manager Kevin Cash imagines Wendle has caught the eye of his former clubs.
"You know the type of teammate he was, and how well-respected he was in both of these organizations," Cash said. "It's good to see these clubs come in here and see the success that he's had."
Wendle played just 36 games with Oakland during two seasons before he was acquired by the Rays in December, and hit .266/.305/.339 in 118 plate appearances. He's slashing .293/.340/.423 with a 3.5 WAR this season with Tampa Bay.
"The guys knew how talented he was defensively, it was just a question if he was going to keep the consistency at the plate like he had done at Triple-A," Cash said. "I don't think you ever know what you're going to get out of anybody until they establish a track record, but he's definitely establishing himself at this level."
Greg Zeck is a contributor to MLB.com based in St. Petersburg.