All-Star debate: A reason to vote for each finalist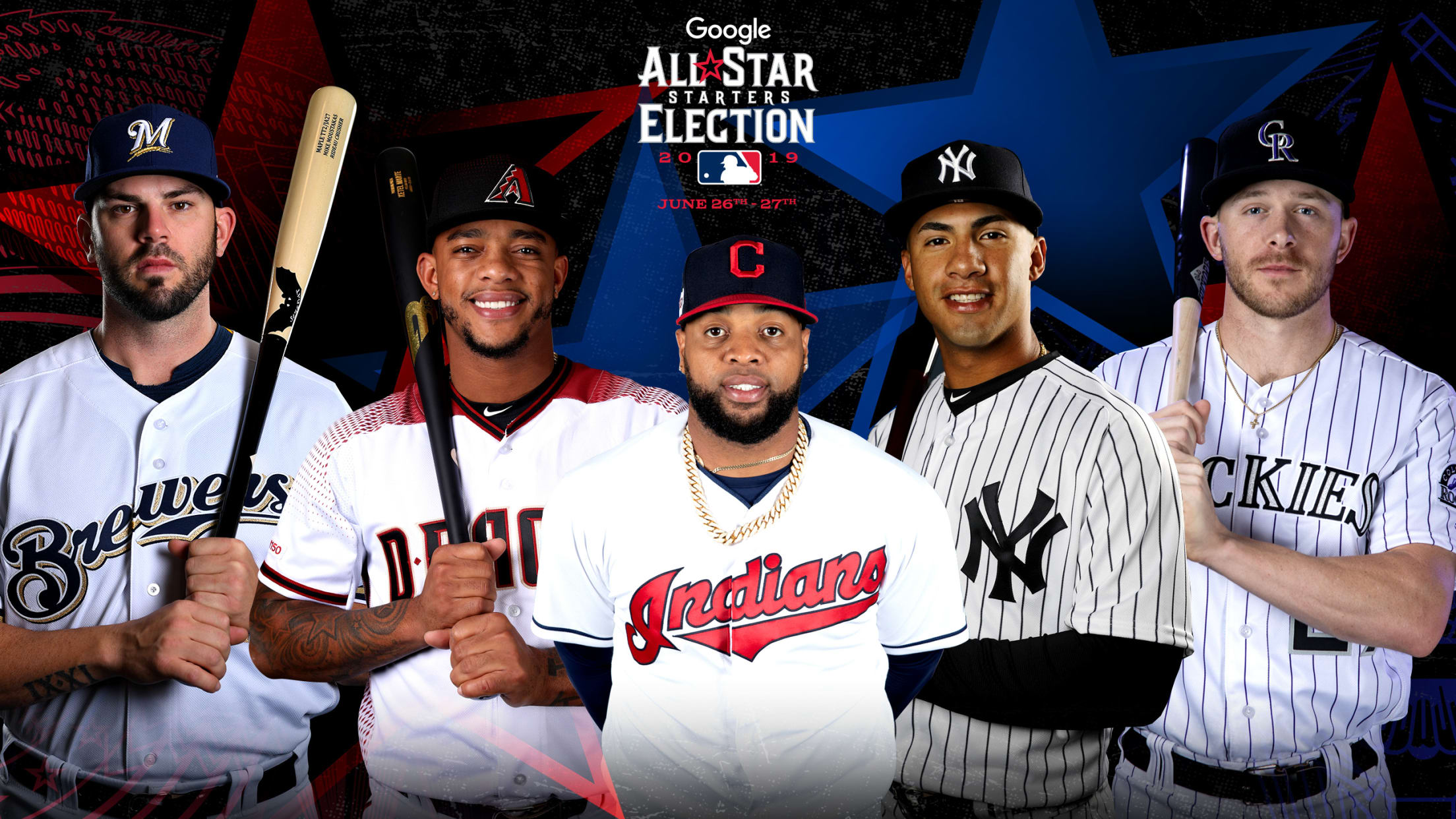 VOTE NOW! The All-Star Starters Election ballot is open until Thursday at 4 p.m. ET. Questions? Our complete guide to voting will fill you in on everything you need to know.
VOTE NOW! The All-Star Starters Election ballot is open until Thursday at 4 p.m. ET. Questions? Our complete guide to voting will fill you in on everything you need to know.
The All-Star Starters Election is now open. Voters have just 28 hours (ending at 4 p.m. ET on Thursday) to decide which players will start for the American and National League in the Midsummer Classic at Progressive Field in Cleveland on Tuesday, July 9. The winners will be announced Thursday starting at 7 p.m. ET on ESPN.
A finalist who doesn't win the Starters Election at his position is not automatically added to All-Star rosters. All-Star pitchers and reserves will be named on Sunday, June 30, at 5:30 p.m. ET, also on ESPN. The pitchers and reserves for both squads -- totaling 24 for the NL and 23 for the AL -- will be determined through a combination of Player Ballot choices and selections made by the Commissioner's Office. So it's even more important to choose wisely when filling out your starters' ballot.
Here's a collection of quick facts for each and every one of the 51 finalists to help you make your decisions (all stats entering Wednesday).
CATCHER
American League
Robinson Chirinos (Astros): At 35, he would be the oldest starting catcher in the All-Star Game since Ivan Rodriguez in 2007.
James McCann (White Sox): He's one homer shy of last year's total (eight), and his .326 average leads all catchers (minimum 200 plate appearances).
Gary Sánchez (Yankees): The Kraken's 23 home runs are one off the AL lead and five more than he hit all of last season -- and he's played 30 fewer games. Sanchez owns the highest barrel rate in the Majors (minimum 100 batted balls), with 24.5% of the balls he hits having ideal exit velocity and launch angle.
National League
Willson Contreras (Cubs): He was a first-time All-Star in 2018, and has been even better this season. He could be the first Cubs catcher to start consecutive All-Star Games since Hall of Famer Gabby Hartnett in 1936-37.
Yasmani Grandal (Brewers): He's slugging well over .500 and is two homers shy of reaching 20 for a fourth consecutive season.
Brian McCann (Braves): Back with the Braves in 2019, McCann is having a career resurgence and could make his first All-Star team since '13.
FIRST BASE
AL
C.J. Cron (Twins): He was designated for assignment after last season. Now, he's batting a personal-best .280 with 17 homers.
Carlos Santana (Indians): After a one-year stint with the Phillies, Santana is back in Cleveland and slashing a career-best .290/.412/.545. He's never made an All-Star Game, and he leads all active players for the most career Wins Above Replacement (29) without a selection to the Midsummer Classic, according to Baseball-Reference.
Luke Voit (Yankees): Voit went deep just five times for the Cardinals in the first 70 games of his career, but has 31 homers since joining the Yankees on Aug. 2 last year -- tied for the Majors' eighth-most in that span.
NL
Josh Bell (Pirates): Pittsburgh's breakout star leads the Majors in doubles (28) and RBIs (66) and made history in May when he the most total bases in that month (98) since Willie Mays back in 1958. Bell's already approaching his career-high for home runs (26 in 2017) and has accumulated more WAR this season than he had in his entire career entering '19.
Freddie Freeman (Braves): The Braves star finished fourth in NL MVP voting last season, and with 21 homers, he's almost already matched his 2018 total (23).
Anthony Rizzo (Cubs): He's on pace to eclipse his career highs for home runs (32), and his .531 slugging percentage trails only his career-best .544 in 2016, when he finished fourth in NL MVP voting. Rizzo would be the first Cubs player to start multiple All-Star Games at first base.
SECOND BASE
AL
José Altuve (Astros): He'd join Robinson Cano as the only AL second basemen to win the fan voting in five straight seasons.
Tommy La Stella (Angels): La Stella entered the year with 10 homers in 396 career games. He already has 16 in 2019.
DJ LeMahieu (Yankees): He leads the AL batting race with a .333 average, and he's already won one batting title in the NL with the Rockies. No player in the modern era has won a batting title in both leagues.
NL
Ozzie Albies (Braves): Albies would be the first infielder since Starlin Castro in 2011-12 with back-to-back All-Star appearances at age 22 or younger.
Ketel Marte (D-backs): The 482-foot home run Marte crushed on June 2 is the D-backs' longest since Statcast started tracking in 2015.
Mike Moustakas (Brewers): Moustakas leads all middle infielders with 22 home runs, and only six players at any position have more.
SHORTSTOP
AL
Carlos Correa (Astros): Correa has a 141 Weighted Runs Created Plus this season, meaning he's been 41 percent better than league average at the plate. The only shortstop with a higher mark? Teammate Alex Bregman, who's been filling in Correa's absence.
Jorge Polanco (Twins): He's emerged as an MVP candidate in his age-25 season, ranking second in the AL in batting average (.326) and third in the league in position player WAR (3.8).
Gleyber Torres (Yankees): He'd be the first Yankees shortstop to start the All-Star Game since Derek Jeter in 2014, inheriting the role Jeter served nine times in 14 All-Star selections.
NL
Javier Báez (Cubs): El Mago is one of the most electric players in the game, and he does it all. Baez is the only NL shortstop with at least 15 home runs, 50 RBIs and 50 runs scored this season.
Trevor Story (Rockies): Story is one of only eight players with double-digit home runs (17) and stolen bases (12) this season, and he's the only NL infielder in that group. He also leads the Majors with 65 runs scored.
Dansby Swanson (Braves): Swanson has already set a new career high in homers (15), and he's aiming to become the seventh player taken as a shortstop with the No. 1 overall pick in the MLB Draft to make an All-Star Game, following Shawon Dunston, B.J. Surhoff, Chipper Jones, Alex Rodriguez, Justin Upton and Carlos Correa.
THIRD BASE
AL
Alex Bregman (Astros): Not only is Bregman just two off the AL lead in home runs (he has 22), he's also walked 13 more times than he's struck out (58 walks, 45 strikeouts).
Hunter Dozier (Royals): He'd be the second Royals third baseman to start an All-Star Game after George Brett, who did so nine times.
Gio Urshela (Yankees): Injuries have created an opportunity for Urshela, and he's stepped up with a career year, batting .303/.354/.458. He emerged as one of the Yankees' most valuable players as they took over the AL East lead despite the rash of injuries to their superstars. Urshela has reached base in 45 of his 54 starts since he was called up from Triple-A on April 6.
NL
Nolan Arenado (Rockies): He owns a career-best .321 batting average and .965 OPS this season, and he makes plays like this. And this.
Kris Bryant (Cubs): Since April 26 -- the day he switched bats -- Bryant is hitting .303/.404/.595 with 14 home runs and a .999 OPS that's Top 10 in baseball. He hasn't been an All-Star since 2016, despite compiling a .900 OPS (134 OPS+) across the 2017-18 campaigns.
Josh Donaldson (Braves): Donaldson's 92.6 mph average exit velocity is top 5 in the NL, and his 49.5% hard-hit rate is top 10. He's on pace for a fourth 30-homer season.
OUTFIELD
AL
Mookie Betts (Red Sox): Betts would join Mike Trout, Bryce Harper and Albert Pujols as the only active players to start four straight All-Star Games by age 26.
Michael Brantley (Astros): Brantley spent his first 10 MLB seasons in Cleveland and could return to Progressive Field this year as an All-Star starter. He's enjoying his best statistical campaign since 2014.
Joey Gallo (Rangers): A .203 hitter before this year, Gallo is now batting .276 in addition to his prodigious home run power, and his 1.070 OPS is more than 200 points better than his previous career high. If you want monster home runs, look no further than Gallo -- he's hit 13 at least 450 feet since his breakout 2017, tied with Giancarlo Stanton for the most of any hitter.
Aaron Judge (Yankees): He's only played in 24 games this season due to injury, but Judge's hard-hit rate remains elite. He ranks first in the Majors at 61.4% (min. 50. batted balls). The Yankees' star slugger has five of the 10 highest home run exit velocities since Statcast started tracking in 2015.
Austin Meadows (Rays): He would be just the fourth Rays position player to start an All-Star Game, joining Corey Dickerson (2017), Carl Crawford ('10) and Evan Longoria ('10). Meadows has owned right-handed pitching this season, batting .311/.405/.573 with 10 of his 12 homers.
Josh Reddick (Astros): He's played in more than 1,100 games, which ranks him in the top 10 among active players who have never made an All-Star team.
Eddie Rosario (Twins): He's hit 20 home runs for a third consecutive season, making him the leading home run hitter for a Twins team whose MLB-best 149 long balls have blasted them to the top of the AL Central. Pitchers beware -- Rosario has knocked 43 extra-base hits on pitches outside the strike zone since the start of 2017, and no other player is within 10 of his total.
George Springer (Astros): Springer has 17 homers in 48 games played, and he, Trout and Gallo are the only AL players with an OPS over 1.000. Springer is at a career-best 1.021.
Mike Trout (Angels): The perennial MVP candidate has the longest active streak of being voted a starter (six seasons) and extending it would also break Rod Carew's Angels record. Somehow, the best player in baseball is only getting better -- Trout's .463 on-base percentage, .636 slugging percentage and 1.099 OPS are all career highs … and they all lead the AL.
NL
Ronald Acuña Jr. (Braves): Acuna would be the first player aged 21 or younger to start an All-Star Game since Harper and Trout in 2013.
Albert Almora Jr. (Cubs): Almora's +7 Outs Above Average on defense are tied for the lead among NL outfielders, and no outfielder has been better on balls coming in.
Cody Bellinger (Dodgers): The 2017 NL Rookie of the Year is enjoying an MVP-caliber season, with 25 homers and an MLB-best .353 batting average -- and he was hitting over .400 as late as May 21. Bellinger is also playing a Gold Glove-caliber right field, and he made one of the throws of the year on May 28 against the Mets.
Charlie Blackmon (Rockies): Blackmon became the first player with five straight three-hit games since Altuve in 2017 when he did it from June 13-18, and his 18 total hits were one shy of the MLB record for most in a five-game span.
Jason Heyward (Cubs): He's already eclipsed last year's home run total, with 11, and he's on pace for more than his All-Star rookie campaign in 2010 (18).
Nick Markakis (Braves): He's ageless. Markakis was a first-time All-Star at 34 years old last season, and he's batting .271 with nearly as many walks as strikeouts in 2019. He's one of four active players with more than 2,000 hits (2,312) and could even be chasing 3,000 a few years down the road.
Joc Pederson (Dodgers): His .550 slugging percentage is over 80 points better than his career average (.468). All 20 of his home runs have come against right-handed pitching (.943 OPS compared to a .346 mark vs. lefties).
Kyle Schwarber (Cubs): He's on his way to a third consecutive season of 25-plus homers and is holding down the leadoff spot in a potent Cubs lineup. Schwarber aims to be the first Indiana University grad to start an All-Star Game; fellow alum Mickey Morandini made the 1995 Midsummer Classic as a reserve.
Christian Yelich (Brewers): The reigning NL MVP is leading the Majors with 29 homers -- putting him on pace to chase 60. He also has an MLB-best .731 slugging percentage and 1.159 OPS. Oh, and he's leading the NL in stolen bases, too, with 17.
DESIGNATED HITTER
Nelson Cruz (Twins): Cruz would be the eighth player this decade to slug .500 in a first half at age 38 or older. The others: Adrian Beltre, Carlos Beltran, David Ortiz, Rodriguez, Raul Ibanez, Manny Ramirez and Jim Thome.
J.D. Martinez (Red Sox): Martinez's .516 slugging percentage is already pretty good. But his expected slugging percentage -- based on his quality of contact -- is .604, top 10 in MLB (min. 100 plate appearances) and the highest of any DH.
Hunter Pence (Rangers): At age 36, he has a career-high .962 OPS -- more than 370 points better than the career-low .590 OPS he posted last season.