Canada upsets Japan in Williamsport
Vancouver, Iowa, South Korea and Kentucky win, closing opening round play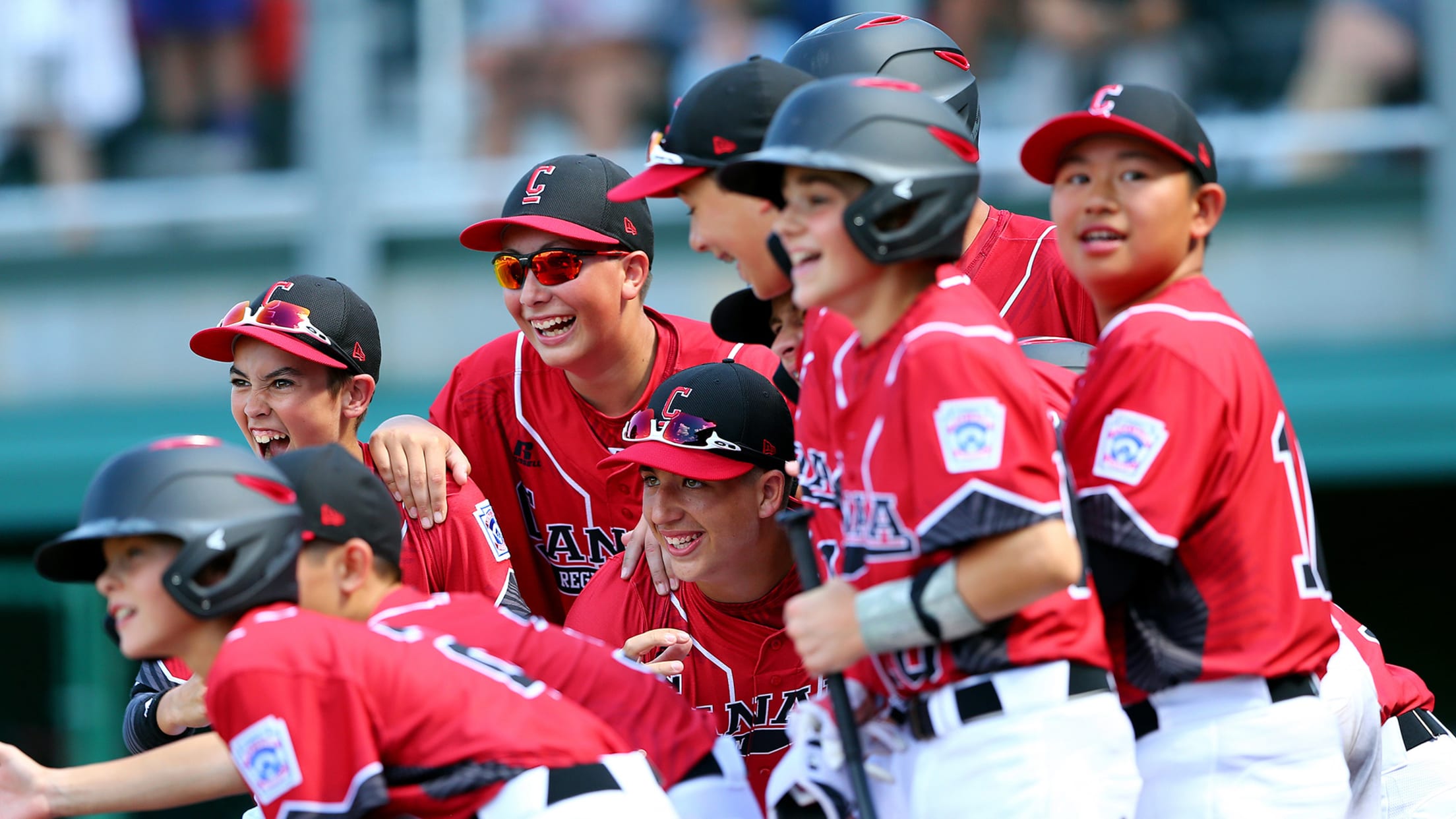 Team Canada waits for Christian Santarelli at home plate after his two-run homer. (Alex Trautwig/MLB Photos) (Alex Trautwig/Getty Images)
WILLIAMSPORT, Pa. -- Canada began Day 2 of 2016 Little League World Series play with a dominant outing against Japan, which is generally regarded as the region to beat in this tournament, given the country's 10 overall LLWS titles, including three of the past four. A day after Latin America
WILLIAMSPORT, Pa. -- Canada began Day 2 of 2016 Little League World Series play with a dominant outing against Japan, which is generally regarded as the region to beat in this tournament, given the country's 10 overall LLWS titles, including three of the past four. A day after Latin America opened the tournament with a 10-run showing, Canada also plated 10 to walk away with its first win.
Friday, Aug. 19
Game 5
Canada 10, Japan 4
In the hunt for the country's first LLWS title, Canada scored twice in the opening frame, first on a fielder's-choice call that was overturned to rule runner Antonio Cusati safe at home. Meanwhile, pitcher Loreto Siniscalchi was dealing, as he opened the game with five straight K's and notched seven of the game's first nine outs via strikeouts. Their opponents, from Tokyo's Chofu Little League, looked uncharacteristically shaky, committing two fielding errors and going hitless until the fourth. Canada, however, scored in all but one of its turns at the plate.
NOTABLE PERFORMERS
Cristian Santarelli heeded the call to pinch-hit in the top of the fourth in a big way, popping a two-run homer to straightaway center field to give Canada a six-run advantage. Siniscalchi, the 6-foot-1 ace, whiffed 13 while going 2-for-4 with a home run of his own.
QUOTABLE
"When we drew Japan, believe me, I wasn't ecstatic. But I'm really ecstatic to win." -- Canada manager Vito Bordignon
Day 2: Little League World Series
Game 6
Midwest 5, West 1
With the score locked at 1 heading into the bottom of the fourth, Iowa decided it was time to take command. The lineup pieced together a pair of runs that frame, and relief pitcher Josh Larson came out in the top of the fifth to set California down in order before the real drama began. Just as his mom was being interviewed on ESPN, Iowa's JT Garcia -- one of two JT's on the team -- lifted a solo home run to center to give his team a comfortable cushion that it wouldn't relinquish.
NOTABLE PERFORMERS
Before hitting his long ball, the towering Garcia scored the first run of the game for Iowa. He finished the game with a 2-for-3 performance, an RBI and a pair of runs scored.
QUOTABLE
"I never expected to be here. To have her be here and be interviewed at the same time, it's amazing." -- Garcia on the home run for his mom, who's battling cancer

Game 7
Asia-Pacific 3, Caribbean 0
South Korea capitalized on several wild pitches, free passes and hit-by-pitches to score twice in the opening frame as Curacao pitcher Jurrangelo Cijntje -- who curiously switched pitching arms mid-outing -- labored early. The visitors scattered just two hits over the first four innings -- they added three more, plus another run, in the sixth -- while Curacao collected three, but six walks ultimately helped the Seoul squad get over the hump in its first game of tournament play.

NOTABLE PERFORMER
On the mound for South Korea, Junho Jeong was a study in consistency. The starter struck out 10 while allowing just four base runners in his four innings of work.
QUOTABLE
"The players are so nervous as first timers, and we were unable to show our true ability." --South Korea manager Heesu Ji
Game 8
Great Lakes 11, Southwest 1
The 10-run mercy rule came into effect in the final game of opening-round play, as Kentucky's batters connected for nine hits, took six free passes and scored 11 runs -- five of which crossed the plate in the top of the fifth and final frame -- on their way to a commanding victory. Devin Obee and Spencer Newman -- who are both playing in their second consecutive Little League World Series, along with teammate Carson Myers -- combined for five of those base knocks, including back-to-back home runs and doubles, respectively, in the top of the fourth.

NOTABLE PERFORMERS
Obee, also the staring pitcher, went yard to lead off the fourth to give himself a five-run advantage at the time, quite a substantial margin as he held Texas to just one run on three hits in a complete-game effort.
WHAT'S NEXT
Elimination games begin tomorrow. Saturday's schedule includes games at noon, 3 p.m., 6 p.m. and 8 p.m. ET.
Allison Duffy-Davis is a reporter for MLB.com.