Former Negro Leaguer Moore recalls fondness for Irvin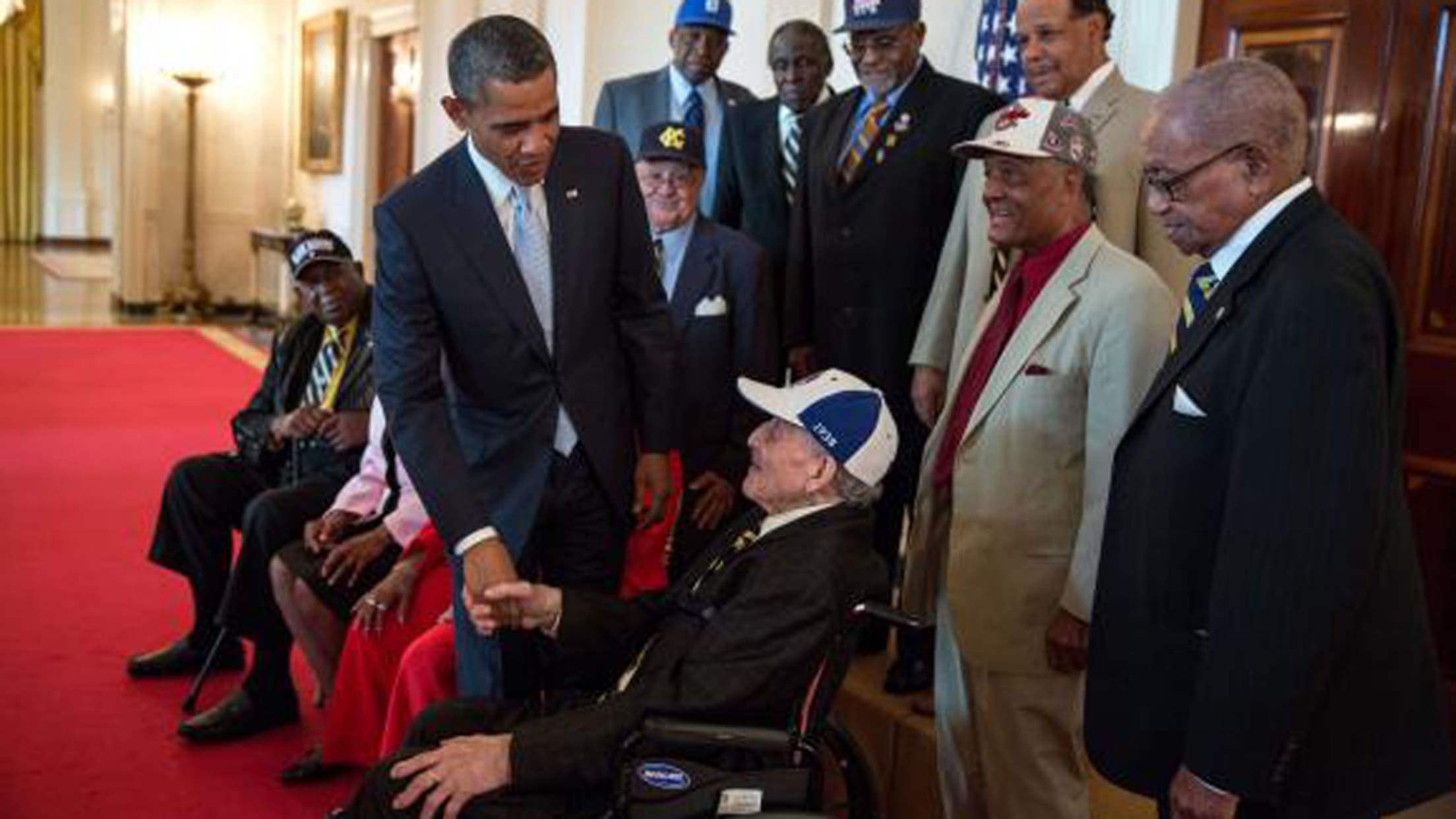 James "Red" Moore is greeted by President Barack Obama at the White House in 2013. (Greg White)
Since the death of Monte Irvin on Monday at 96, nobody knows how many Negro Leagues players remain these days, but this is for sure: Their legacies will last forever, and the face of James "Red" Moore brightens whenever the subject is Irvin, baseball or just about anything else."Thankful to
Since the death of Monte Irvin on Monday at 96, nobody knows how many Negro Leagues players remain these days, but this is for sure: Their legacies will last forever, and the face of James "Red" Moore brightens whenever the subject is Irvin, baseball or just about anything else.
"Thankful to celebrate 99 years of life," said Moore (no relation), telling his age this week with zeal from a nursing home in his native Atlanta.
Prior to Moore's birthday last November, he received a letter from President Barack Obama and his wife, Michelle, congratulating him on his longevity and for his service in World War II. They also acknowledged Moore spending parts of the 1930s and '40s as a defensive whiz at first base in the Negro Leagues, mostly with the Atlanta Black Crackers. So this friendship for Moore continues with the high and powerful. The Obamas hosted Moore and several other Negro Leaguers at the White House during the fall of 2013.
Back then, Moore told old stories to President Obama, just like they were brand-new, and he continues to do the same.
"I'm glad to keep the history of the Negroes Leagues alive," Moore said this week with a smile to Greg White, a close family friend, who runs a website dedicated to the last of the remaining Atlanta Black Crackers. "I played for the love of the game."
Irvin did the same. In fact, among Moore's teammates during the late 1930s, when he played for the Newark Eagles, was this smooth-fielding outfielder with the solid arm and the clutch bat. To hear Moore and others tell it, Irvin ranked among baseball's all-time unique players in so many ways.
"Monte could hit the long ball, and he was easy to get along with," Moore said, when informed of Irvin's death. "He made a lot of plays for the team. I was just happy that I got a chance to have Monte Irvin as a teammate."
So was Willie Mays, who joined the Major Leagues with the New York Giants as an overwhelmed rookie in 1951. He grew up in tiny Westfield, Ala., and then he played in the shadows of the Negro Leagues and the Minor Leagues before he faced the blinding lights of the Major Leagues.
Soon, Mays was adopted in the Giants' clubhouse by Irvin, who left the Negro Leagues in 1949 for stardom around Flatbush. As Mays said this week during a National Public Radio interview, "[Irvin] taught me a lot about life. I already knew how to play the game, but sometimes, you need a little more. You need to know how to treat people. You need to know how, when you hit a home run, you run around the bases. You don't stop and show anybody up. Thinking was more important to him than just playing the game."
Sounds like the Irvin that Moore knew.
Consider, too, that Irvin is the only person ever to qualify as a legitimate superstar in the Negro Leagues and later in the Major Leagues. For verification, let's start at the top: Baseball Hall of Famers Jackie Robinson, Hank Aaron, Ernie Banks and Mays began their professional careers in the Negro Leagues, but they didn't have the pre-Major League credentials of Irvin.
There were Irvin's five trips to the All-Star Game of the Negro Leagues. He finished one regular season hitting .396, and he ended a couple of others at .401 and .422, respectively. Irvin helped Newark win the Negro Leagues World Series in 1946 with a .462 batting average while ripping three home runs.
Three years later, Irvin was off to the Major Leagues at 30, when most careers are winding down. Instead of grumbling about "what could have been" in his baseball life, he just took the field everyday with the Giants and became the best Monte Irvin as possible. In the end, after nine seasons in the Negro Leagues (interrupted by two years in the military), he played eight Major League seasons, and he finished with a lifetime batting average of .293, an All-Star Game trip, an RBI title in the NL and a World Series championship ring.
"He had what I call a very good arm, ran very good, good hitter and most of all, thinking," said Mays, now 84, during his NPR interview. "He was a good thinker in the outfield, and that sometimes is overlooked."
It isn't by Moore -- or even by James A. Riley, a baseball author and historian who wrote an exhaustive work in 1994 called "The Biographical Encyclopedia of Negro Baseball Leagues."
According to Riley, Irvin's splendid mind was, not only the key to his clutch ways at the plate, on the bases and in the field, but the striking reason he was able to motivate his teammates on a consistent basis.
"Monte was a natural-born leader, but to no fault of his own, his leadership showed up more in the Negro Leagues," said Riley, 76, over the phone from his home in north Georgia. "At that time, white players didn't see themselves as being led by a black player. So although they respected Monte as much as they did a white player when he reached the Major Leagues, and even though they had the same knowledge and the same abilities and everything else, it was just not politically correct for a white player to take orders from a black player. No matter what the difference was in their knowledge of the game, the black players just weren't thought of in the same way.
"Unfortunately, there were a lot of black players at that time who would have made great managers, but they never got the chance. And Monte is one of those players who would have been a great manager. He knew the game. He led by example. People respected him."
Now Irvin is gone, along with tens of other Negro Leagues players in recent years, and it was enough to make Bob Kendrick sigh over the phone recently from Kansas City.
"Just a tremendous void that Monte leaves," said Kendrick, the president of the Negro Leagues Museum, which opened in Kansas City during the early 1990s.
The legendary Buck O'Neil was the primary Negro Leagues player who helped the museum go from a one-room operation to its current size of 50,000-square feet. But Irvin also was instrumental in the museum's ability to attract thousands of visitors, including Presidents Bill Clinton and George W. Bush, broadcasting icon Walter Cronkite and actor Ossie Davis.
They come to hear about the Negro Leaguers of the past, because there aren't many left in the present.
"We guesstimate that there are 130 to 150 Negro Leaguers still alive," Kendrick said. "Most of them are who we call the 'young Negro Leaguers,' because they played at the tail end of the leagues during the late 1950s until 1960. Guys from Monte's era, who played in the 1940s or pre-integration, I'm not sure if there are 20 of those guys still alive."
James "Red" Moore is one of them, and to the delight of his visitors, he has the joy and the stories to prove it.
Terence Moore is a columnist for MLB.com.