Devers, Betts star in Boston's best wins of 2019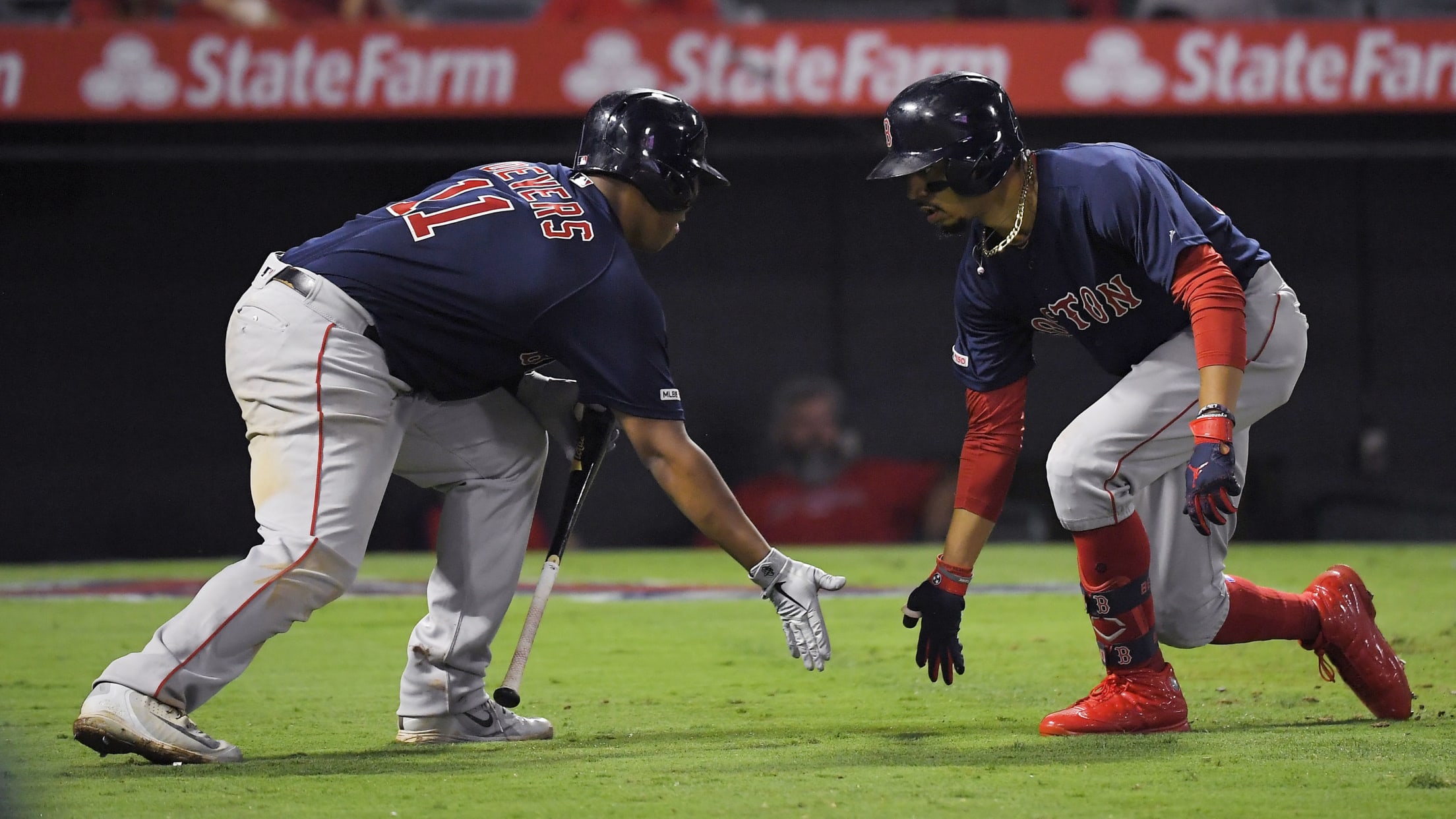 BOSTON -- Without question, 84 wins was a far lower total than anyone expected the Red Sox to have in 2019. But there are a few that stood out above the rest by the time the six-month grind had ended. What defines a great win? Sometimes it's a clutch hit.
BOSTON -- Without question, 84 wins was a far lower total than anyone expected the Red Sox to have in 2019. But there are a few that stood out above the rest by the time the six-month grind had ended.
What defines a great win?
Sometimes it's a clutch hit. Sometimes it's a masterful pitching performance. Sometimes it's a win on a day the team desperately needed one and found a way to make it happen. Sometimes it's a combination of them all.
Here is a look at Boston's top five wins in 2019 and what they tell us about '20.
1. Devers' clinic, Sale's milestone lift Sox in Cleveland
August 13
One night earlier, the Sox had tied the game with two outs in the top of the ninth inning, only to lose in the bottom half of the frame on a leadoff walk-off homer by Carlos Santana. Chris Sale and Rafael Devers made sure the sting of the defeat didn't linger in a 7-6, 10-inning win. In what wound up being his final start of the season, Sale struck out 12 batters to reach 2,000 K's in his career faster than any pitcher. Meanwhile, Devers went 6-for-6 with four doubles, becoming the first player in history to have six or more hits and four or more doubles in one game.
What does it tell us about 2020?
Devers is emerging into the type of hitter who can carry a team when he's hot. The fact that he already established this in his age-22 season is a clear positive for the Red Sox, who control his contractual rights for the next four seasons. Though Sale had the worst season of his career, this start in Cleveland -- and quite a few others during the season -- proved that he is still capable of dominance.
2. E-Rod outduels Verlander
May 26
The Red Sox had lost the first two games of their three-game showdown in Houston, with Eduardo Rodriguez slated to face Justin Verlander in the finale. At that point of the season, Rodriguez hadn't established that he was on the verge of a breakout. But he started down that path by outpitching Verlander in a 4-1 win for the Red Sox on getaway day. In his 10 starts before that, Rodriguez was 4-3 with a 5.43 ERA. Beginning with that win, E-Rod went 15-3 with a 3.21 ERA in his final 24 starts.
What does it tell us about 2020?
While there is obvious uncertainty around Sale, David Price and Nathan Eovaldi given the health woes they had in 2019, Rodriguez is on the upswing. The 26-year-old is coming off a 19-win season and should be poised to build off that in '20 and beyond. Red Sox manager Alex Cora often said that Rodriguez's game preparation reached another level beginning with that start in Houston.
3. Devers lifts jet lag in Toronto
July 2
The Red Sox had just suffered two crushing losses to the Yankees in London and had to re-acclimate to the Eastern time zone in the first game of a three-game series in Toronto. Devers wouldn't allow jet lag to be an excuse for a team that couldn't afford to lose any more ground in the division race. The third baseman carried Boston to a 10-6 victory with four hits, two homers and six RBIs, and the Sox then went 5-1 on that six-game road trip leading up to the All-Star break.
What does it tell us about 2020?
Though things didn't always go their way last season, the Sox often responded to adverse situations in a positive way. That was a credit to the tone Cora set and the attitude many of his players had on a daily basis. Look for that winning attitude to continue in 2020. If the pitching staff can get back on track, the Red Sox should be right back in the mix for the playoffs.
4. Red Sox out-savage Yankees
July 25
Everyone knew how loaded the Yankees' offense was when they showed up for a big four-game series at Fenway Park in late July. But on this night, the Red Sox proved that their offense could stack up with any club. The Sox belted their rivals with a 19-3 romp that spurred them on to take three out of four in the series. At that point, Boston was still thinking about the playoffs.
What does it tell us about 2020?
The Sox have an offense that should again be among the best in the league. Most of the key contributors to that blowout win should again be core members of the roster in 2020. That includes Xander Bogaerts, J.D. Martinez, Andrew Benintendi, Michael Chavis and Christian Vázquez. If new chief baseball officer Chaim Bloom decides to keep Mookie Betts rather than trade him, the Sox would be that much more dangerous.
5. Mookie starts, finishes marathon win in Anaheim
August 30
At a time when the Sox were hanging on in the fight for the postseason, they showed their resilience in the opener of a three-game series against the Angels. Betts led off the game with a homer, and many hours later, he was at it again, lacing another long ball in the top of the 15th inning to lead Boston to a 7-6 victory. It was a big turn of events, considering the Sox surrendered a two-run lead with two outs in the bottom of the ninth.
What does it tell us about 2020?
The decision Bloom and his front office make with Betts this winter figures to have a big impact on the success the Sox have in 2020. Though he didn't match his American League MVP Award-winning numbers from '18, Betts proved again that he is a five-tool star who can win a game in a variety of ways. If Bloom does deal Betts, it would have to be for a package that sets the Red Sox up well for the short and long term. As the Nationals proved without Bryce Harper, teams can still win when they lose a superstar.