Red Sox instructional league prospect report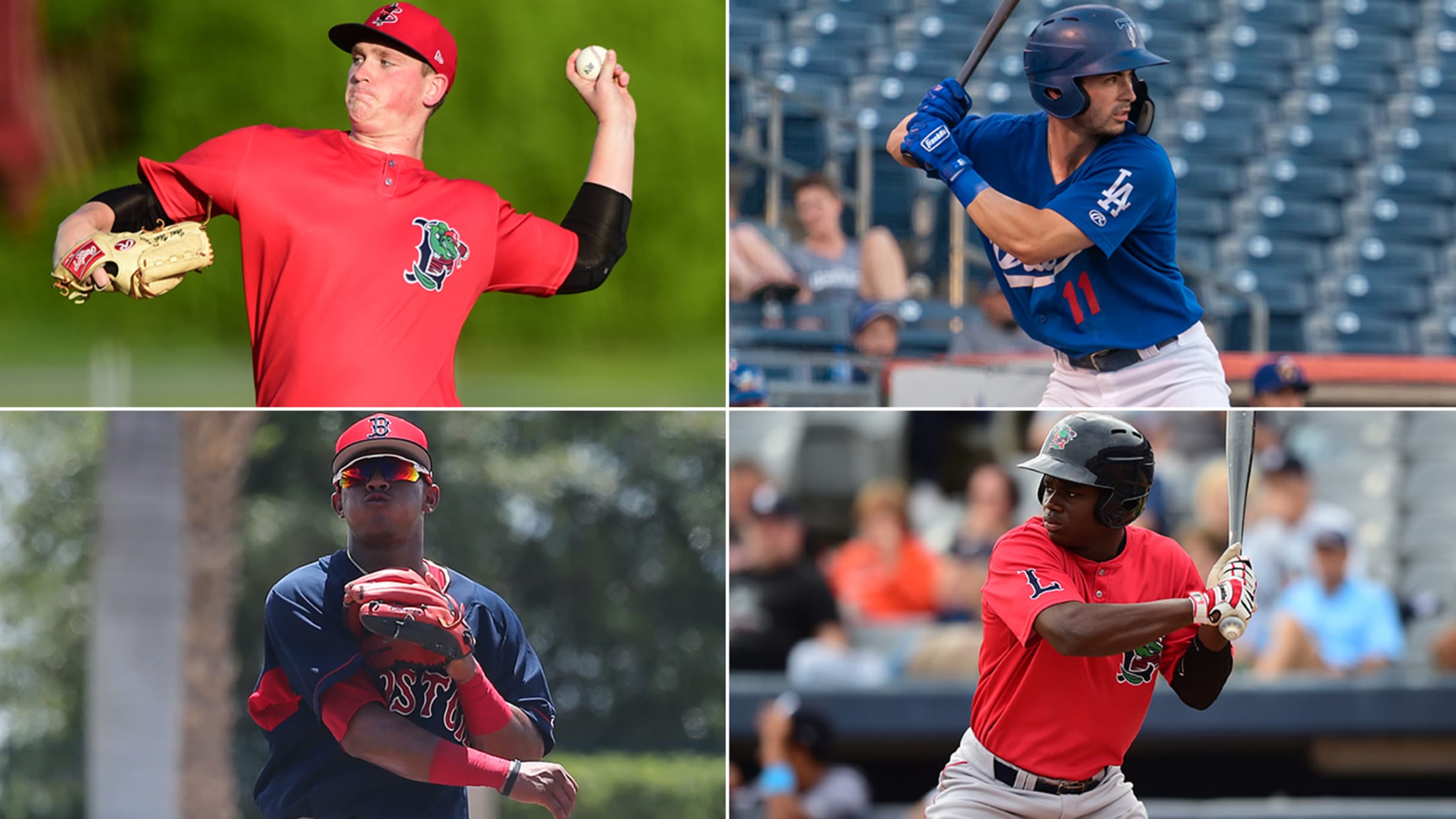 After the completion of the regular season and alternate training sites, most player development staffs have turned their attention to instructional league play. In the past, instructional leagues have been populated by new draftees, recent international signings and players at the bottom rungs of their organizational ladder. This year, in
After the completion of the regular season and alternate training sites, most player development staffs have turned their attention to instructional league play. In the past, instructional leagues have been populated by new draftees, recent international signings and players at the bottom rungs of their organizational ladder. This year, in an attempt to make up for lost time due to the pandemic, it's been expanded to include many more players. MLB Pipeline will be providing position-by-position reports from instructional league camps in Florida and Arizona.
Instructs reports
| | |
| --- | --- |
| AL East | BAL, BOS, NYY, TB, TOR |
| NL East | ATL, MIA, NYM, PHI, WSH |
| AL Central | CLE, CWS, DET, KC, MIN |
| NL Central | CHC, CIN, MIL, PIT, STL |
| AL West | HOU, LAA, OAK, SEA, TEX |
| NL West | ARI, COL, LAD, SD, SF |
| Division | Team |
Pitchers (32)
Jacinto Arredondo, RHP; Eduard Bazardo, RHP; Brock Bell, RHP; Brayan Bello, RHP (No. 22); Bradley Blalock, RHP; Brendan Cellucci, LHP; Kutter Crawford, RHP; Nathanael Cruz, RHP; Osvaldo de la Rosa, RHP; Jordan DiValerio, RHP; Shane Drohan, LHP; Juan Daniel Encarnacion, RHP; Durbin Feltman, RHP; Wilkelman Gonzalez, RHP; Jay Groome, LHP (No. 7); Gabriel Jackson, RHP; Chih-Jung Liu, RHP (No. 18); Blake Loubier, RHP; Bryan Mata, RHP (No. 4); Chris Murphy, LHP (No. 26); Yusniel Padron-Artilles, RHP; Andrew Politi, RHP; Aldo Ramirez, RHP; Jorge Rodriguez, LHP; Chase Shugart, RHP; Dylan Spacke, RHP; Jake Thompson, RHP; Brian Van Belle, RHP; Jacob Wallace, RHP (No. 24); Thad Ward, RHP (No. 9); Jeremy Wu-Yelland, RHP; Ryan Zeferjahn, RHP (No. 28)
Left-hander Jay Groome obviously needs innings. MLB Pipeline's top-rated prospect in the 2016 Draft has worked just 75 frames (counting the playoffs) since signing for $3.65 million, missing time with a lat strain, forearm soreness and Tommy John surgery. But the Red Sox view his stint in instructional league as more than just an opportunity to get him on the mound.
"We're absolutely working on pitch development and his delivery and routine and things like that," Boston farm director Ben Crockett said. "The fact that he was able to finish last year, that was really big, and then he got to pitch in instructional league last year and start up in Spring Training and join our alternate site. So there's been more development than his innings would dictate.
"His velocity has been good, sitting at 92-96 mph. He's always commanded his curveball and had good feel for it. He continues to work on his changeup as a third pitch and recently introduced a slider."
Instructional league has given the organization its first chance to see right-hander Chih-Jung Liu pitch in a Red Sox uniform, 11 months after signing him out of Chinese Taipei for $750,001. He took a two-year break from the mound after getting overused in high school and opted to play shortstop in college at Culture University. He resumed pitching last year and opened eyes by hitting 98 mph in September, then earning MVP honors while leading Chinese Taipei to the Asian Baseball Championship title a month later.
"He really only had a couple of weeks in Spring Training, so it's been good to see him," Crockett said. "He really carries his [92-96 mph] fastball well and has really good feel for getting behind it. He has multiple pitches he's very comfortable with. He's working on a slider, and his splitter and changeup are both interesting."
Catchers (8)
Roldani Baldwin, Kole Cottam, Alex Erro, Jaxx Groshans, Alan Marrero, Oscar Rangel, Stephen Scott, Connor Wong (No. 19).
Connor Wong was the least famous of the three youngsters the Red Sox received from the Dodgers in exchange for Mookie Betts in February, but he also immediately became the system's best catching prospect. A third-round pick in 2017, he slugged 43 homers in his two full pro seasons. While his defense is still a work in progress, he's quicker and more athletic than most backstops and capable of playing second and third base.
"We're working on some things defensively that he focused on at our alternate site, some adjustments to his stance that he's getting more comfortable with," Crockett said. "He's super athletic and if that translates to his catching, he could have a ton of value.
"He has a pretty consistent swing and a good idea of what he's trying to do up there. Our goals align in trying to maximize his power by honing his approach."
Infielders (12)
Brainer Bonaci, SS (No. 17); Cameron Cannon, SS/2B (No. 21); Triston Casas, 1B (No. 2); Pedro Castellanos, 1B; Antoni Flores, SS (No. 25); Brandon Howlett, 3B (No. 29); Blaze Jordan, 3B (No. 15); Matthew Lugo, SS (No. 12); Nicholas Northcut, 3B; Hudson Potts, 3B/2B (No. 20); Ceddanne Rafaela, 3B/2B/SS; Nick Yorke, 2B (No. 11).
Boston's camp features five infielders taken in the first three rounds of the last three Drafts: first baseman Triston Casas (2018), shortstops Cameron Cannon and Matthew Lugo (2019), and second baseman Nick Yorke and third baseman Blaze Jordan (2020). Casas' usable power ranks among the best in the Minors and Jordan had the most raw pop in the 2020 Draft -- yet Crockett said that pound for pound, Lugo is probably the strongest prospect in the system.
The 6-foot-1, 185-pound Lugo has the bat speed and strength to develop into a 20-homer threat. For a teenager, he shows good feel for using the entire field and managing the strike zone. He also has solid speed and arm strength, and the Red Sox believe he has the quickness and range to remain at shortstop.
"Lugo has really stood out," Crockett said. "He keeps improving defensively and has a really simple swing."
Outfielders (10)
Darel Belen, Juan Chacon, Wil Dalton, Nick Decker (No. 13), Tyler Esplin, Bryan Gonzalez, Gilberto Jimenez (No. 5), Eduardo Lopez, Jeisson Rosario (No. 16), Eduardo Vaughan.
Signed for $10,000 out of the Dominican Republic in 2017, Gilberto Jimenez won Boston's Latin program player of the year award in his first pro season and the Short-Season New York-Penn League batting title (.359) in his second. After the Minor League season was cancelled and he spent the summer back home, he's back showing off his advanced hitting ability and game-changing speed in instructional league.
"Gilberto has definitely added some strength and size and continues to work hard in that area," Crockett said. "Frankly, we're keeping it simple. After losing a season, it's about his approach at the plate, consistently repeating his swing from both sides and using his lower half to transfer power from the ground up."