Cora unveils Red Sox final bullpen choices
Righties Workman, Brewer, Velazquez to break camp with Boston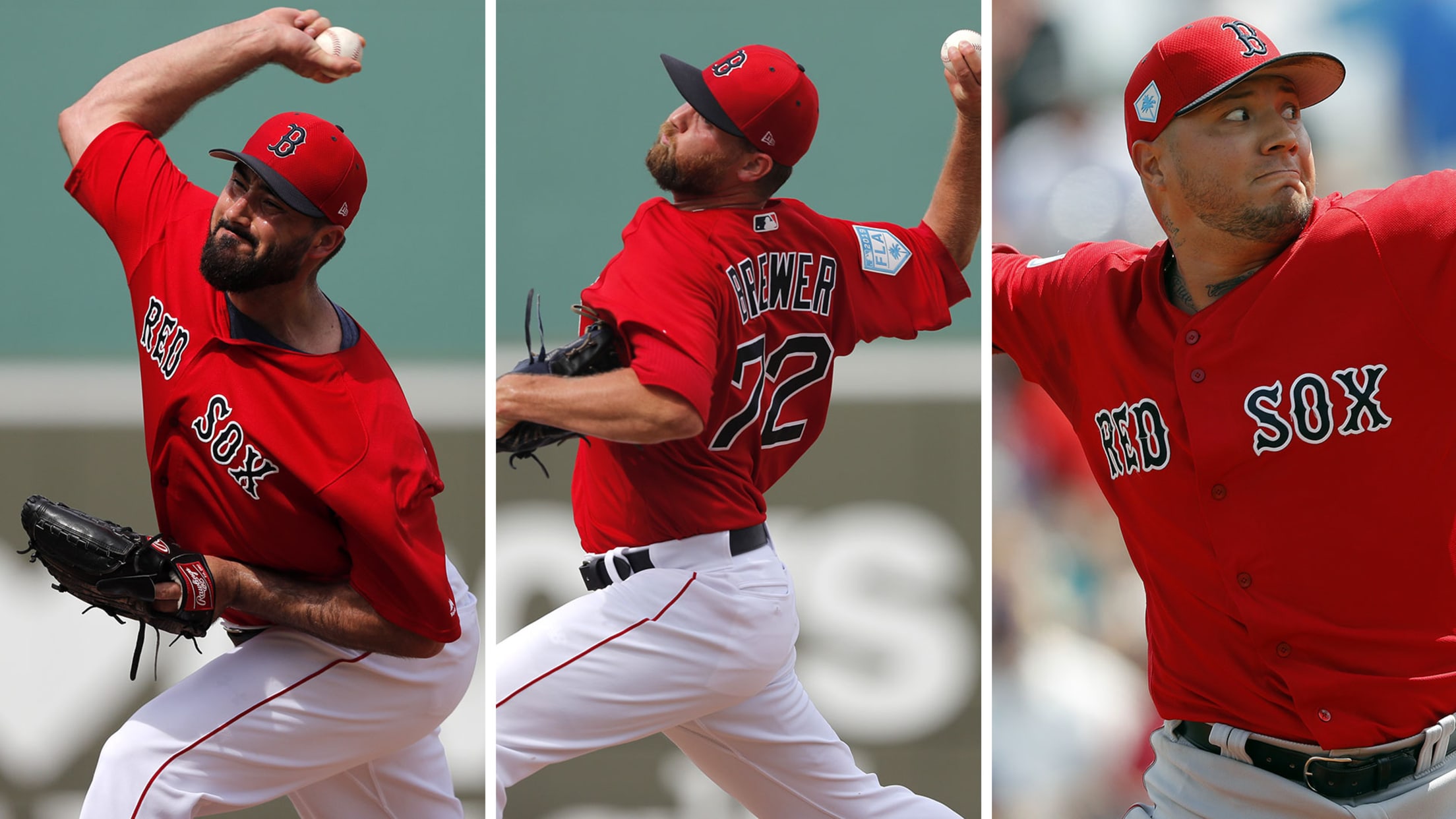 FORT MYERS, Fla. -- The bullpen decisions came down to the wire, but the Red Sox now know which relievers they will be starting the season with. Manager Alex Cora had been saying in recent days that the final three spots were up for grabs.
FORT MYERS, Fla. -- The bullpen decisions came down to the wire, but the Red Sox now know which relievers they will be starting the season with.
Manager Alex Cora had been saying in recent days that the final three spots were up for grabs.
Those three spots went to righties Brandon Workman, Colten Brewer and Hector Velazquez.
Workman has been with the Red Sox since 2013 and was out of Minor League options for the first time this spring. He helped cement his spot by striking out the side Friday night against the Twins.
The Red Sox acquired Brewer in a trade with the Padres in November and feel he has considerable upside.
Swing man Velazquez spent most of last year on the roster, and the only reason he was a bubble candidate was due to the fact that he still has options.
To make room on the roster, righty Marcus Walden and lefty Bobby Poyner were optioned to Triple-A Pawtucket and lefty Darwinzon Hernandez was optioned to Double-A Portland before Saturday's Grapefruit League game against the Pirates. Jenrry Mejia, who last pitched in the Major Leagues in 2015 for the Mets and has closing experience, was in the mix through the final week of camp, but he will start the season in the Minors.
Though Mejia made eight appearances for the Red Sox during the Grapefruit League, he did so as an extra from Minor League camp, so no roster move needs to be made by the end of Spring Training.
Hernandez is ranked No. 4 among Red Sox prospects by MLB Pipeline and it is expected he will be called up at some point this season.
"He made it tough on us. Now he'll go to Double-A and be a starter," said Cora. "He'll keep working on a few things that he picked up during camp. This is a guy, we know at one point during the season, he's going to contribute. We do believe that, just like the other guys. One thing we found out towards the end, that although the people outside our world think we're short on pitching, we're not, and we're going to be fine."
That leaves 13 pitchers in camp, and Cora had said previously that's how many the Sox will open the season with.
Cora's eight-man bullpen to start the season will also include Matt Barnes, Ryan Brasier, Heath Hembree, Tyler Thornburg and Brian Johnson.
Johnson or Velazquez will be used as a sixth starter at some point on the season-opening trip to the West Coast, in which the Sox play 11 times in 11 days.
Now that the pitching roster is set, the next question that needs to be answered is whether the Red Sox will go with a set closer or utilize matchups. Barnes and Brasier are the top candidates if Cora elects to use a defined closer.
Cora once again gave his stock answer after Saturday's game.
"March 28," said Cora, referring to Opening Day. "Stay tuned."
The only roster decision that the Red Sox have left before Opening Day is who will win the No. 2 catching spot. Christian Vazquez appears secure as the starting catcher, leaving Sandy Leon and Blake Swihart in a battle for the final spot on the roster.
Swihart would seem to have the edge given his offensive upside and defensive versatility.
The Red Sox have told other teams that Leon is available, but it remains unclear if they will be able to move the defensive specialist, who struggled mightily at the plate last season.
Another option would be to designate Leon for assignment. If he isn't claimed on waivers, the Sox could see if he would accept an assignment in the Minors, which would give the team catching depth in the event that one of the other catchers suffered an injury.
Price in play for Game 2
Though David Price's last appearance in a game was on March 12, Cora said that he remains a candidate to pitch the second game of the season in Seattle.
A norovirus forced Price to be scratched from his start on March 17, and he has spent the last few days ramping back up. Price threw a bullpen session Saturday, his second in the last three days.
Price is scheduled to pitch Tuesday's exhibition game against the Cubs in Arizona, but Cora said that doesn't necessarily preclude him from pitching Friday night in Seattle.
Sale's final tune up
Hours after a press conference to announce his contract extension, ace Chris Sale took to the mound and breezed in his final tune up before Opening Day.
Over five innings against the Pirates, Sale allowed two hits and a walk while striking out six in Boston's 12-3 win. He left to a standing ovation.
Nathan Eovaldi was originally scheduled to face the Pirates, but he was moved to the back field once Sale's schedule was changed due to the logistics surrounding his contract extension. Eovaldi gave up four hits and one run and struck out five in a Minor League game.
Red Sox won't rush Pearce
Though first baseman Steve Pearce is recovering more slowly than the Red Sox expected from a left calf injury he suffered last weekend, the hope is that he will be healthy enough to be on the roster for Opening Day.
That said, the Red Sox aren't going to force it.
"Yeah, just waiting on that one," said Cora. "He'll come with us to Arizona. We just have to see where we're at. We're not going to rush him either. It's 162 games. I know how important for everybody Opening Day and opening week is, but if he's not ready, he's not ready. Yeah, we'll decide that probably [Sunday] or Monday."
Just in case, the Red Sox still have first baseman Sam Travis in camp. Will the Red Sox definitely take another first baseman on the roster if Pearce isn't ready?
"We're talking about it," said Cora.
Up next
The Red Sox will spend Sunday flying to Arizona in preparation for a two-game exhibition set against the Cubs on Monday and Tuesday. Righty Rick Porcello is on tap to start Monday with first pitch scheduled for 9:05 p.m. ET.