Castillo clears waivers, will stay with Pawtucket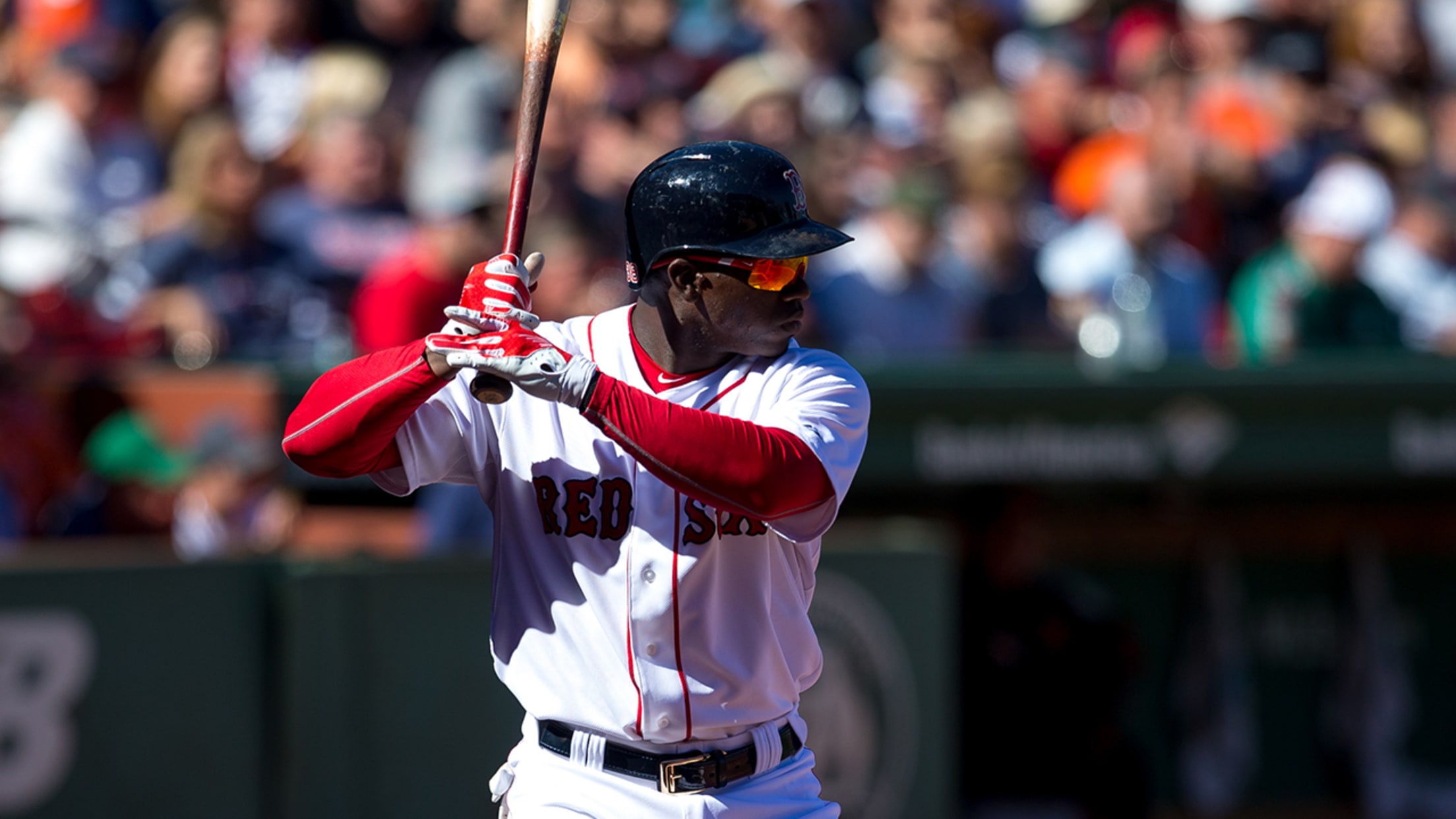 Rusney Castillo has hit .262 with seven homers in 99 MLB games. (AP)
BOSTON -- Rusney Castillo's lack of offense -- both in the Minors and in multiple stints with the Red Sox -- was the reason he was taken off the 40-man roster after clearing outright waivers on Monday.Castillo will remain in Triple-A Pawtucket, where he was optioned last week.It was a
BOSTON -- Rusney Castillo's lack of offense -- both in the Minors and in multiple stints with the Red Sox -- was the reason he was taken off the 40-man roster after clearing outright waivers on Monday.
Castillo will remain in Triple-A Pawtucket, where he was optioned last week.
It was a development that wasn't exactly stunning by the time it happened, but certainly something Boston's scouting department couldn't have envisioned when the club signed the Cuban outfielder to a seven-year, $72.5 million contract in August 2014.
"Well, the only thing I can say, it's pretty simple -- it's an offensive-production aspect of it," said Red Sox president of baseball operations Dave Dombrowski. "He's a good defensive outfielder. He's got a good arm. He runs well. He has power, although it hasn't really come into play in the games. But he really hasn't hit on a consistent basis. So that's what it really comes down to."
By placing Castillo on outright waivers, the Red Sox were able to remove him from their 40-man roster and keep him in the Minor Leagues. If a team had claimed Castillo -- which was not likely to happen given his sizable contract -- it would have taken on the money he is owed.
The Red Sox owe Castillo more than $11 million in each of the next three seasons, with an option for more than $14 million for the final year of the contract. But there is one significant financial benefit to taking Castillo off the 40-man roster: Players who aren't on the 40-man roster don't count against the luxury-tax threshold.
Castillo has played in nine Major League games in 2016, going 2-for-8 with a double and four runs. The 28-year-old hit .253 with five home runs in 80 games last year. He is batting .245 with one home run in 38 games for Pawtucket.
"I think the natural question would be, 'What happened?'" said Red Sox manager John Farrell. "And there were guys that moved ahead of him and that's the bottom line. There's a healthy player. There's still a guy with a lot of talent there that's probably got some swing mechanics to work through to become the offensive player that I think a lot of people saw early on when he was working out and going through the whole recruiting process. So he'll be playing every day in Pawtucket."
In essence, Castillo will have to hit himself back to Fenway Park.
"It's a situation where he's going to need to go down and put up offensive numbers," said Dombrowski. "I've seen it happen with people that they get taken off rosters and they come back and it's still a possibility because they have ability. We're still hopeful that he can finish off the offensive aspect of the game. He needs to play every day. If he's going to finish it off, that's going to happen."
Dombrowski wasn't working with the Red Sox when they signed Castillo. However, the Tigers -- the team whose front office Dombrowski was leading at that time -- also made a bid on Castillo, hoping his obvious athleticism would translate into success.
"He was a highly-touted individual coming out of Cuba. We all know that the scouting there is a little bit different than other areas," Dombrowski said. "It's not one where you're out there looking at guys day in and day out for a lot of games. He has a lot of tools. You can all see that.
"I know when I was with Detroit, we did like him and we looked at him as a guy we were going to plug in to play in center field. One thing, he's a quality-makeup guy. That was determined. He's a hard worker. It's just a situation where at some point you need to go out and put up offensive numbers, and that's where the evaluation process comes into play."
The Red Sox went through a similar situation with Allen Craig last year. Boston wanted to remove Craig from its 40-man roster, so the club outrighted him to the Minor Leagues. Craig, who was owed about $25.2 million in guaranteed salary at the time, went unclaimed and was sent to Pawtucket, where he is still playing this season.
Ian Browne has covered the Red Sox for MLB.com since 2002.