Red Sox confident Koji will bounce back
Despite slump, Boston still believes righty can be top setup man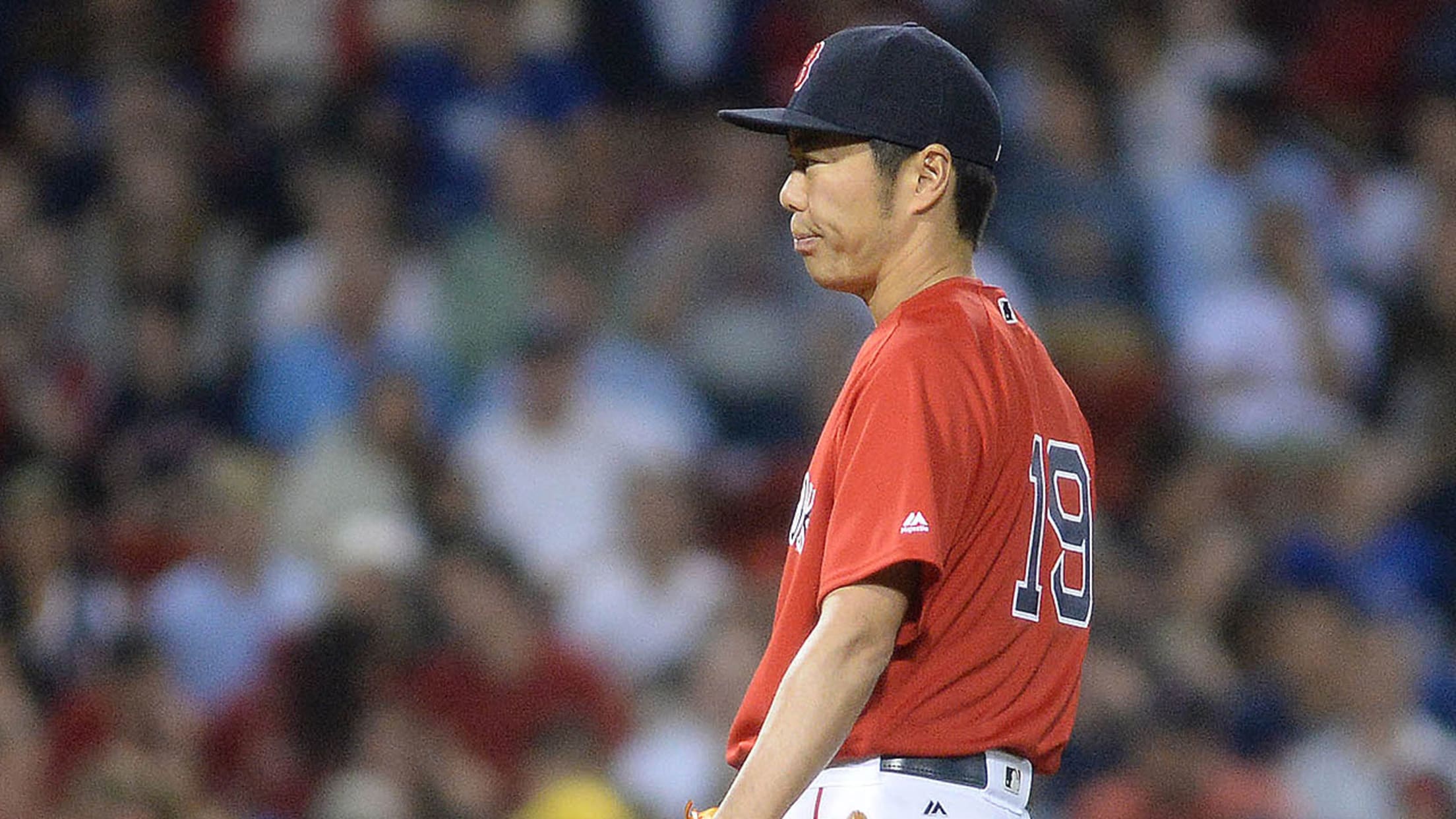 Koji Uehara allowed two runs on one hit in two-thirds of an inning in Boston's loss Friday. (Getty)
BOSTON -- Red Sox reliever Koji Uehara has set such a high standard of performance during his career that the slump he's been in of late has caused some concern. With Carson Smith out for the season following Tommy John surgery, Uehara needs to be a key force with the
BOSTON -- Red Sox reliever Koji Uehara has set such a high standard of performance during his career that the slump he's been in of late has caused some concern. With Carson Smith out for the season following Tommy John surgery, Uehara needs to be a key force with the way the bullpen is currently constructed.
Uehara's 4.57 ERA entering Saturday is the highest it's ever been at this point in the season since he moved to the bullpen in 2010. The only time it was higher in his time with the Red Sox was April 18 of this season.
In Friday's 5-2 loss to the Blue Jays, Uehara served up a two-run homer to Devon Travis and threw 30 pitches in just two-thirds of an inning, assuring that he won't pitch on Saturday.
Although Uehara is 41 years old, the Red Sox are confident he can remain a top setup man. The fact he has 29 strikeouts in 21 2/3 innings and has a .203 opponents' batting average is an indicator that his struggles have been isolated.
"We try to take care of him, utilize clean innings," Red Sox pitching coach Carl Willis said. "We are very aware of his workload and number of pitches thrown. I don't feel that there's a fatigue factor involved. It's just a mechanical thing and trust, and he works extremely hard. He worked hard on it today, but on a daily basis, he throws to a catcher literally every day. It will get turned around in a hurry, I believe that."
From 2010-15, Uehara had a 2.08 ERA over 325 games.
If there's been a frequent nemesis for Uehara of late, it has been the home run. He has given up three of them in his past seven outings, and they've all been two-run shots.
"It's not a concern for me, but obviously, I have to make sure I keep them in the ballpark," Uehara said.
Both manager John Farrell and Willis noted that Uehara has run into problems when he's lacked finish to his split.
"To me, right now, yeah, his velocity was down a tick last night, the action to his split was not as consistent," Farrell said. "Any time you have a high-leverage guy, and the performance has been a little inconsistent, that's going to give reason to have some concern. But it's not from a physical standpoint as far as injury or even in the case of overuse. I can't say that's what it is right now."