A familiar sight: World Series parade in Boston
Red Sox take to street in duck boats to show off 4th WS trophy in 15 seasons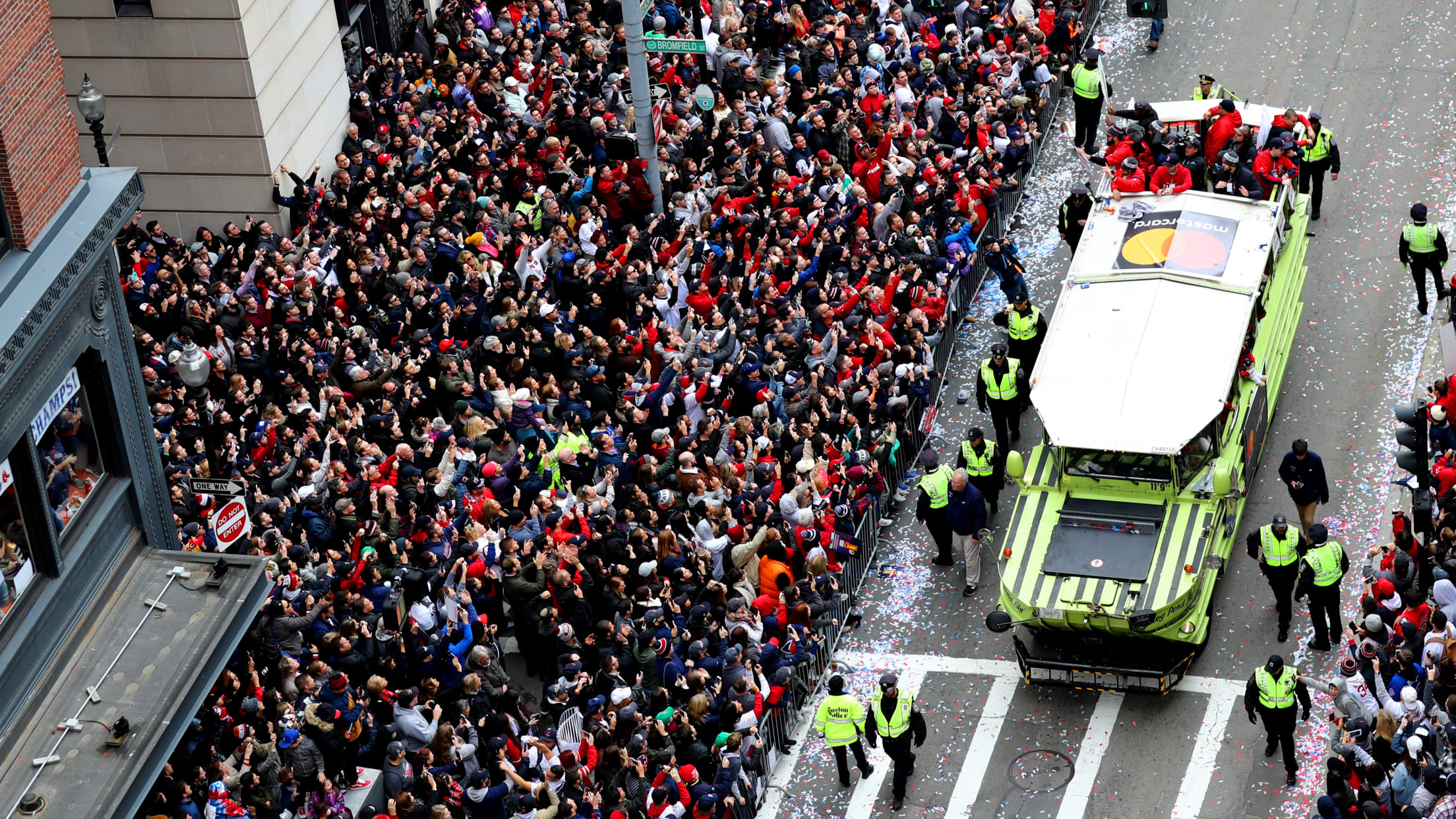 BOSTON, MA - OCTOBER 31: The Boston Red Sox ride in duck boats on Tremont Street during the Boston Red Sox Victory Parade on October 31, 2018 in Boston, Massachusetts. (Photo by Maddie Meyer/Getty Images) (Maddie Meyer/Getty Images)
BOSTON -- Horns were blaring. Confetti was flying. The music was cranking. And the World Series champion Red Sox thrilled their fans when they emerged from Fenway Park on duck boats and roamed through their sports-crazed city.It was an all too familiar scene, one that never gets old to those
BOSTON -- Horns were blaring. Confetti was flying. The music was cranking. And the World Series champion Red Sox thrilled their fans when they emerged from Fenway Park on duck boats and roamed through their sports-crazed city.
It was an all too familiar scene, one that never gets old to those who observe it.
This was the 11th championship parade that Boston has hosted since February 2002. And for the Red Sox, a team that didn't win a championship from 1919-2003, this was the fourth parade in the past 15 seasons.
• Get World Series champs gear
"So many people, so much energy, it was unbelievable," said Red Sox slugger J.D. Martinez.
Nathan Eovaldi, the flame-throwing righty who emerged as a force in the postseason, had just one word to survey the scene.
"Indescribable," Eovaldi said.
World Series hero David Price was flanked by his 17-month-old son Xavier, who was a fixture at postgame news conferences this October.
• Price not opting out of Red Sox contract
"I'm still kind of at a loss for words for what we were able to accomplish as a team," Price said. "For us to be a world champion, that's what it's all about."
It was the happiest kind of Halloween imaginable for the Red Sox. Players on the duck boats needed to have their hands ready, as fans continually tossed canned beverages at them.
"This is really good, everyone is saying 'Hi,' thousands of people," said lefty Eduardo Rodriguez. "I love Boston and all these people. Since I was a little kid, I was waiting for a chance to play in the World Series. This means a lot. I've wanted this all my life, and I hope it happens again."
Steve Pearce, role player extraordinaire, rode in his duck boat as the MVP of the World Series.
"It's been surreal, but I'm soaking it all in and loving every minute of it," Pearce said. "It's everything. It's been so overwhelming and fun. Being here with my teammates, celebrating right now, this is what you dream about."
Ace Chris Sale fired up the crowd by waving his hands emphatically, much like he got his teammates going with his words in the dugout when they trailed 4-0 in Game 4. Martinez, the key addition to this year's squad, waved a 2018 World Series championship flag. Players took turns passing the trophy from boat to boat.
"To be here holding up the trophy at the end of the year, this is what it's all about," Pearce said. "This is why you put in all the work during the year. The injuries, the slumps, the offseason -- everything has all accumulated to get where we're at right now. Now we're hoisting the trophy at the end of the year with all our teammates. This is awesome."
The weather even cooperated on a sun-splashed day, with temperatures pushing close to 50 by the time the parade started.
"Everyone has been very welcoming, obviously," said right fielder Mookie Betts. "Everyone is excited. It's just something I'll never forget."
And as Betts will find over time, the heroics of this team -- which went 119-57 including the playoffs -- won't be forgotten.
To underscore that point, the Red Sox brought back some of their past October heroes for the parade ride, including David Ortiz, Pedro Martinez and Jason Varitek.
What is it like to for a champion to ride through a parade?
"It's a special feeling," Pedro Martinez said. "You have to live it to describe it. It's the best feeling ever."