Smith progressing in recovery from TJ surgery
Red Sox righty throws off mound Wednesday, set to pitch to hitters Saturday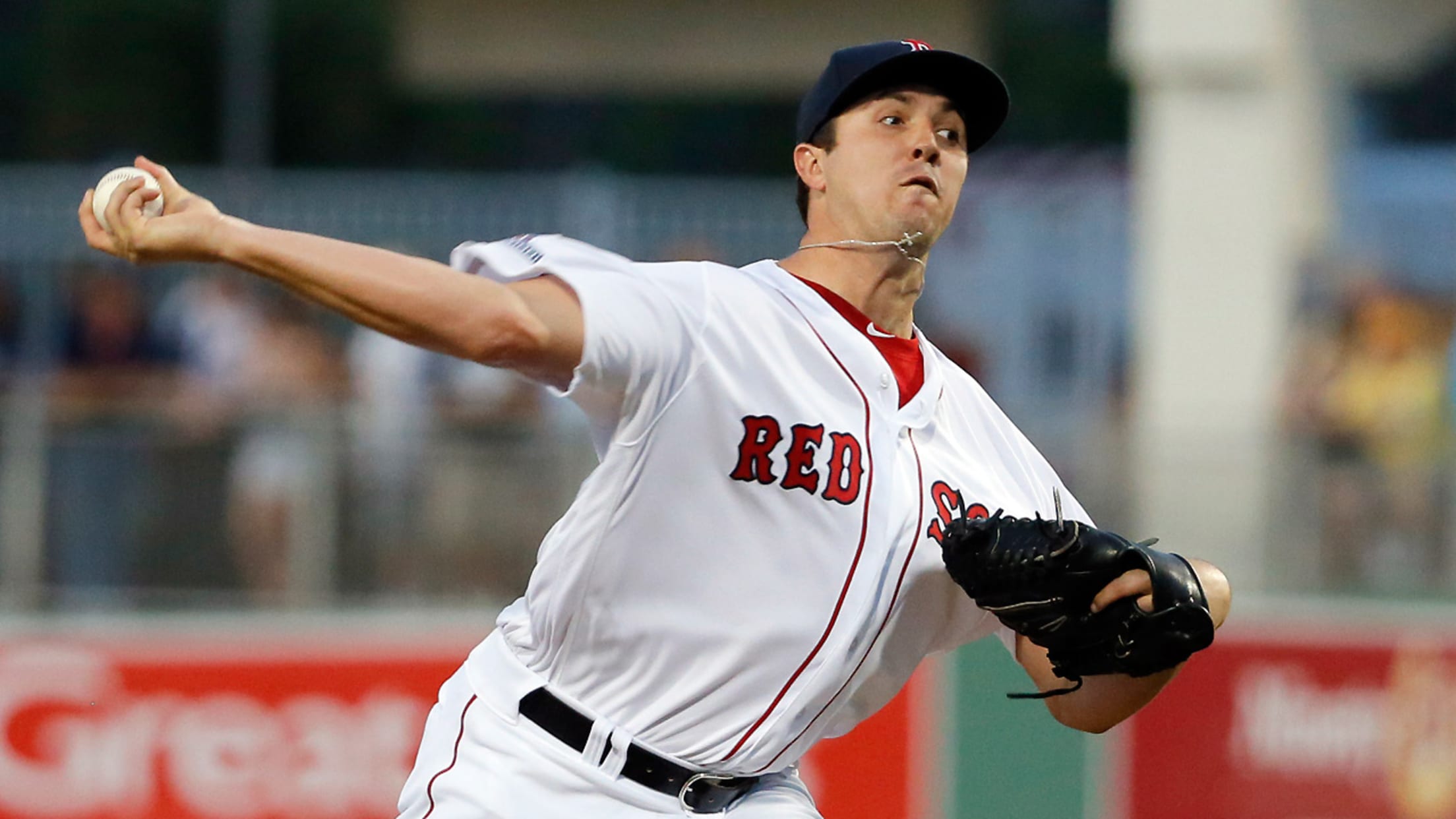 Carson Smith last pitched in a game for the Red Sox on May 14, 2016, before undergoing Tommy John surgery. (AP)
NEW YORK -- The Red Sox could soon have a key piece to set up dominant closer Craig Kimbrel. Right-hander Carson Smith threw pitches from the main mound at Yankee Stadium on Wednesday to teammates Dustin Pedroia and Andrew Benintendi, who stood in the box but didn't swing.Smith will again
NEW YORK -- The Red Sox could soon have a key piece to set up dominant closer Craig Kimbrel. Right-hander Carson Smith threw pitches from the main mound at Yankee Stadium on Wednesday to teammates Dustin Pedroia and Andrew Benintendi, who stood in the box but didn't swing.
Smith will again face hitters on Saturday at Fenway, and could be cleared to go on a Minor League rehab assignment at some point next week.
"The reason we didn't have guys swing is to keep the cages away ... and try to get a specific evaluation of release point, stuff that's coming out, velocity, all that," said Red Sox manager John Farrell. "But he felt good coming away from it so that's been an encouraging sign. Following Saturday's work, we'll map out what the next step will be after that, whether it's going out on a rehab assignment or repeating live BP."
When the Red Sox acquired Smith from the Mariners on Dec. 7, 2015, they expected he would serve as Kimbrel's primary setup man for the '16 season. But the side-winder suffered a right elbow injury in his first Spring Training with Boston and pitched just three times during the season before undergoing Tommy John surgery on May 24.
Of late, Smith has turned a corner in his recovery and was enthused by the way he felt on Wednesday.
"I felt good, felt strong throughout, first pitch to last. I felt like my stuff was coming out good," Smith said. "Elbow feels great. I feel like I've gotten over the hump. It's over a year now, so I think that's when most people usually turn the corner. Right now I'm feeling great, and hopefully it continues."
The return of Smith could lessen the load on Kimbrel, who has been called on for a career high of three saves of four-plus outs, and they've all come in the last week.
Tyler Thornburg has also been out all of this season with a right shoulder impingement. Matt Barnes has been Farrell's main pitcher in the eighth inning when the Red Sox have the lead. The power righty has pitched to mixed results, going 3-2 with a 3.91 ERA entering Wednesday.