Bradley's character stems from father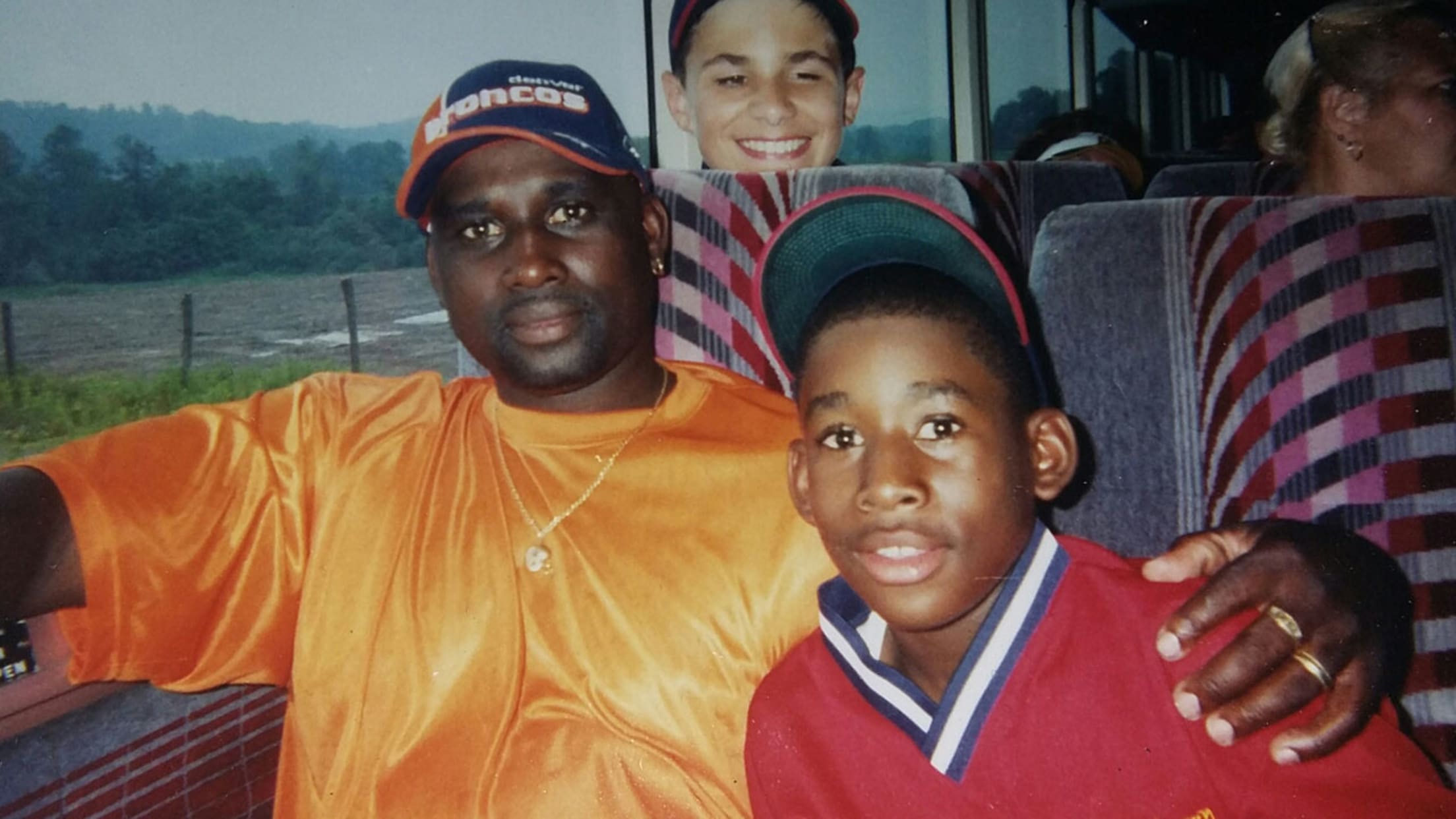 Jackie Bradley Jr. learned the value of hard work from observing his father handle everyday tasks. (Bradley Family)
BOSTON -- Jackie Bradley Sr. spends the early part of his days as a bus operator, and the afternoons mowing lawns or trimming trees, or whatever else he can do to earn some money.In the evening, he sits on a comfortable chair or couch, turns on the TV in his
BOSTON -- Jackie Bradley Sr. spends the early part of his days as a bus operator, and the afternoons mowing lawns or trimming trees, or whatever else he can do to earn some money.
In the evening, he sits on a comfortable chair or couch, turns on the TV in his Virginia home and watches Jackie Bradley Jr. go to work for the Red Sox.
Who exactly is Jackie Bradley Sr.? He is the man who showed his son the value of putting in an honest day's work.
"My dad, in general, he kind of led by example," Bradley Jr. said. "He's a hard worker -- a real, real hard worker. He always made sure if something needed to be done, he was going to get it done, no excuses. He just tried to make sure that me, my brother and now my younger sister always stayed on the right path."
That path helped lead Bradley Jr. to a stellar college baseball career at the University of South Carolina, one that included two national championships. It then led to the Boston Red Sox, where he was a standout prospect in the Minor Leagues who would undergo some early lumps in the Major Leagues, and then rise to the point where he could well be representing the American League in the upcoming All-Star Game.
"It's a lot of fun," Bradley Sr. said. "I knew Jackie could do what he's doing -- it was just a matter of time. To me, I think it was just a mind thing. Jackie just needed an adjustment. It's pretty hard to hit that baseball."
What was never hard to Jackie Bradley Jr. was keeping that "Jr." on his baseball card, not to mention the back of his away Red Sox jersey.
"Absolutely," Bradley Jr. said. "He's Senior, and I'm his son and I'm just trying to go out and honor him. When he was younger, he liked playing baseball a lot, and he obviously played basketball in college. He kind of feels like he's living through me vicariously, because this is what he wanted to do when he was younger, as well."
"I'm Senior. I'm the one that made him," Bradley Sr. said. "It makes me feel proud that your son is out there as Junior."

Just because Bradley Jr.'s father isn't a prominent former baseball player like, say, Ken Griffey Sr., he is amused as to why people are so curious about his reason for keeping Junior on his uniform.
"I've always wanted it there," Bradley Jr. said. "A lot of people say, 'Oh, you don't need Junior,' and I'd say, 'You don't need to focus on my last name.' It's just something I've grown to like. It's like it's a part of me now."
Initially, there was some humor involved.
"He always used to tell me, when we lived in the same house, that we wouldn't be able to decipher whose mail belonged to who, without the Senior and Junior," Bradley Jr. said. "My dad used to say, 'I'm not going to go to jail for you and you're not going to jail for me, so make sure you put Junior on your stuff and I'll put Senior on mine and that way there's no confusion.'"
Jackie Bradley Sr. once thought he might play professional sports for a living. He thought basketball was his best way to get there, and he played for Fayetteville State.
"When I went to play college basketball, I thought I was going be one of the best basketball players around, because I came out of high school scoring about 20 points a game," Bradley Sr. said. "When I went to college, I realized, you got these other guys just as good as I am."
Bradley Sr. suspected the same would be true for his son when he went to play baseball for South Carolina. However, he was in for a pleasant surprise.
"But when Jackie went to college, he went to a different level," Bradley Sr. said. "We went down there to Spring Training to see him play, and Jackie hit a towering home run. I said, 'Man, this boy is going to be good.' Jackie just took off then."
Though both men are hard at work, they remain in frequent contact. In fact, Bradley Sr. was at Fenway the week Bradley Jr. took his hitting streak to 29 games before the Rockies eventually stopped it.
"I actually have two missed calls from him right now," Bradley Jr. said earlier this week. "I called him earlier, and he was probably working so he called me back."
In hindsight, Bradley Sr. wonders if baseball would have been a better path for him, too.
"I played a little baseball, but in my era, everyone wanted to be Dr. J," Bradley Sr. said. "I was pretty good in both, so I decided I would stick to basketball. If I had to do it all over again, I'd probably do baseball."