Healthy and effective, Wright happy with start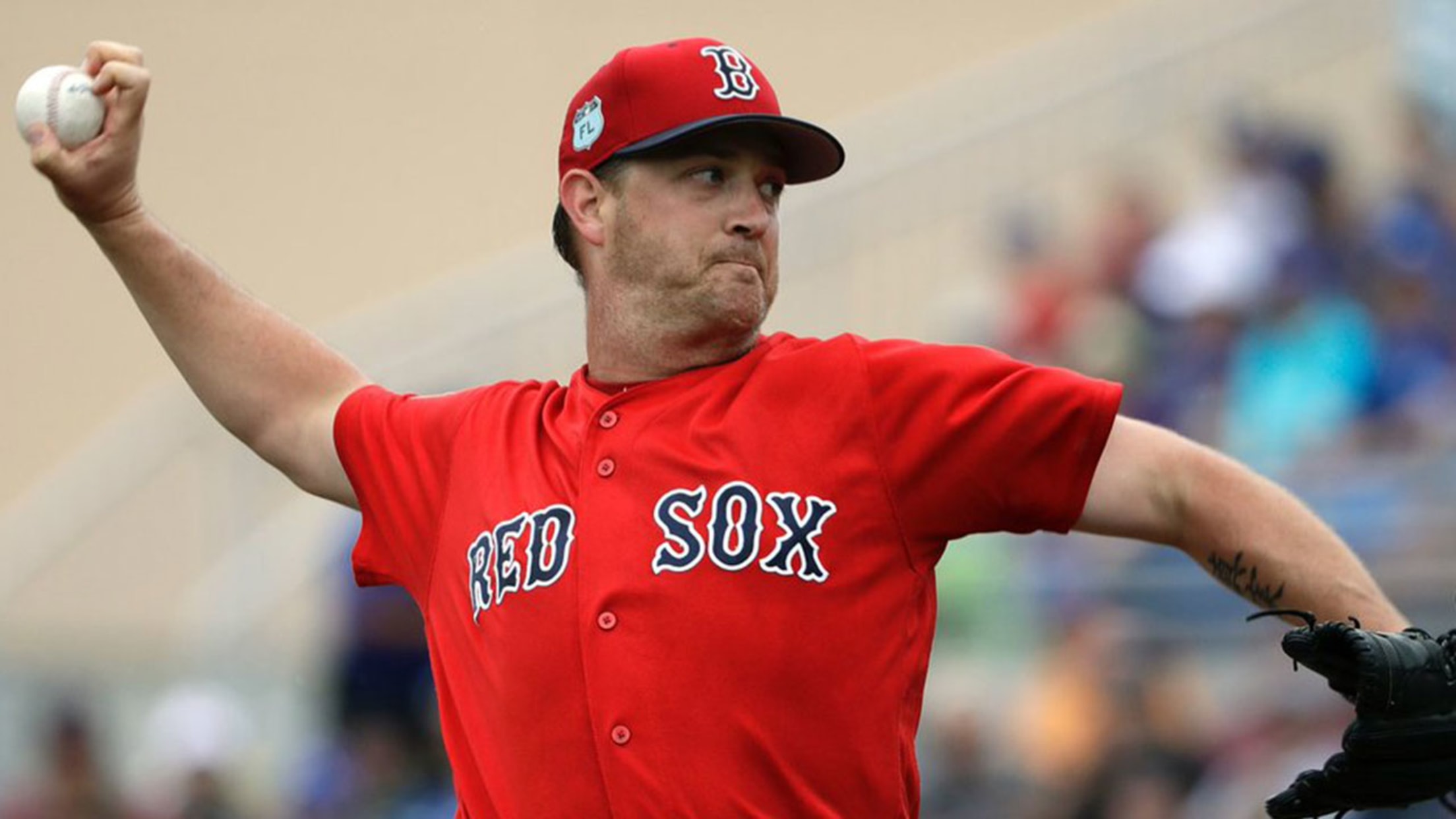 Steven Wright didn't allow a hit over two innings of his Grapefruit League debut vs. the Blue Jays. (Red Sox)
DUNEDIN, Fla. -- Red Sox knuckleballer Steven Wright's first outing of the spring was almost perfect on Monday.Making his first start since a shoulder issue shut him down last August, the All-Star right-hander pitched two hitless innings in Boston's 4-3 loss to the Blue Jays at a rainy Florida Auto
DUNEDIN, Fla. -- Red Sox knuckleballer Steven Wright's first outing of the spring was almost perfect on Monday.
Making his first start since a shoulder issue shut him down last August, the All-Star right-hander pitched two hitless innings in Boston's 4-3 loss to the Blue Jays at a rainy Florida Auto Exchange Stadium.
• Spring:Tickets | Ballpark | 40-man roster | NRIs
Wright threw 21 pitches -- 16 strikes -- and retired six of the seven batters he faced with little in the way of quality contact by the Blue Jays' offense. Jarrod Saltalamacchia was the only player to reach base against Wright, getting aboard on a fielding error by Red Sox shortstop Brock Holt with one out in the second.
Wright, who was a career-best 13-6 with a 3.33 ERA in 24 starts with Boston last season, threw 18 more pitches in the bullpen after he departed. He said the outing was even better than expected because he didn't once think about his shoulder.
"That's the thing that's been awesome," Wright said. "I haven't really felt it since Spring Training, so it's literally just been strengthening -- just stamina now. Now it's more about the stamina. The strength is there. Now it's just about getting the reps of the ups and downs and kind of getting into baseball shape."
Red Sox manager John Farrell said Wright will likely be extended to three innings or 50 pitches next time out.
"He looked sharp, he had good action to his knuckleball," Farrell said. "So as far as the first outing, getting on the mound, it was certainly a positive one. ... The fact we were able to get him up and down three times, [it's] a good work day -- a good start to his Spring Training."
After time spent in a throwing program and finally working his way into a game, Wright hopes he can continue to garner enough strength to be consistently repetitive in his delivery, which is essential to his success as a knuckleballer.
The next step is building up his pitch count and innings before the start of the regular season.
"I felt like last year, when I had all the pain, it wasn't that I couldn't make a pitch, it was that I couldn't repeat it because of the pain," Wright said. "My arm in my slot was different every time, and it just makes it hard for anybody to pitch. And here I am trying to throw a 73-mph pitch with no spin, and if I can do that right, it can be effective. But if I do it wrong, I mean, it's batting practice.
"I think that's where shoulder strength is huge when it comes to knuckleballers."
Jeff Odom is a contributor to MLB.com.