Red Sox aiming to stay (World Series) course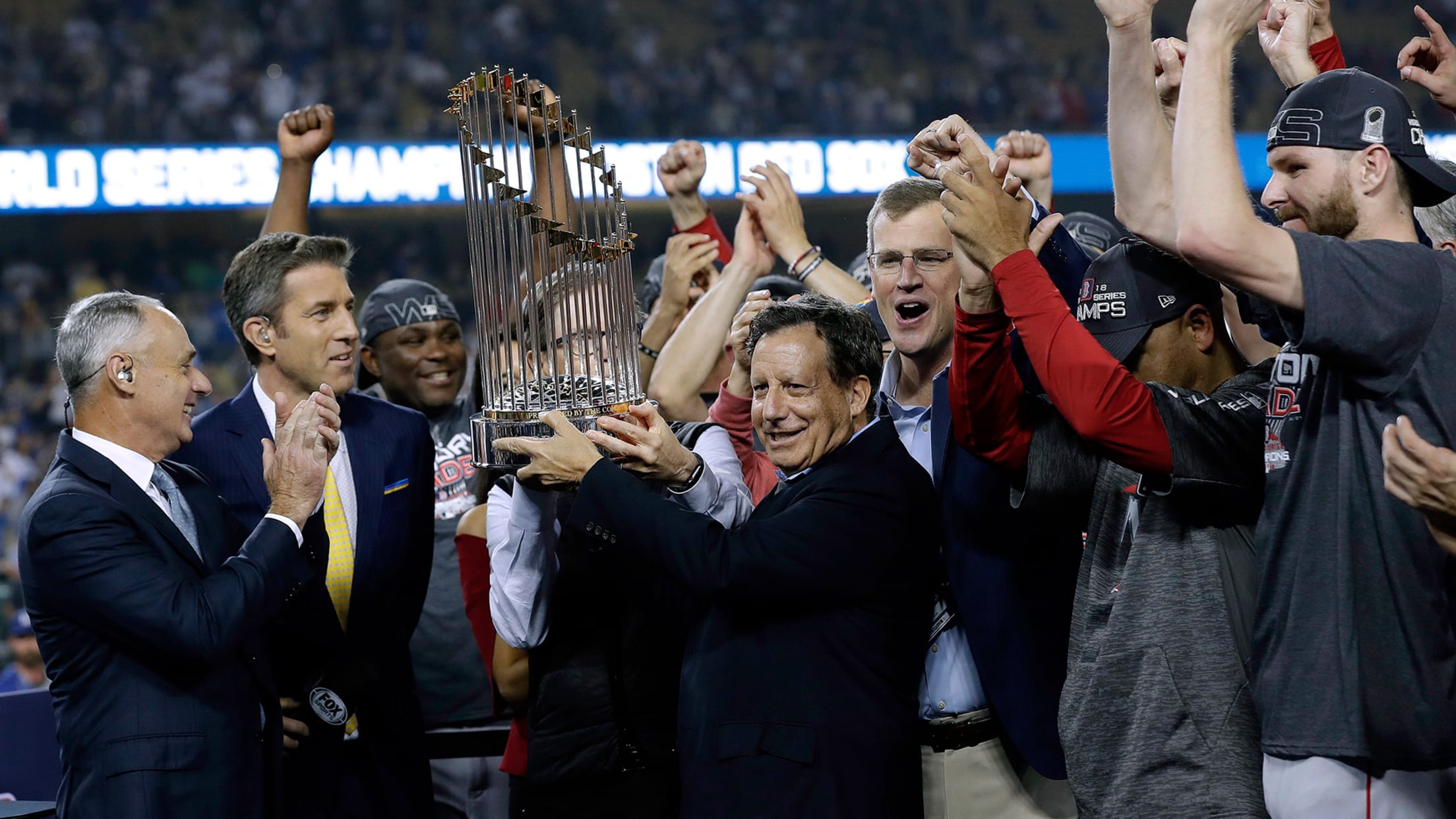 BOSTON -- To put the Red Sox in a strong position to become MLB's first repeat champions since the Yankees won their third straight in 2000, president of baseball operations Dave Dombrowski felt his best course of action this offseason was to resist change.And who could blame him?The roster that
BOSTON -- To put the Red Sox in a strong position to become MLB's first repeat champions since the Yankees won their third straight in 2000, president of baseball operations Dave Dombrowski felt his best course of action this offseason was to resist change.
And who could blame him?
The roster that won a franchise-record 108 games last year was not only stacked, but largely still under contract to return in 2019. Why would you mess with that?
Dombrowski made sure to retain two of the key pieces he acquired by trade last season. Boston re-signed World Series MVP Steve Pearce for one year at $6.25 million. More significantly, flame-throwing righty Nathan Eovaldi re-upped for four years at $68 million.
:: Spring Training coverage presented by Camping World ::
One key bullpen piece (Joe Kelly) left as a free agent for the Dodgers. Closer Craig Kimbrel remains a free agent, and his return to Boston can't completely be ruled out until he signs elsewhere.
Aside from Kelly and Kimbrel, everyone is back, and Dustin Pedroia is aiming to come back after missing all but three games last season with a problematic left knee.
So what is on Dombrowski's radar during Spring Training in his quest to make sure the Red Sox are in the best position possible to repeat?
For starters, there will be a lot of evaluation of the bullpen.
Without Kelly and most likely Kimbrel, do the Red Sox have enough? Is Matt Barnes or Ryan Brasier ready to step in as closer?
If the answer to those questions aren't satisfying Dombrowski and his staff, they could make a move any time between Spring Training and midseason.
"Really, the one thing that is significantly different is that we lost two guys, and what's significant is we don't have a proven closer," Dombrowski said. "Sometimes you have to evaluate where you're going to spend your dollars. We decided to keep the rest of the core of the club. We like our team a great deal, and we think some of the guys internally can do the job."
Dombrowski has not been shy about making trades in the past, and he isn't about to stop now. The Red Sox have three catchers (Blake Swihart, Christian Vázquez and Sandy Leon), and plan on trimming to two by Opening Day. One scenario could be to deal a catcher as part of a package for a late-inning reliever.
Though Boston would prefer to keep its payroll under $246 million to avoid a luxury-tax penalty and Draft-pick penalty for the second consecutive year, the one thing that might change is if Kimbrel comes back. If the somewhat unlikely reunion with Kimbrel did take place, it could be on a one-year deal that would allow both sides to reset again in the offseason.
If the rival Yankees have the clear bullpen edge based on the way they loaded up this winter, the Red Sox feel they offset it with a loaded rotation that includes Chris Sale, David Price, Rick Porcello, Eovaldi and Eduardo Rodriguez.
"I do think again, we spend a lot of time talking about what we don't have at times, a proven closer," Dombrowski said. "But when you look at our starting rotation, I think it's second to none. It's outstanding. Our positional players are good offensively and defensively."
If there is a question with the lineup, it is at second base, where there are no guarantees with Pedroia until he can prove his knee is sound. Dombrowski is fine letting that situation play out. If Pedroia has a setback, Boston can cover it in the short term with Brock Holt and Eduardo Núñez. That would at least buy Dombrowski time to acquire a veteran by July, like he did last year in Ian Kinsler.
While Dombrowski is clearly focused on the golden opportunity his team has in 2019, he will also start the process of identifying which players he might be able to extend beyond their current contracts.
On the immediate horizon, Sale and shortstop Xander Bogaerts are eligible for free agency after 2019. Sale noted at the team's Winter Weekend that his phone is on, meaning he's willing to talk extension. Bogaerts kept a similar open mind.
Superstar Mookie Betts has two years left before free agency and Boston would love to keep him in its uniform for a long time. Center fielder Jackie Bradley Jr. (free agent after 2020) and Porcello (free agent after '19) are also players the Red Sox might engage in contract talks.
Overall, Dombrowski is in an enviable spot as his club gets ready for Spring Training.
"We have a very good club," Dombrowski said. "We have a good manager, a good staff, and feel good about where we are. But a lot of things have to break well for you to win in any particular year. You have to stay healthy. Players have to have big years. You have to win big games and get clutch hits, get a break here, a break there."