Red Sox plan to rotate players at four positions
First, second, third base, catcher will see in-game changes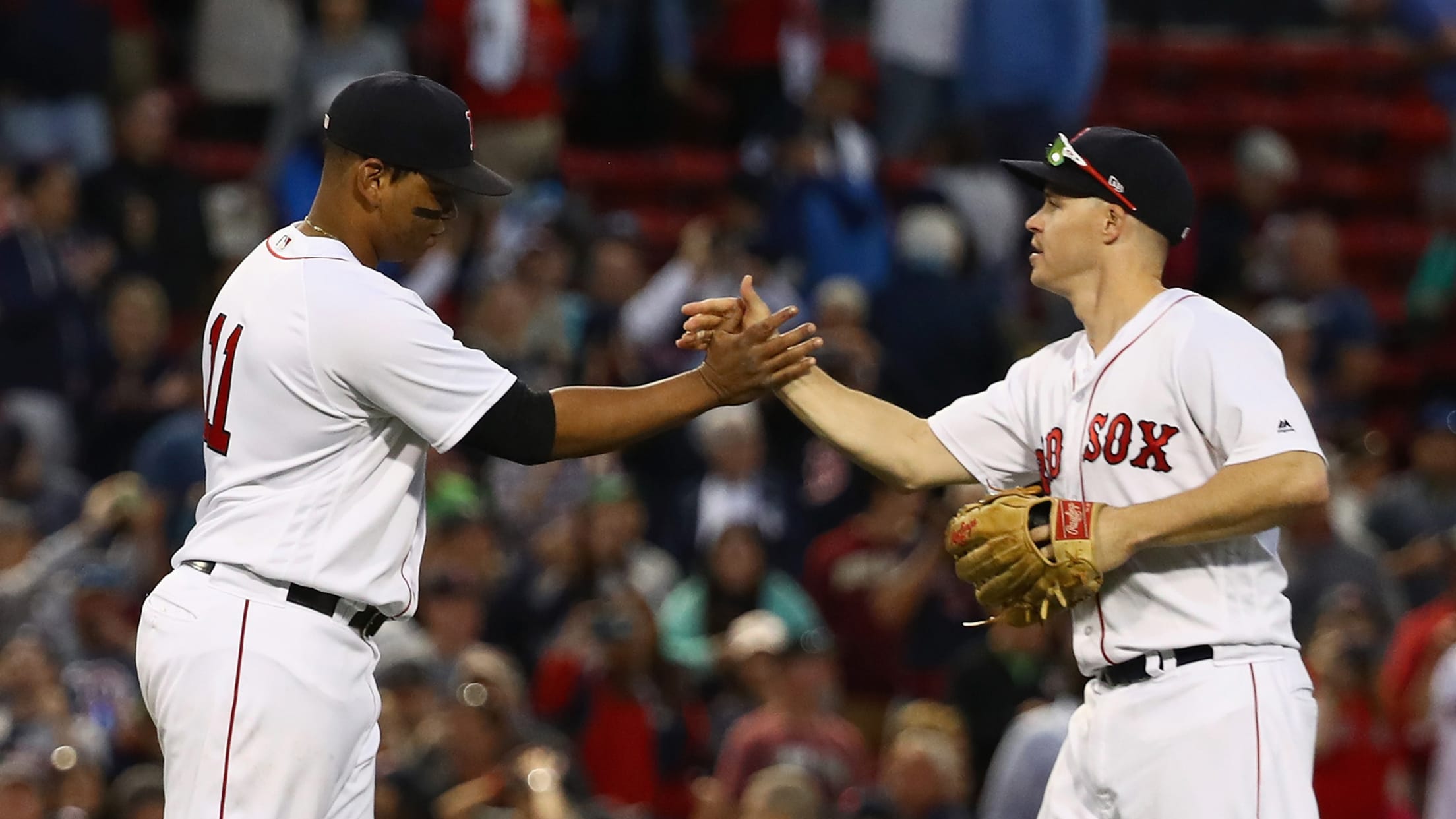 BOSTON, MA - SEPTEMBER 30: Brock Holt (R) #12 of the Boston Red Sox and Rafael Devers #11 of the Boston Red Sox high-five after the game against the New York Yankees at Fenway Park on September 30, 2018 in Boston, Massachusetts. (Photo by Omar Rawlings/Getty Images) (Omar Rawlings/Getty Images)
BOSTON -- When it comes to the corner infield positions, catcher and perhaps even second base, you are going to see a flurry of in-game activity for the Red Sox this postseason.You've heard all about the "opener" phenomenon on the mound.Red Sox manager Alex Cora will use a similar mindset
BOSTON -- When it comes to the corner infield positions, catcher and perhaps even second base, you are going to see a flurry of in-game activity for the Red Sox this postseason.
You've heard all about the "opener" phenomenon on the mound.
Red Sox manager Alex Cora will use a similar mindset when it comes to several positions in his lineup. His goal will be to effectively maximize his deep allotment of quality position players.
"I don't know if we're looking at platoons," Cora said. "We've got to see how we're going to maximize them with the way we're going to use pinch-hitters throughout the game. The guys that don't play, they're going to be very important for us in the middle of the game."
:: ALDS schedule and results ::
In advance of Game 1 of the American League Division Series at Fenway Park on Friday against the Yankees, here is a closer look at who will be rotating at these interchangeable positions.
THIRD BASE
The candidates:Rafael Devers, Eduardo Nunez, Brock Holt
The skinny: Devers opened the season as Boston's unquestioned starter at third base. But his sophomore season was filled with inconsistency and nagging injuries. From July 1 on, Devers played in just 40 games, slashing .216/.306/.403 with seven homers and 20 RBIs. His defense is an ongoing concern, as he made an MLB-leading 24 errors despite playing just 116 games. Due to his inconsistency on both sides of the ball, don't be surprised if Devers is used mainly as a lefty pinch-hitter. He will also get spot starts against hard-throwing righties. Devers belted 21 homers this season, giving him the best power of any option Cora has at the hot corner.
After being an unquestioned spark down the stretch for the 2017 Red Sox, Nunez has had a disjointed season in which he has played through some issues in both his legs. But at third base at least, he's a steady if unspectacular defender. Look for Nunez to start at third against lefties.
After two years marred by concussions and vertigo, which led to a sharp decline in his offense, Holt regained his form this season and has been an invaluable contributor to the Red Sox. Out of nowhere, Holt turned into an utter force in September, slashing .354/.456/.667 with four homers and 13 RBIs. Though all seven of Holt's homers came against righties, he held his own against lefties, hitting .292 with a .395 on-base percentage. Holt can play every position but pitcher and catcher, making him an invaluable weapon for Cora. The question is whether he will mainly be utilized off the bench or in the starting lineup.
FIRST BASE
The candidates:Mitch Moreland, Steve Pearce, Holt
The skinny: Remember when Hanley Ramirez was Boston's primary first baseman? That feels like a long time ago. The Sox released Ramirez with the idea Moreland would take over the position full time. It went so well at first that Moreland was an All-Star. However, the left-handed hitter had a tough finish, as evidenced by his line of .191/.277/.322 with four home runs after the break. Moreland is easily Boston's best defender at first, and for that reason, he will likely start his share against righties. But there could be occasions when Holt gets a start against a righty.
There's no question about this: When a lefty starts for the other team, Pearce will start at first. One of the most underrated moves of the season was president of baseball operations Dave Dombrowski's acquisition of Pearce at the end of June. Pearce has been a force against southpaws, producing a .959 OPS in 120 plate appearances. Interestingly, Pearce also held his own against righties in roughly the same amount of plate appearances (131), posting an .828 OPS. Pearce has proven that he is a big-game player by continually coming up huge in Red Sox-Yankees matchups.
SECOND BASE
The candidates: Ian Kinsler, Holt
The skinny: When the Red Sox got Kinsler just before the July 31 non-waiver Trade Deadline, the expectation was that he would be the starting second baseman. That has generally been true. What is equally true is that Kinsler struggled mightily at the plate in September, hitting .190 with a .510 OPS and hitting one homer in 86 plate appearances. Kinsler is a tremendous defender, but Holt is also solid at second base.
Another plus for Kinsler is his postseason experience, having played in the World Series twice for the Rangers. In 37 playoff games, Kinsler has an OPS of .848. However, the last time he played in the postseason was in 2014, when he was a better hitter than he is these days at 36 years old.
CATCHER
The candidates:Sandy Leon, Christian Vazquez, Blake Swihart
The skinny: The Sox will carry all three of their catchers in the ALDS. Collectively, the Red Sox had the worst offensive production in the Majors behind the plate. The good news is that they have three solid defenders. In particular, the starting pitchers love throwing to Leon. But Leon's bat was basically non-existent from July 1 on, as he had a .377 OPS and a .123 average. Then there is this: The Red Sox were 55-23 when Leon started this season, the best winning percentage they had with any catcher.
The likely scenario is that Leon is the opener in just about every game, giving the starting pitcher time to gain confidence. Look for Cora to pinch-hit for him in crucial situations as early as the fourth or fifth inning.
The switch-hitting Swihart has the most offensive upside of the three and is also one of the team's best baserunners. And aside from catcher, he can also fill in at first base and the corner outfield spots. For whatever reason, Vazquez hasn't been able to put it together at the plate after a decent 2017 season. His strength is his arm.